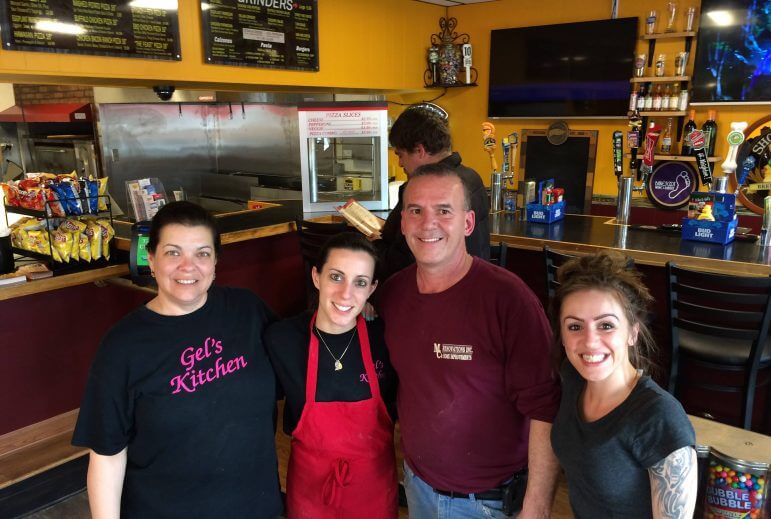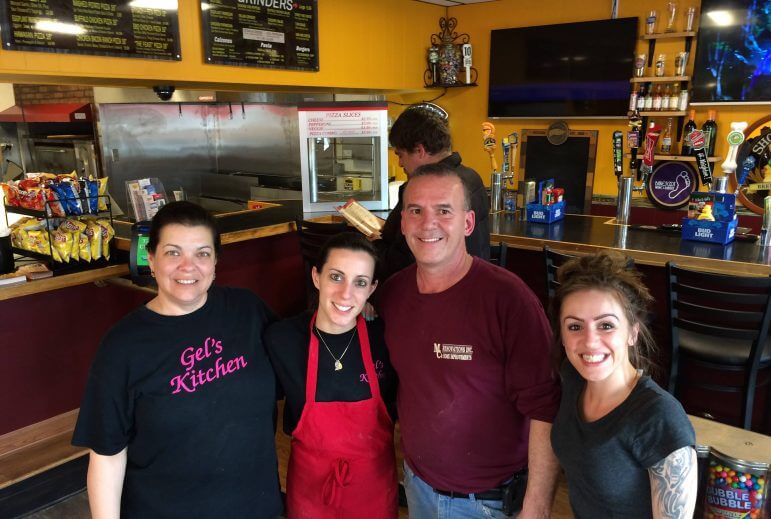 WARWICK, RI — Mike & Gel's Pizza opened Saturday at 3 p.m. at the former Palazzo's Pizza spot, 3003 West Shore Road, with a new sign, new interior, kitchen and menu, and at least one regular customer is happy with the change.
"I eat here all the time," said Jared Daley, one of the first customers under the new ownership. "I like these guys better."
Angelica Penta, who owns the restaurant with her husband, Mike Penta, said the couple found the business was for sale while they were searching for a possible coffee shop location, and liked the idea of running a pizza shop so much they switched gears.
"We said, OK, we're going to learn pizza now," she said. They began learning the business with the previous owner in mid-February, purchased the shop March 1 and worked with the owner through March 18.
The couple worked to update the interior, which Mike, who also owns MC Renovations in Warwick, handled over the course of two and a half weeks, he said. (Customers may also remember Mike as the former Republican candidate for Warwick's Dist. 21. representative seat in the General Assembly, in a friendly race against current Rep. Camille Vella-Wilkinson.)
They also updated the kitchen equipment, and the menu, changing the recipe for the sauce and adding fresh vegetables and home made spinach and meatballs to the fare.
"Everyone loves the meatballs," Angelica said. During their on-the job training, before switching the name and the sign on the building, they test drove their new menu. The meatball sandwiches are selling fast, causing the restaurant to run through 200-300 meatballs every two to three days.
Getting the menu, the interior, and the run of the store right before officially starting under the new name was important, Angelica said. When they announced the new ownership, they wanted everything to be ready  for the curious public.
"Once you change the name on the building, it doesn't matter where you are, everyone wants to try the new place," she said.
Angelica speaks from experience — she and Mike have also owned and operated the nearby breakfast spot Gel's Kitchen in West Warwick since 2011. Angelica said she's wanted to expand their restauranteur activity to include a new establishment for some time.
"I like to always be doing something,"  Angelica said.
She'll get her wish.  Angelica's mom, Lori Mirabella, will run the pizza spot during the early part of the day. In the afternoon, once Gel's Kitchen is closed for the day, she and Mike will head to Mike & Gel's Pizza and run the new place till closing.
"When you love what you do, it's not work," Angelica said.