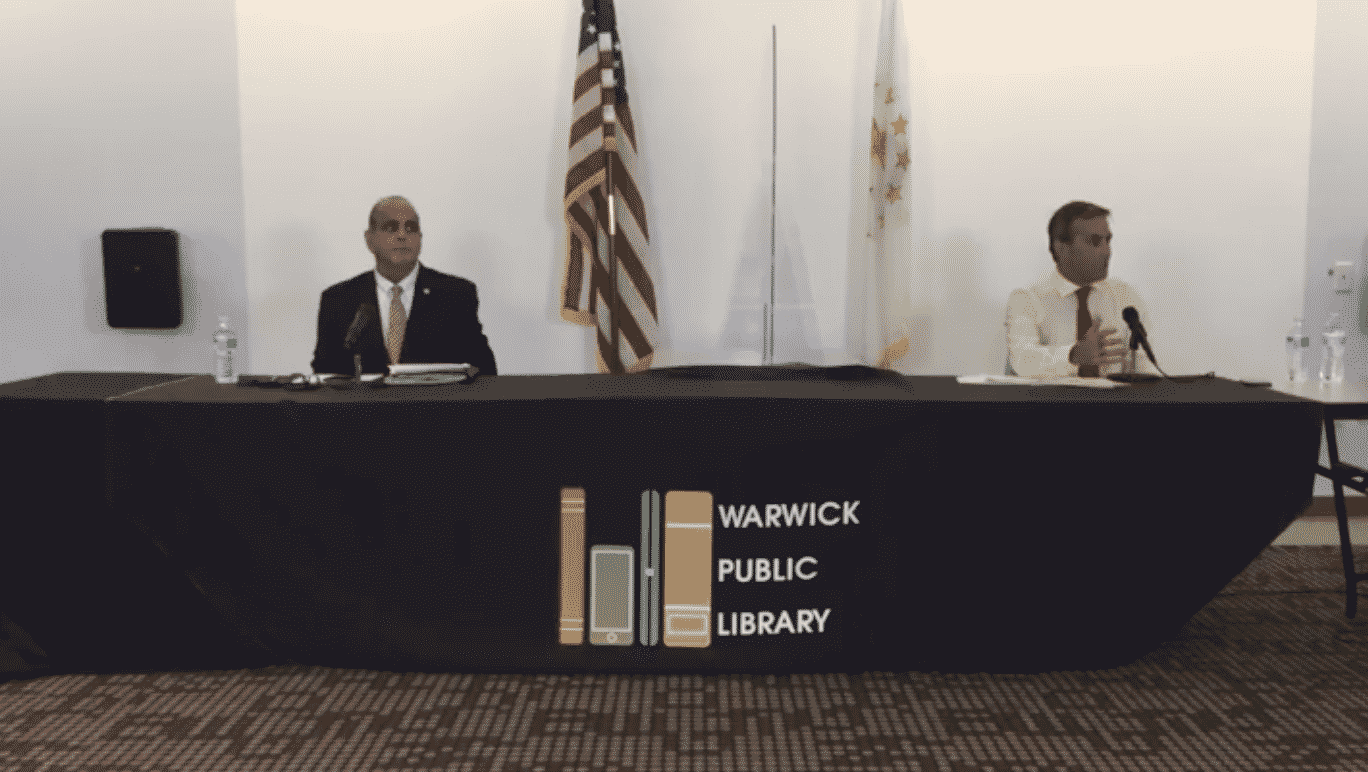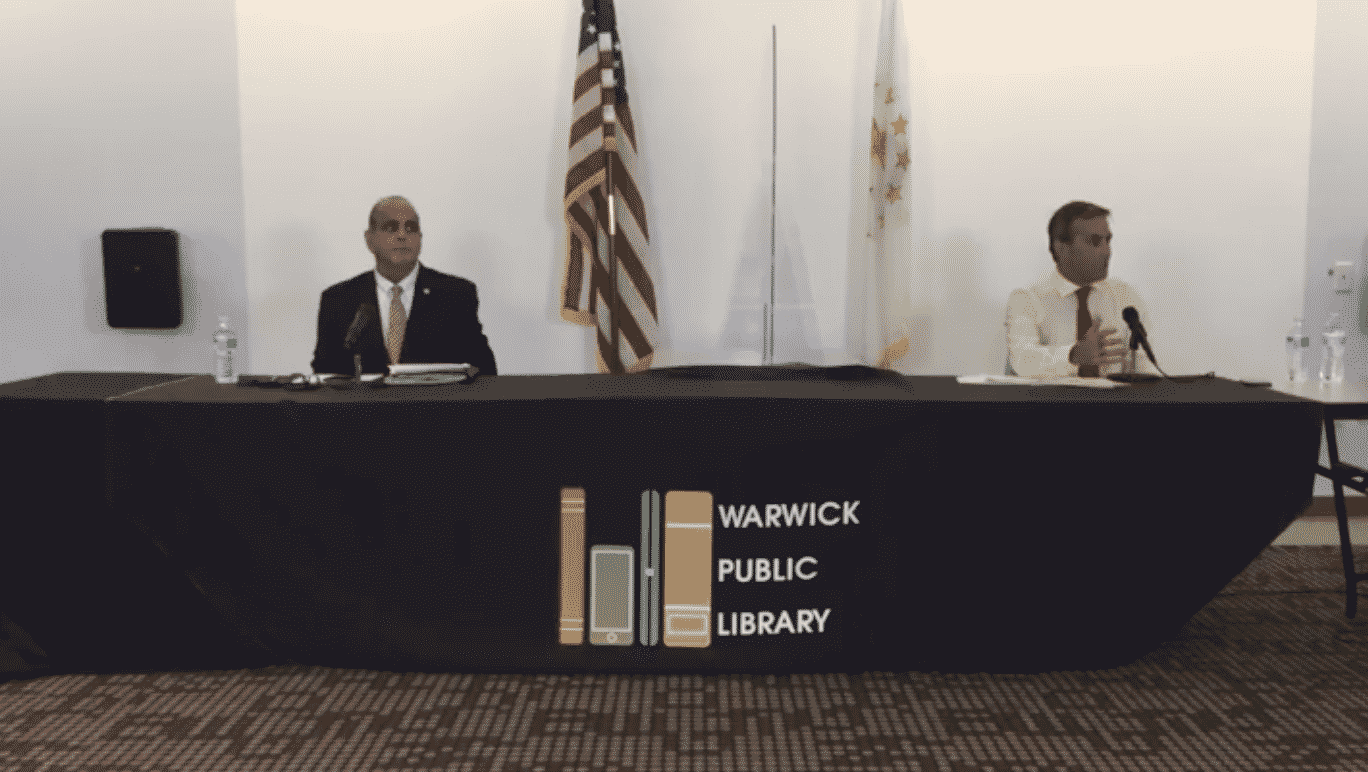 WARWICK, RI — Both Warwick mayoral candidates agreed on the need for pensioner health care contributions scaled to their means, and local COVID-19 leadership, differing on Mickey Stevens development and campaign contributions during a Warwick Beacon sponsored debate at the Warwick Public Library Tuesday night.
The debate was the first held between incumbent Mayor Joseph J. Solomon and his Challenger Frank Picozzi. The event was moderated by Warwick Beacon Publisher and Editor John Howell, who delivered questions ranging from COVID-19 to the Bayside Sewer Project, beach fees and T.F. Green Airport.
Mickey Stevens Complex Plans
Picozzi took issue with Mayor Solomon's recently announced revitalization of the Mickey Stevens Sports Complex, resurrecting a $7 million project back-burnered in 2008. His case was bolstered by his read of a transcript of a Solomon's own words on the area last year.
"There used to be a trash site, a dumping site, historically, I can't tell you what was there. I can tell you it wasn't pretty and it wasn't healthy. It was capped and ball fields were placed above it," Picozzi read from his transcript of Solomon's comments.
"It is a bad place and I would need conclusive proof before anything could be built there, to keep everyone healthy" Picozzi said of the proposal.
Solomon said that the project would include $500,000 in federal brownfields funding to clean up the area, and that nothing would be built in the contaminated area.
COVID-19: Raimondo & Warwick Schools
When asked their take on Gov. Gina M. Raimondo's leadership on the COVID-19 pandemic and Warwick Schools' cautious approach, Solomon and Picozzi seemed of similar minds on the subject.
Solomon said in the start of the pandemic, Raimondo had been clear, and helpful to those in need, but, didn't agree on her approach pushing schools to open sooner than Warwick Schools decide was prudent. "Do I agree with her situation there? Not really." He said the Warwick School Department's caution has been justified, since in-person schooling is being shut down in some schools that opened more quickly.
"Upon their discovery that the filtration system was not proper, could not properly vent our school structures, it was determined by expert engineers, that that was, in fact, the case. So, had we opened up, we would've been shut down by now," Solomon said.
"Overall, I think she had a good response to the COVID crisis," Picozzi said. "As far as schools go, we'd all like to see them open, and, as the Mayor has said, they were deemed not to be safe. We couldn't pass the regulations that she put on us. I think the School Committee took a very wise course of action trying to get the air purifiers in before we subjected the children to that. Our school buildings are in horrible shape through years of neglect as it is. We needed to get this work done. I would like the governor, however, to start releasing some of the federal funds to help the cities and towns with situations like this."
Bayside sewers
When asked if they would vote for the Bayside Sewer Project to proceed, Picozzi said he still needed to research the subject, and that he wasn't able to determine the costs involved without better access to the numbers, which he can't see as a candidate. "I've heard just two wildly different versions of what it would cost," Picozzi said.
Solomon said he is also reviewing the issue, and that he is researching ways to make the install of sewers in the area more affordable for those whose homes are threatened by the cost. "I am sympathetic to all the people that can't afford it, so we're expanding other ways to make an individual disposal system affordable, the most affordable, as possible," Solomon said.
Legacy cost control: Pensioners paying portion of healthcare
Each candidate said they support having pensioners pay a portion of their health care costs as a means of controlling legacy costs to the city. They both supported applying a system by which people staying in the work force after retirement would pay a percentage of their retirement health care, but with a provision to aid those on more modest pensions as their only income.
T.F. Green Airport
The candidates differed slightly on the value of the airport to the city, agreeing that more could be done to improve the give portion of the give and take Warwick experiences from the RI Airport Corporation.
"The city really has no control over the airport. None at all. They could listen to the Mayor, but it doesn't mean they're going to do what they tell them to do," Picozzi said, "You just have to live with them the best you can, you have to keep lobbying, especially, we need to go to our state reps and senators because they should be on top of it. We should be getting more revenue. We should be getting more from the airport.
Solomon said he has developed a good relationship with Rhode Island Airport Corporation President and CEO Iftikhar Ahmad, with whom he advocates for the city.
"Though I may disagree with an entity, I will never walk away because I feel its hopeless not to do something positive. I will continue to argue or advocate on behalf of the citizens and businesses of this community. I will not write it off as being fruitless and without merit," Solomon said.
Interest group campaign contributions
When asked if the candidates would reject political campaign contributions from interest groups and city contractors, the two candidates set themselves sharply apart.
"Yes," said Picozzi, "I don't get them anyways, so I would reject them. Now, and in the future."
"I've always accepted contributions to allow my political career. I have never locked anyone out who believed in what I believe in. And, as long as it didn't result in any type of conflict of interest where my company or relatives' companies doing business with that person, I would welcome everyone's support. Including John Q. Public or any business entity," Solomon said.
Beach fees
When the debate turned to beach fees, the candidates were agreed on implementing them, though Solomon explained his decision to lift them as a temporary one, informed by a close look at the revenue generated weighed against budget, economic and regulatory costs.
Picozzi repeated his criticism of Solomon's change of heart on implementing beach fees to provide revenue for park upkeep. He said he supports them, as many Warwick residents do, in his experience.
"A lot of people have come to our facilities, Oakland Beach, Conimicut, from out of town, from out of state, because of COVID, probably. And our residents feel squeezed out, the facilities've been left in terrible shape. The city just doesn't have the manpower, because of layoffs, to take care of these facilities."
Picozzi said that while it would be an additional cost to residents, the city could charge double to out of town visitors.
"It will deter some out-of-towners from coming, and even the ones that are coming, it will at least be contributing towards the upkeep and take some of the burden off of the residents," Picozzi said.
When Howell asked about the impact to businesses in those areas, Picozzi said he didn't think it would hurt them. "Those businesses can't be our main concern. The residents of this city, they want to recreate themselves. They should be able to," Picozzi said.
Solomon said the beaches draw traffic to gas stations, grocery stores and restaurants that do depend on that traffic. Solomon said that when former Mayor Scott Avedisian's administration collected beach fees, they spent more on collection than the revenue that was generated.
"In other words, it was a losing proposition," Solomon said. He said he is exploring automated parking pass machines to limit the collection cost, which would limit the collection cost below the revenue figure. Upon further discussion, Solomon said applying higher beach fees for non-residents could jeopardize the city's infrastructure improvement grants for those areas.
You can view the full Warwick Mayoral debate at the Warwick Public Library's Facebook page.