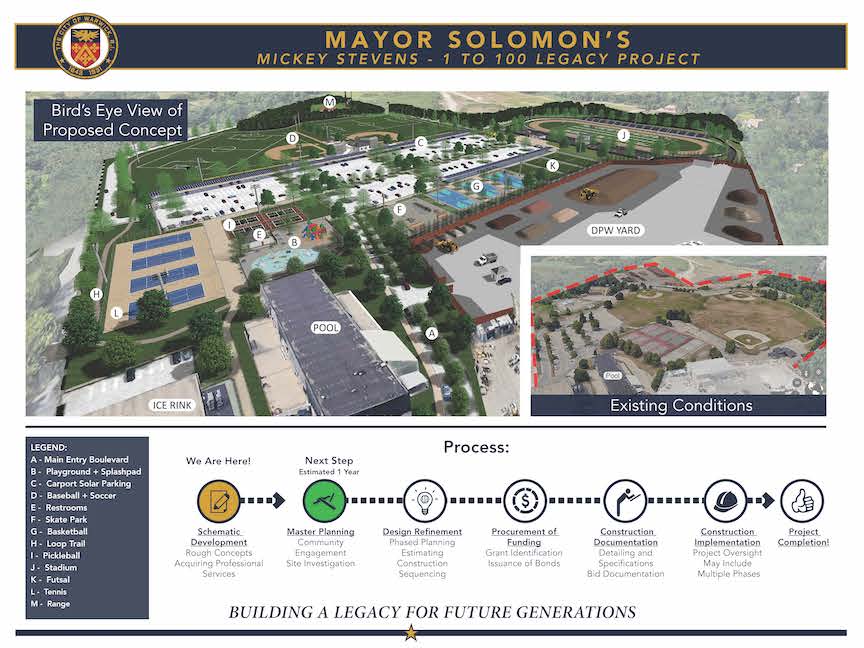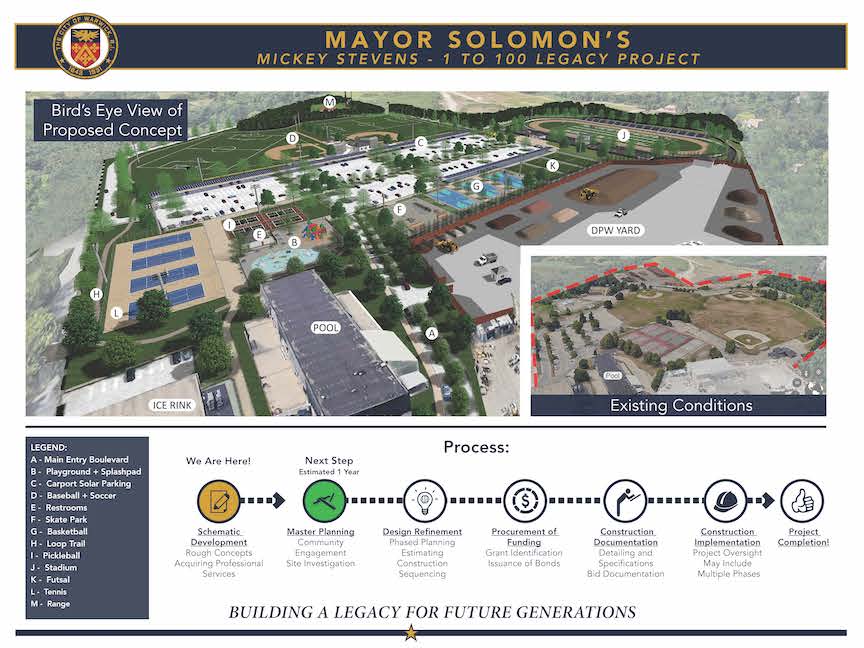 WARWICK, RI — Mayor Joseph J. Solomon has announced he's begun planning a revitalization of the Mickey Stevens Sports Complex, resurrecting a $7 million project back-burnered in 2008 during The Great Recession.
A detailed view of the Mickey-Stevens-Complex-Project plan is embedded here.
In 2006, Warwick voters approved a $7 million general obligation bond to fund a renovation of the complex, but the plans were put on what turned out to be more than a decade-long hold as the housing crisis spurred the worst global recession since World War  II.
After taking office in 2018, Solomon spearheaded an effort to expand and revamp the Mickey Stevens facility as a state-of-the-art sports and recreation venue. He also reestablished the City's Parks and Recreation Department.
Solomon ordered Parks and Recreation Director James Scott to conduct a comprehensive analysis of the facility's current and prospective needs. The City's Planning Department used that analysis to develop a facility usage study and schematic master plan, proposing a complete reorientation and updating of the Mickey Stevens facility amenities. The master plan includes a tournament level track and field sports stadium; combination baseball, soccer and lacrosse fields; futsal, tennis, and basketball courts; a playground with splash pad; a large parking field with solar carports and charging stations; and other supporting facilities.
Solomon has committed funds to procure the services of a design firm to assist in-house Planning Department Staff with community outreach, design, and cost estimating. The Mayor's goal is to develop an action plan for renovating the facility by the summer of 2021, likely accomplished in phases. 
"Both Mayor Solomon and the City's Parks and Recreation Department have been staunch advocates for bringing sports business into Rhode Island. In the past, they have worked with many of our clients including Trilogy Lacrosse, Firecracker Baseball, Ocean State Lobsterfest, Kennedy Memorial Hockey Tournament and US Quidditch. These upgraded facilities will allow us to expand our outreach on behalf of Warwick and will have a great impact on Warwick hotels, restaurants and shopping centers," said John Gibbons, executive director of the RI Sports Commission.
"I have directed my administration to take a very deliberate and thoughtful approach in ensuring that the improvements at the Mickey Steven's Complex are finally realized. This facility is a vital community asset for the residents of Warwick and all of our visitors, and our planning process will be inclusive," noted Mayor Solomon. "Working together, we will turn words into action and build a facility that we can leave as a legacy to future generations. Investing in the Mickey Stevens facility will broaden recreational opportunities for our City, enhance our quality of life, and reinvigorate the community."