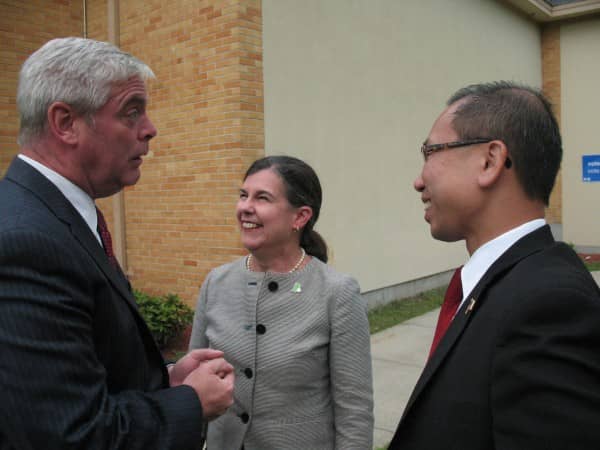 Warwick, RI — The two Republican candidates for mayor were busy criss-crossing the city on Primary Day, Sept. 9, as turnout appeared to be slow at most polling places.
Mayor Scott Avedisian, seeking an eighth full term, and challenger Stacia Petri said they'd spent the day visiting polling places and speaking with supporters, starting before the 7 a.m. opening time.
"I've gotten to see a bunch of people I haven't seen in a while and get caught up on where we are," explained Avedisian, interviewed at Randall Holden School just after 3:15 p.m. He added the response from voters had been "very positive."
Already the city's longest-serving mayor and its youngest when he was first elected in 2000, Avedisian was asked what he has left to prove.
"What I have left to do is finish some projects" including the airport runway expansion and the Apponaug Circulator project, among others, Avedisian replied, "So it's not a question of what I have to prove for me, it's what I don't want to leave undone."
As to his plans for the rest of the day, until polls close at 8 p.m., Avedisian said: "Same as it's been all day — go polling place to polling place."
At St. Gregory the Great Church just after 4 p.m., Petri said of her primary day: "It's been wonderful — the reception has been wonderful."
In her first run for elective office, Petri acknowledged that she's been surprised by a few things.
"It's very biased, it's juvenile, and it's unfair," Petri explained of the local political process, since, she explained, the local GOP endorsed the mayor before she had even declared. "I don't know how that could possibly happen — I feel that politics is all about friends helping friends, but I'm doing what I'm doing to help the taxpayers, and the only endorsement I care about is the one I get from the voters."
Asked about what Primary Day was like for her, Petri said "this morning was like Christmas — I couldn't sleep, and I'm very excited. I started putting signs on the roads at 6 a.m. by myself, and I've been to around to 10 or 12 polling places, thanking my volunteers, bringing them coffee, putting up signs — whatever's left, since a lot of them have been stolen — and we're just going non-stop."
Even after 10 hours on the Primary Day circuit, Petri didn't appear too fatigued; she explained that to maintain her energy, she'd been drinking "coffee, and I juice alot — if you want to know my secret, it's kale and oranges, and blueberries, a lot of vitamin B — I've made a lot of stops at the Vitamin Shoppe."
Most of the questions Petri has faced during the campaign have focused on her relative lack of experience, to which she countered: "Any committed citizen who takes the time to be proactive, to attend city council meetings, to self-educate, to involve themselves in local politics — you can learn far beyond what any mayor who's been in office 14 years knows. I know the numbers better than any career politician knows them."
Avedisian is scheduled to be at his campaign headquarters, in the Airport Plaza, 1020 Post Road, to await the results of Tuesday's vote. Petri's campaign will set up at Lemongrass Restaurant, 1138 Post Road.