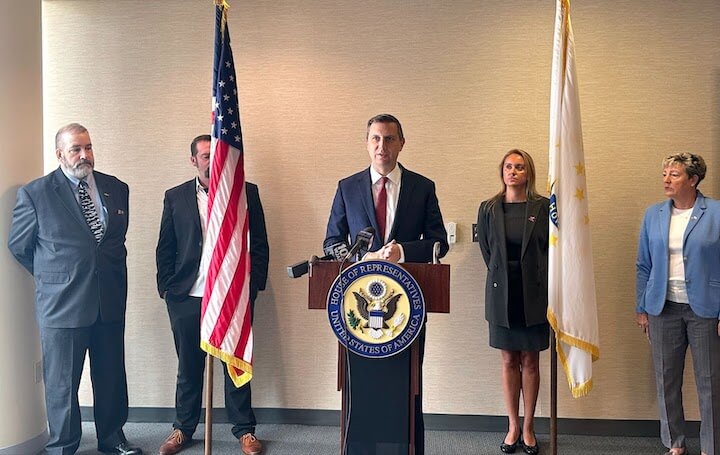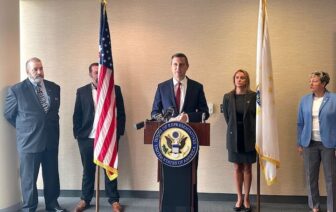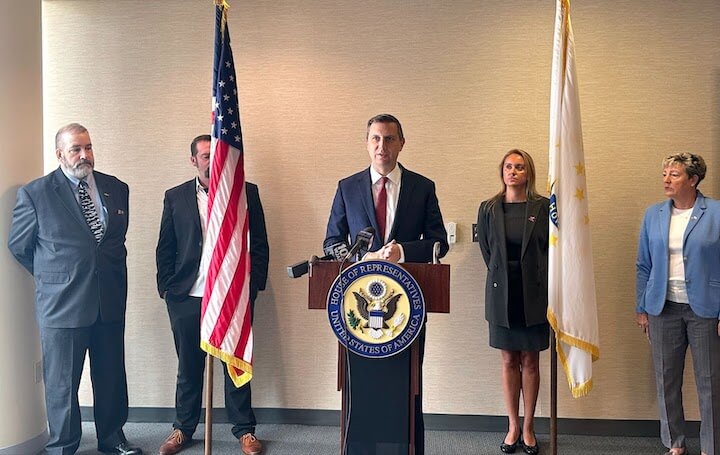 WARWICK, RI — U.S. House Republicans have three days to salvage their failed budget negotiations to avoid a federal government shutdown that'll harm Rhode Islanders.
In May, President Joe Biden and House Speaker Rep. Kevin McCarthy (R-CA, Dist. 23) struck a bipartisan budget deal that suspends the federal debt ceiling till Jan. 1, 2025 and limits military spending to $886 billion and nonmilitary discretionary spending to $704 billion for FY24, according to ABC. The deal, laid out in the  Fiscal Responsibility Act of 2023  passed on a 314-117 vote.
But McCarthy, who narrowly won his speakership by agreeing to policy demands of the far-right Freedom Caucus, supported a GOP budget making further cuts weeks after the Biden deal. The resulting stalemate has nearly outlasted the legal deadline to renew federal spending.
Tuesday, U.S. Rep. Seth Magaziner (D-RI, Dist. 2) highlighted the hardships a shutdown would inflict on Rhode Islanders during a press conference at T. F. Green International Airport.  A shutdown would force U.S. military personnel to work without pay, delay Social Security payments for seniors, and limit inspections for airlines, food and workplace safety, jeopardizing services and pay for thousands of working Rhode Islanders, he said.
"A government shutdown would be devastating for working people in Rhode Island and across the country, and it is our duty to do everything we can to prevent this from happening," said Magaziner. "I'm fighting to stop this manufactured crisis, and I'm calling on my House Republican colleagues to put aside partisanship and work with Democrats to prevent a shutdown. The jobs and paychecks of working Rhode Islanders should not fall victim to political games."
Matthew McCoy, a 23-year retired U.S. Navy veteran from North Kingstown, called the crisis an unnecessary burden on military service members during Tuesday's conference.
'A government shutdown would be devastating for working people in Rhode Island and across the country, and it is our duty to do everything we can to prevent this from happening.'
"We must not allow the men and women who put their lives on the line to protect our country go without pay," said McCoy. "A government shutdown would threaten our national security, military readiness, and recruitment while impacting the financial stability of military families. Our service members shouldn't suffer because of political stunts."
Cindy Coyne, Executive Director of the Senior Agenda Coalition and former Rhode Island State Senator, said Social Security and Medicare, bureaucratic, complex systems provide critical support for senior citizens and older adults with disabilities. 
"A government shutdown would furlough thousands of Social Security and Medicare workers and it would be felt immediately by recipients. We need government to work for those who need it most, and I want to thank the Congressman for continuing to fight for seniors in Congress," said Coyne.
 "Air traffic controllers, who are already overworked and understaffed, will now be asked to work without pay during the shutdown while many others will be furloughed. We urge Congress to work together to reach a bipartisan agreement to avoid a shutdown," said saidJamie Green, National Air Traffic Controllers Association New England Legislative Chair. 
"Workers deserve to be safe on the job, and this is non-negotiable," said Justin Kelley, Business Representative for International Union of Painters and Allied Trades (IUPAT) Local 195. "A government shutdown, however, would limit OSHA inspections which may lead to hazardous conditions that endangers workers' safety. It is incumbent upon Congress to ensure workers are taken care of, and I'm calling for swift action to keep the government open and workers safe."
According to Magaziner's office a government shutdown would have numerous ill effects for Rhode Islanders:
Forcing Servicemembers and Law Enforcement Officers to Work Without Pay: All active-duty military personnel and many law enforcement officers would be required to work without pay.
Worsening Social Security and Medicare Backlog for Seniors: Many Social Security workers would be furloughed, causing significant delays in the processing of benefits.
Denying Food Assistance for Women and Children: Nearly 18,000 Rhode Islanders who depend on food assistance from WIC – including 10,000 children and 4,000 infants – will no longer be able to depend on this program once federal funding is exhausted.
Putting Travelers' Safety at Risk: Air traffic controllers and TSA Officers would have to work without pay which could lead to staffing shortages that threatens travelers' safety. 
Endangering Workers: The Occupational Safety and Health Administration (OSHA) would be forced to limit workplace inspections, putting worker safety at risk, and Americans who are owed back pay for their hard work would face delays due to the majority of Department of Labor investigations being suspended.
Eliminating Head Start Slots for Kids: 10,000 children across the country would immediately lose access to Head Start, affecting early childhood development and the ability for parents to go to work.
Threatening Food Safety: The Food and Drug Administration could be forced to delay food safety inspections for a wide variety of products all across the country.
Impairing Disaster Response: A shutdown would increase the risk that FEMA's Disaster Relief Fund is depleted, complicating new emergency response efforts.
Undermining Public Health and Environmental Protections: Most EPA-led inspections at hazardous waste sites as well as drinking water and chemical facilities would stop. EPA would halt oversight and review of permits and plans to ensure safe drinking water and clean air in communities. Additionally, efforts to address dangerous contaminants like PFAS—which are linked to severe health effects, including cancer—would be delayed, and cleanup activities at Superfund sites would slow or cease.