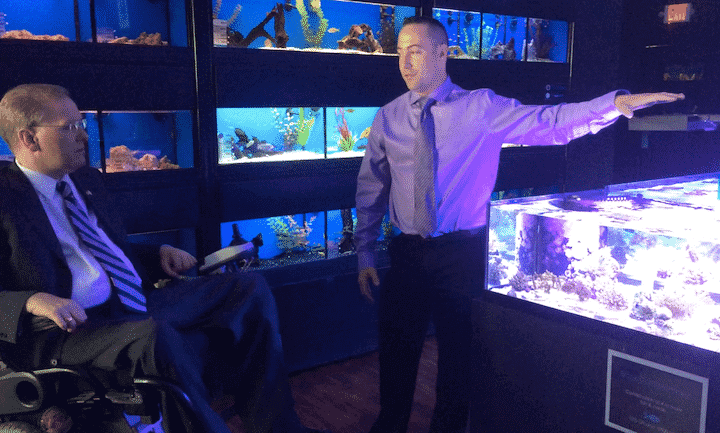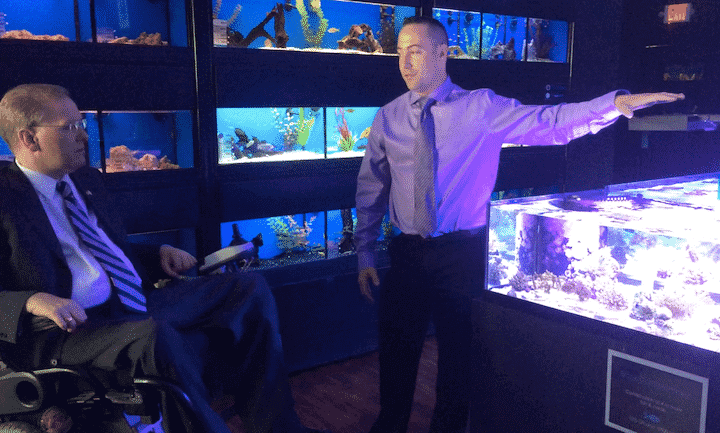 Warwick, RI – Congressman Jim Langevin visited Something Fishy Aquarium Services on Jefferson Boulevard May 8, learning about entrepreneur Kurt Harrington's unique business plan and new partnership with Jordan's Furniture.
The business opened its first location at 1185 Jefferson Boulevard in 2004, starting in 1993 in high school cleaning his dentist's fish tank, expanding the service into a business that paid his college tuition, culminating under the name Something Fishy in 1999.
"We found a void in the marketplace," Harrington said, between the low-end aquariums sold in most pet stores, and
The small business sells aquarium systems in the mid-to-high-end price range, $2,000 to $10,000. They also provide care and maintenance for the aquariums, which are marketed as art pieces or luxury furniture items.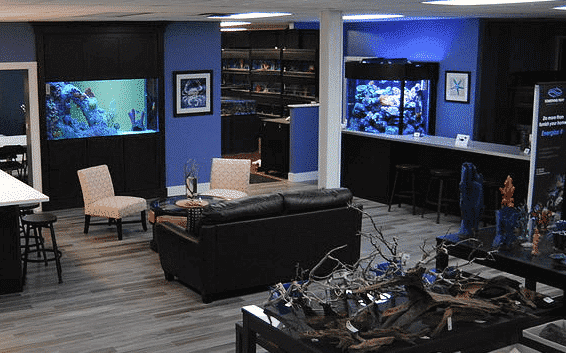 Service packages run the gamut from routine maintenance to care during vacations and emergency services for equipment failure that could endanger a carefully maintained aquarium.
"We're on call 24 hours a day to handle that," Harrington said.
The aquarium sales and care center employs 12 people, has partnered with Mystic Aquarium and landed notable clients Google, Cabella's and the Mohegan Sun and Foxwoods casinos in Connecticut.
But it was news of the company's partnership with Jordan's Furniture in late February that piqued Langevin's interest and led to his visit. The partnership combines natural living art provided by Something Fishy's aquarium exhibits with Jordan's well known design aesthetic.
Harrington said he met Eliot Tatelman, co-owner of Jordan's Furniture, in the Jordan's Warwick store, and he shared his concept of aquariums as living art furniture. In March, Something Fishy launched at Jordan's Reading, MA location.
The Warwick design studio and retail store also features the Fish TALK bar, where customers are encouraged to enjoy coffee and refreshments and learn about aquarium care, including hands-on repair.
"I can see why it's a success," Langevin told Harrington.