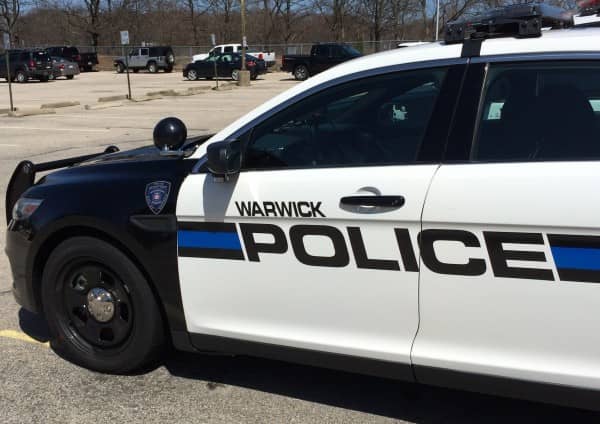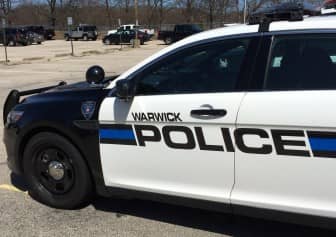 WARWICK, RI  — A hit and run driver struck a car in the emergency room lot at Kent County Memorial Hospital June 1 at about 12:54 a.m., returned as Warwick Police officers were investigating the crash, and fought them as they attempted to prevent her from leaving again, resulting in her arrest for assault, resisting arrest, and disorderly conduct.
Officers Gregory Accinno, Joseph Mee and Karen Haarr were called to the hospital to investigate a report of a hit and run involving a blue Subaru that had struck an unoccupied car in the handicapped space at the ER lot then driven away. At about 1:27 a.m., Mee reported, a woman driving a blue Subaru with corresponding damage to her car drove into the lot. Mee asked her to turn off her car and the officer identified her as Rachel Ryan, 60, of 214 Long View Drive, Warwick.
Mee asked if she was returning to report the crash, but Ryan said she was returning to pick up her husband. She said she thought she had hit a pole or a curb earlier that night. When Mee pointed out that there was damage to her car that matched that of the struck car, she got out of her vehicle to have a look. She didn't seem concerned about the damage, according to the officer's report.
Ryan inspected the damage to her the rear of her car and said, "Not a whole lot of f****** damage," and walked to the car she had struck, saying, No f****** damage," before walking to her car, Haarr reported.
Ryan then turned to yell at the hospital staff, some of whom had come out to the front of the building to watch her and the officers, according to Mee's report. Ryan stated she was going home, but Mee stepped in front of her driver's side door to keep her form leaving, and asked for her keys. At that time, Ryan raised her hand in the air as if to strike him, but Mee grabbed it. Ryan pulled away and punched Mee in the chest.  Haarr and Accino intervened, grabbing the woman's arms and restraining them behind her back.
During the struggle, Ryan scratched Haarr's forearm and kicked Accino's right shin.
Ryan continued to struggle, resist and swear at the officers, but Harr was able to calm her down and place her in the back of a cruiser. Accinno trasnsported her to Warwick Police Headquarters, 99 Veterans Memorial Drive, where she was charged with two counts of simple assault, and one count each of resisting arrest and disorderly conduct.
Nurses informed officers that Ryan had behaved very erratically, including intruding in the CT scan area and stealing a pair of scissors that she used to threaten them with. They asked that her car be towed from the lot to prevent her return to the property.