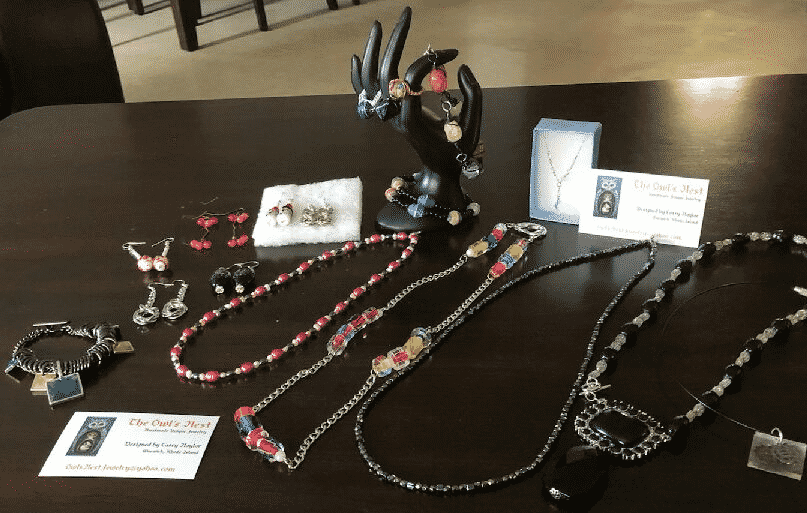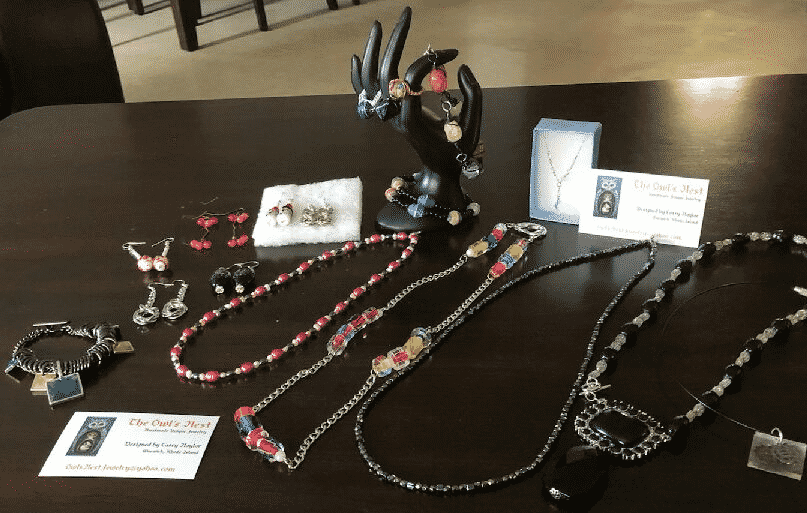 WARWICK, RI— Driven by an endearing need to create and a lively entrepreneurial spirit, cancer survivor and RI native Casey Naylor has been immersed in business classes and making one of a kind, unique, handmade jewelry; turning dream to reality with Jewelry From The Owl's Nest.
With help from the Rhode Island Developmental Disabilities Council (RIDCC), which provides community members with resources to start their own successful businesses, Naylor, a resident at Community Living of Rhode Island, Inc. in Warwick, (a service provider that supports individuals with intellectual disabilities), has taken great strides in her business development and is on her way to success.
For the past two years RIDDC has received a grant from the Department of Labor and Training to help aid people with disabilities in the state, to create incubator businesses so they could contribute to the community, earn money, learn needed business skills and feel accomplished and needed.
As part of this program and grant initiative, RIDCC has been able to link up with the Center for Women and Enterprise Rhode Island, to offer business classes, taught by professionals in the field, to individuals looking to learn more about starting, owning, running and managing their own businesses. Participants in the program take a six-class course that covers areas of interest including: what it means to be an entrepreneur, marketing, finances, the all-important elevator pitch, and more.
For Naylor, who has been honing her extraordinary jewelry making skills since she was five, the business knowledge the classes have provided her with has been invaluable.
"I guess I see things that other people don't and I know when something looks cool and can become something beautiful."
"I've learned important aspects of running my own businesses, such as licensing and registration requirements of business, and marketing techniques, like your business name should mention the type of business you are in or have," said Naylor.
While going through chemotherapy as a child, Naylor taught herself how to be a jewelry maker to keep herself occupied, she said. She's been flexing her artistic muscles for some time, which shows in the attention to detail and distinctive perspective of her jewelry pieces, which she sells as part of her business, Jewelry from the Owl's Nest.
"I have always loved owls. They are my favorite animals," said Naylor. "I love that they live in hollowed out trees and I have always imagined looking into an owl's nest and seeing it filled with trinkets. That's how I got the name for the business."
Naylor's jewelry is much more than trinkets. There are beautiful, hand-crafted, masterpieces of upcycling at its best. Using items such as soda can tabs, and beads she makes from paper, Naylor has found a way to create beauty where there was none.
"My jewelry is another cool way to recycle and keep things out of the landfills," said Naylor, who sells her wares at craft shows and the annual small business Saturday market held each year the Saturday after Thanksgiving at the Crown Plaza in Warwick.
"I love making jewelry, especially out of things other people would have thrown away," said Naylor, who has brain cancer, currently in remission. "If you look at my pieces you would never know they came from things that were being thrown out. I like that a lot. I guess I see things that other people don't and I know when something looks cool and can become something beautiful."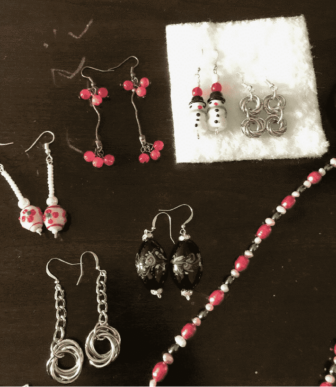 One of Naylor's trademark mediums is her uncommon paper beads, which she makes herself. She roles up strips of decorative paper, from the fronts of greeting cards, old comic books or shopping bags and then takes a focal point and rolls the strips from the wider end to the thinner end. Using either Mud Podge or Polyacrylic, she makes the bead hard, finishing it sometimes with some glittery nail polish for an extra punch of pizazz.
"Everyone who buys my jewelry is guaranteed a one of a kind piece, because no pieces I make are ever the same, I think that is pretty cool," said Naylor.
"I think what Casey does is amazing," said Scarlett Carreiro, a job developer at Community Living of Rhode Island, who works with Naylor. "She is so talented and so creative and she makes beautiful jewelry that can be worn by anyone, young or old; it's all very special and very unique."
Recently Casey applied for a "mini-grant" from the RIDDC. She was awarded $1,000 to help purchase needed items to grow her jewelry line and work on an online marketing plan to gain more exposure.
"Casey is an amazing artist and it's so wonderful that our program can help her and others learn how to grow their businesses so they can keep doing what they love," said Sue Babin, Special Projects Coordinator at RIDDC. "We have worked hard on this project and we hope to keep it going. We are very grateful to the Rhode Island Department of Labor and Training (DLT) and their grant because without them we couldn't do what we have done, which is to excite people and give them the opportunity to learn how to have their own business and be successful."
"I am extremely proud of my daughter," said Naylor's father, Carl Naylor. "I am not surprised she has turned this into a business, she has been making beautiful trinkets and jewelry for as long as I can remember."
"My hope for the future for Casey and her business is that she continues to do well, and that this provides her with happiness and peace of mind," Carl said.
For more information about the Rhode Island Developmental Disabilities Council, visit their website, www.riddc.org.
This page is part of a series of sponsored content pieces for the Rhode Island Developmental Disabilities Council.