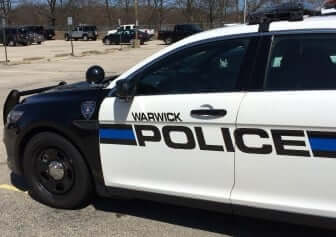 WARWICK, RI — Officers Connor Bemis and Timothy Tavares were patrolling Post Road May 20 at 12:35 a.m. when a very slow moving gray Jeep stopped at a green light, prompting a stop and DUI charge for the driver.
Bemis saw the Jeep, which had blocked traffic on Post Road in the right lane at the light near Bucklin Avenue for several moments, turn onto Bucklin Avenue, then pull into the lot of a closed business, according to the officer's report. He turned on the cruiser's lights and siren and stopped the Jeep. Prior to the turn, the Jeep had been moving at about 15 mph in the 35 mph zone.
Bemis approached the Jeep and identified the driver as Thomas Whitaker, 74, of 20 Linden Road, Narragansett, RI. The officer immediately noticed the man had bloodshot, watery eyes, slurred speech, and smelled strongly of alcohol, according to the report.
Bemis asked Whitaker to get out of the Jeep, and he did, and Bemis reported he continued to smell alcohol on the man's breath. He also noted Whitaker was unsteady on his feet.
Whitaker agreed to perform sobriety tests, during which he demonstrated a lack of smooth pursuit and involuntary eye movement in his vision He also failed to walk heel-to-toe during a walk and turn test, used his arms for balance, turned improperly and nearly fell.
During the tests, Bemis noted blood on the back of Whitaker's head that appeared to be from a recent injury prior to the stop. The officer ended the tests and arrested Whitaker for suspicion of driving under the influence of alcohol, then transported him to Warwick Police Headquarters, 99 Veterans Memorial Drive, where he refused to submit to a breath test of his blood alcohol level.
Bemis charged Whitaker with DUI, blood alcohol unknown, and cited him for refusing the test, as well as for blocking the lane on Post Road.