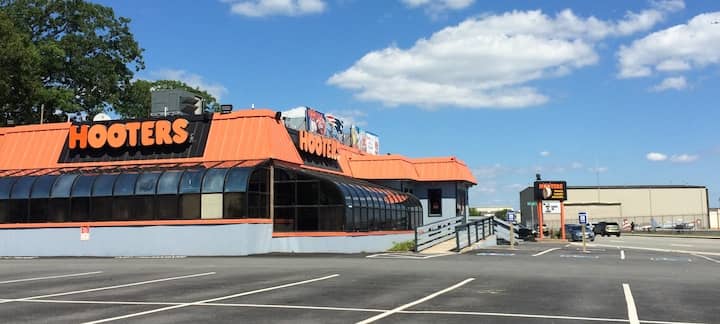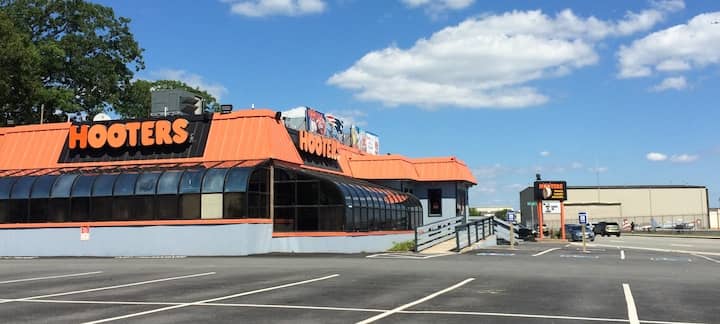 Warwick, RI — Facebook fans of the Airport Road Hooters have been expressing their slipping patience with the long-closed restaurant, and on June 6 Hooters of America, LLC, joined them, suing the Delaware owner in U.S. District Court in Georgia to establish their rights to terminate their franchise agreement over the prolonged closure.
The local Hooters is among 12 locations owned by Hoot Owl Restaurants LLC of Delaware. A second location in Rehoboth Beach, Delaware, has also been closed since last season, according to court documents.
Hoot Owl also operates Hooters franchised restaurants in New Castle, and Newark, Delaware; King of Prussia, Philadelphia, and Concordville, Pennsylvania; and Paramus, Atlantic City, Lawrenceville, Hackensack, and East Brunswick, New Jersey.
In Warwick, the 667 Airport Road location voluntarily shut down in August of 2014 to address health code violations, then briefly reopened in March 2015. The business's Facebook page had posted promotions for games and food specials up till March 21, 2015 then a notice about closing for roof repairs March 24.
According to the suit, under the Franchise Agreement, Hoot Owl is required to "keep the business open and in normal operation for a minimum of seven (7) days a week, fifty-two (52) weeks per year…except Thanksgiving and Christmas."
The agreement also required the franchisee to, "operate and maintain the Restaurant and all exterior areas at the Approved Location in a clean and neat manner."
The agreement also required the franchisee to complete repairs to the building's roof, suffered in 2015, within 180 days of the damage.
The Hooters sign in front of the Warwick Restaurant reads, with several letters having fallen off, "DUE TO NO DAMAGES W."
A paper sign taped to the door of the Warwick Restaurant bears the Hooters Marks and reads: "WE ARE CLOSED! We apologize for the abrupt closure, but due to damage our roof has sustained from the excessive snow this season, we must perform immediate repair. We'll move as quickly as possible and will keep you notified on when we'll be able to open again! Thank you, Hooters Management," according to the suit.
Hoot Owl has willfully breached the franchise agreement, the suit claims, by failing to live up to the agreement and abandoning the restaurant and the Rehoboth Beach location. The suit seeks a declaration of Hooters of America, LLC's rights under the agreement to terminate Hoot Owl's franchise under Rhode Island, Delaware, and New Jersey franchise statues.
In Pennsylvania, where no franchise statute exists, all of Hoot Owl's rights under the Franchise Agreement with respect to its Hooters franchised restaurants located in Pennsylvania have already terminated.
At those locations, the suit says, Hoot Owl's restaurants have continued to operate using Hooters logos and trademarks, constituting unfair competition and trademark infringement. The suit also asks the court to enforce the post-franchise section of their agreement requiring the company to remove Hooters signs and trademarks at those locations.