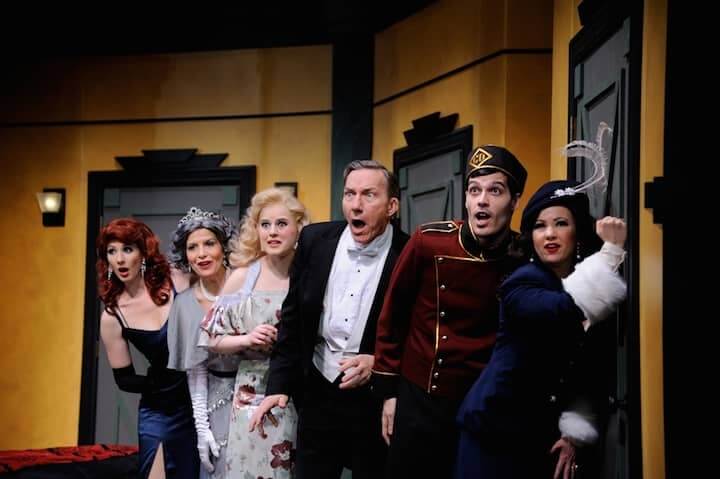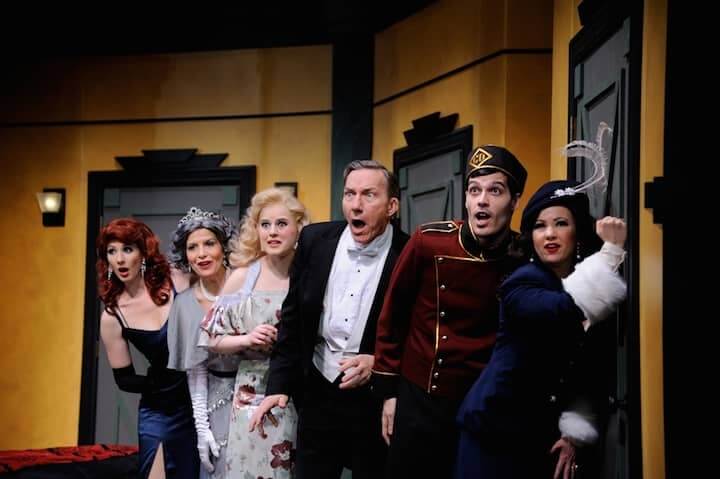 Warwick, RI – Warwick's good fortune as home to a professional regional theatre is hard to ignore after seeing Ocean State Theatre Company's "Lend Me a Tenor," a slapstick comedy with madcap action.
Following a successful run on Broadway in 1989-1990, "Lend Me a Tenor," written by playwright Ken Ludwig, has continued to delight theatre-goers across the country with its fast-paced action. Directed by Kevin Pariseau, Broadway actor and Rhode Island native, "Lend Me a Tenor," features talent galore including superb comedic acting, great vocals, and a stunning set.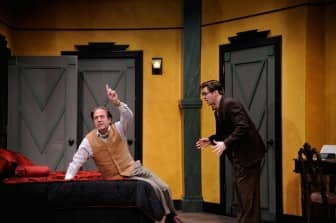 The play is set in a hotel room in Cleveland in 1934, and the many doors in that hotel room offer the perfect venue for much of the show's slapstick hilarity.
Alexander Cook, playing Saunders, the gentleman who snagged the great tenor "Tito" to open the Cleveland Grand Opera House, was perfect as the local business leader who's used to getting his way and having everything under control.
Bruce Sabath, who plays Tito, was pitch perfect as the aging Casanova who, with his long-suffering wife (portrayed delightfully by Gerrianne Genga), just wants to get in and out of town.
Nick Gaswirth does double duty as both Max and Tito. Max is a lackey for Saunders (and is in love with his daughter Maggie). However, when Max has to assume the role as the replacement tenor (when the real Tito first appears to have died, and then goes missing completely), he really stands out.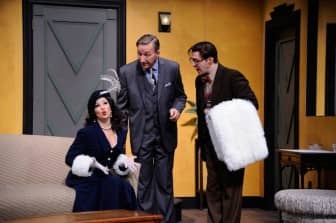 Maggie has eyes only for the great Tito, and of course doesn't see Max as a serious contender for her affections. When Max appears as the fake Tito, Maggie is so blinded by her passion for "Tito" that she falls into the arms of Max, who is thrilled to embrace the love of his life, even if it's in the guise of another man.
Meanwhile, Tito's fellow thespian, Diana Rochelle Weinbach, (playing Diana) has "flirted" with most of the male cast and now has a plan to seduce the great Tito to further her own career. Tito is easy prey for her because his wife has just left him because of his philandering.
The irritating bellhop, played by Rhode Island native Kevin Broccoli, as well as Saunder's wife Julia, played by Mari Tavrozzi, although both cast in minor roles, deliver outstanding performances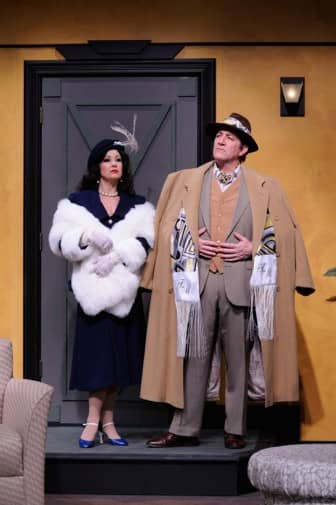 Although we never actually see any of Othello, the scene where Tito coaches Max how to sing (Max is actually very good), is quite touching as Tito shows patience and affection in tutoring the young singer. After Max has performed on stage, the audience is enraptured with what they think was a brilliant performance by the great Tito.
Lend me a Tenor is a wonderful evening out, with plenty of laughs and some great acting. I highly recommend you catch a performance while you can.
Lead me a Tenor runs through April 19 at Ocean State Theatre Company's state-of-the-art facility located at 1245 Jefferson Boulevard in Warwick. Tickets are $34-$49, and are available at www.OceanStateTheatre.org and (401) 921-6800.