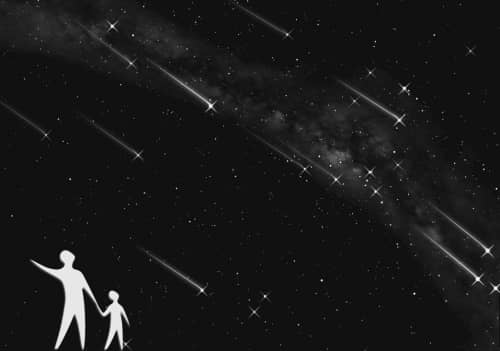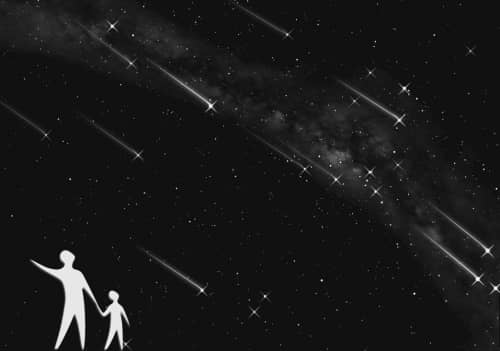 WARWICK, RI — The Geminid meteor shower promises one of the best displays of shooting stars of the year, with up to 120 meteors expected per hour during the peak tonight, but you'll have to brave some cold weather and a chance of snow late Wednesday night to see them.
The National Weather Service predicts a chance of snow showers, after 5 a.m., with a low around 21. However, Frosty Drew Observatory in Westerly reports there's no Moon until 3:30 a.m., when the 12 percent waning crescent Moon will rise.  The combination will result in very dark skies and excellent meteor viewing for the entire night.
Frosty Drew astronomers are planning to turn out for a night of viewing, and advise winter coats, long johns, thick socks, hat, gloves, good winter shoes, and blankets (while observing meteors). Make sure you bring a blanket to lay on or a reclining chair for optimal meteor observation.
According to NASA.gov, the Geminids are active every December, when Earth passes through a trail of d debris shed by a  rocky object named 3200 Phaethon. The dust and grit burn up when they run into Earth's atmosphere in a flurry of "shooting stars."
"Phaethon's nature is debated," said Cooke. "It's either a near-Earth asteroid or an extinct comet, sometimes called a rock comet."
As an added bonus this year, astronomers will have a chance to study Phaethon up close in mid-December, when it passes nearest to Earth since its discovery in 1983.
Meteor showers are named after the location of the radiant, usually a star or constellation close to where they appear in the night sky. The Geminid radiant is in the constellation Gemini.
Where to view:
Frosty Drew Observatory 61 Park Ln, Charlestown, RI  (401) 364-9508. They'll have their telescope open to the public at 6:30 p.m., then close it as meteor falls start increasing.
Any spot far from city/town lights. The farther you get from town, the better your view will be.
If it's cloudy where you are, NASA will broadcast the Geminid shower live via Ustream starting at sunset Dec. 13 from the Automated Lunar and Meteor Observatory at NASA's Marshall Space Flight Center in Huntsville, Alabama.You can also see Geminid meteors on NASA's All Sky Fireball network page. Follow NASA Meteor Watch on Facebook for information about meteor showers and fireballs throughout the year.
When to view: 
Start craning your neck at 7:30 p.m. on Dec. 13, and keep watching till dawn local time the morning of Dec. 14, with the most meteors visible from midnight to 4 a.m. on Dec. 14,
Tips: 
Bring a blanket and something to prop your head up as you watch for meteors.
Remember, state parks close at dusk, so while those areas are far from light pollution, you won't be able to go in.
This is a good night to let the other guy drive so you can just look up.
If you see a very slow, bright object sailing across the sky, it's either a satellite or a Space Station.