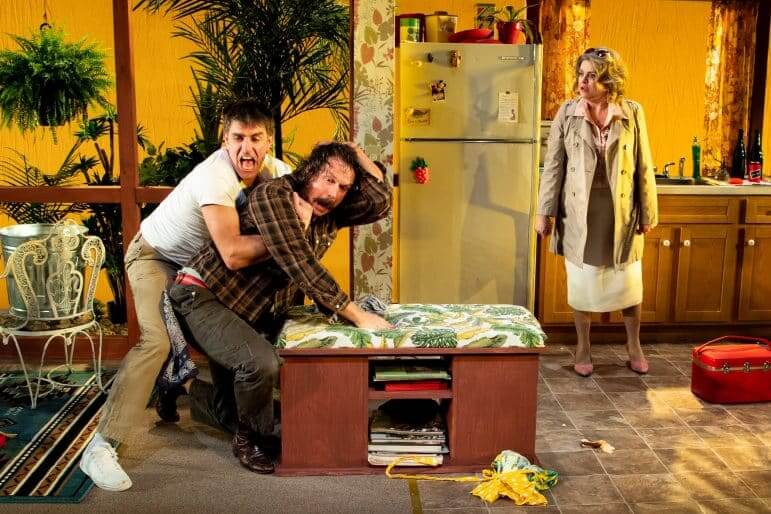 True West, first performed in 1980, was a finalist for the Pulitzer Prize for Drama in 1983, although it's author, Sam Shepard, once said "I'm not proud of any of my plays but the one I'm least embarrassed by is True West".
Aristotle's Poetics, the most widely recommended text on how to write fiction is still, to this day, recommended reading for screenwriters. One of the most frequently quoted lines from Poetics is "art imitates life". However, in 2019, it is tempting to say that "life imitates art". In today's world of heightened partisanship where civility and reconciliation seem further apart than ever, True West may have never seemed more prescient.
True West is a Cain and Abel story of two brothers, Austin and Lee, who come together by accident, after several years of separation. Austin, the younger, successful brother, is a screenwriter. Lee, homeless, permanently disheveled and always on the lookout for his next mark, drops by their mother's home, where Austin is house-sitting.
Anyone who has a brother or sister will instantly relate to the age-old dynamic of sibling rivalry, on full display between Austin and Lee.
Anthony Goes gives a superlative performance as Lee, who is all bravado, at once challenging and unpredictable. Having just stumbled back into civilization after living several months in the desert, he is uncivilized and uncivil. Taking offense at his brothers' success, he is both disdainful and jealous, swinging manically back and forth between two extremes.
Lee's character is by far the most engaging to watch, and Goes gives the character full throttle. The dynamic between bullying big brother and the timid Austin is something anyone who has been to a family reunion or holiday gathering can relate to.
Austin, played by Steve Kidd, gives a superb performance as the long-suffering and tolerant younger brother. In the role of Austin, Kidd doesn't have the freedom to dominate the stage like Goes, but instead, must slowly reveal his character's strengths and inner demons as the play progresses.
The arrival of Saul Kimmer, Austin's agent (played by Richard Donelly), is the catalyst that, when tossed into the already simmering pot of sibling history, results in a long-overdue reckoning between Lee and
The previously arranged meeting between Austin and Saul is hijacked by Lee, who subsequently convinces Saul to abandon the project he had tentatively agreed to with Austin, and instead, undertake Lee's story for his next movie. Austin is at once horrified, disbelieving, and crushed, as he sees his opportunity at success snatched away by his uneducated, no-talent older brother. The situation quickly escalates between the brothers, involving typewriter bashing, small appliance theft and lots of toast.
The setting for the entire play is the living room and kitchen of their mother's house, with a beautifully recreated 1980's southwestern suburban vibe. Interestingly, it is not the house the brothers grew up in, which only adds to the disconnected, transitory feelings displayed by Lee and Austin.
True West is an astonishingly true to life story, written by a screenwriter widely regarded as one of America's finest. I recommend it highly.
True Westby Sam Shepard runs through May 5 at The Gamm Theatre, 1245 Jefferson Blvd., Warwick, RI. Tickets are $44, $52 and $60. Call 401-723-4266 or order atgammtheatre.org. Discounts for seniors, students and groups.