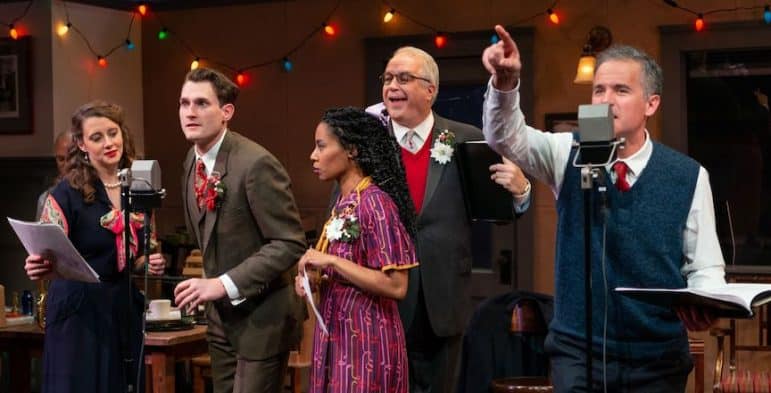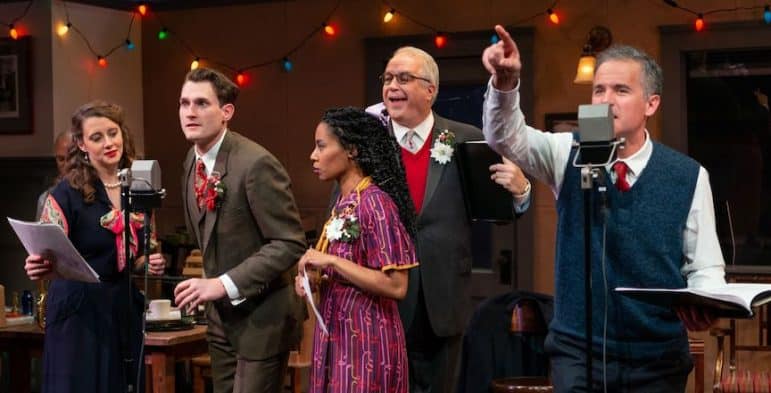 WARWICK, RI —The Gamm Theatre serves up a heartwarming treat with "It's A Wonderful Life: A Live Radio Play" – performed at the studios of the imagined WGAM radio station in Warwick.
The play, set in Warwick  in the fictional WGAM, allows local businesses to play a part in the heartwarming tale.
"We'll be advertising local businesses on our 'radio station' and making deep connections with the Gamm audience through holiday carols and on-air shout-outs, said Damon Kiely, chair of performance for The Theater School at Chicago's DePaul University, making his Gamm directorial debut.
"I feel excited that we have the possibility to touch so many New Englanders with the incredible story of George Bailey, the human spirit of Bedford Falls, and the joy of live radio performance," Kiely said.
The adaptation is a highly entertaining production which will leave you smiling as you leave the theater.
The 1946 movie starring Jimmy Stewart as the lovable businessman George Bailey is a cherished classic and plays on television at this time every year. It's an uplifting story which pays tribute to the best of human nature.
As those familiar with the story know, George tries to be good to everyone but faces mounting financial problems. The evil Henry Potter is the polar opposite of George, a selfish and arrogant man who cares little about the problems of working class men and women.
When his problems become too much to bear, George contemplates suicide and has a fateful meeting with the angel Clarence, who shows him what life would be like had he never been born.
Kiely, working from an adaptation by Joe Landry, generates top-notch work from his actors.
Tony Estrella ("The Night of the Iguana) is sympathetic and charming as George, a man who sacrifices his dreams to help others, including his brother Harry. Madeleine Lambert ("Marie Antoinette") is solid as George's loving wife Mary. Lambert and Estrella have a pleasing rapport in their scenes together.
Fred Sullivan, who recently directed "A Doll's House, Part 2", turns in some excellent work as the malevolent Potter and as the noble Clarence who wants to get his wings.
Sullivan is wonderfully versatile, providing a menacing bellow as Potter and a whimsical lilt in his voice as Clarence.
Jeff Church ("Gloria"), Richard Noble ("Arcadia"), and newcomer Lynsey Ford are also superb as the various denizens of Bedford Falls.
DJ Potter is excellent as the sound effects technician, who provides a variety of sounds including cracking ice and bell chimes. There are some clever gags in the show, including an amusing commercial for a local credit union.
Set designer Michael McGarty created a convincing-looking studio where the story takes place. Jessie Darrell Jarbadan's 1940s era costumes and Noah Beauregard's lighting are also excellent.
"It's A Wonderful Life: A Live Radio Play" is a wonderful way to celebrate the spirit of the holidays.
It's A Wonderful Life: A Live Radio Play runs through December 22. The Gamm Theatre, 1245 Jefferson Blvd., Warwick, RI. For tickets: call 401-723-4266 or gammtheatre.org