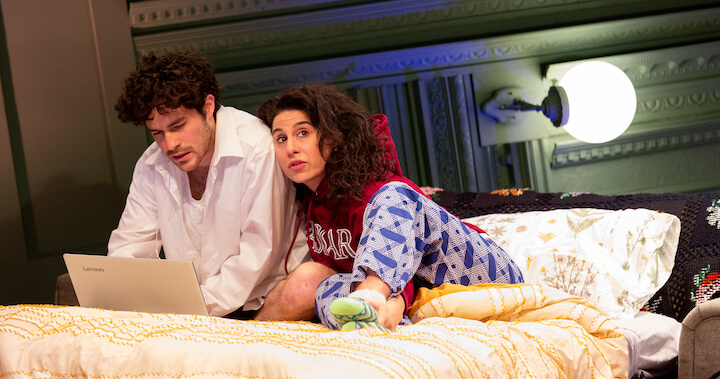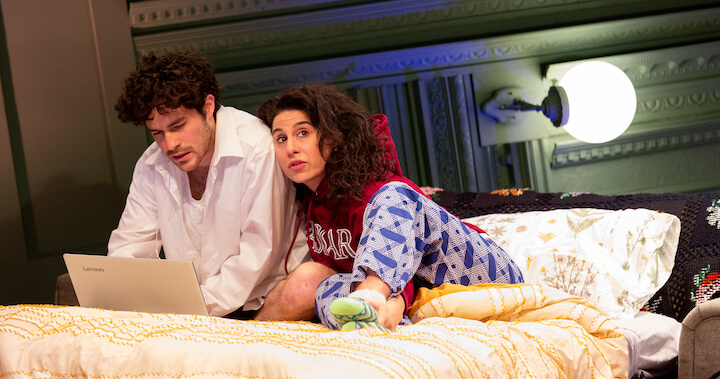 WARWICK, RI — "Bad Jews," Gamm's latest production, is an acid-tinged comedy about the intersection of religious faith, family, identity, and pride that inspires a deeper look at each observer's values and potential legaacies.
In a tiny apartment on Manhattan's Upper West Side, Daphna (Sarah Corey) and her cousins Liam (John Hardin) and Jonah (Hillel Rosenshine) have gathered to mourn their recently departed grandfather.
The source of much of the conflict in "Bad Jews" focuses on their grandfather's prized heirloom, known as a "chai," made up of two letters in the Hebrew alphabet which form a word which means "life."
Daphna is incensed when Liam takes possession of the pendant. She is a strong-willed woman who has devoted her life to Judaism. While Jonah doesn't really have any interest in fighting over the "chai," Liam is adamant that he get to keep it. The battle over the "chai" reveals a schism in the family when it comes to Jewish identity.
Playwright Joshua Harmon ("Admissions") likes to explore sensitive issues like religion and race and the way relationships can be tested by other people's prejudices.
This divide over ownership of the chai is not the only point of conflict in the family, evidenced when Liam introduces his bride-to-be, Melody (Norah Eschenheimer) to everyone. Daphna eviscerates Liam for having the gall to bring a non-Jew into the family. She condemns Melody, who studied opera in college, for not being intelligent or worldly enough for a man like Liam.
Director Tony Estrella ("Describe the Night") maintains a sharp sense of pacing throughout the performance, and gets nicely textured work from his actors. Patrick Lynch's set design is simple but effective.
Corey, making her Gamm debut, creates a haunting portrait as the strident and outspoken Daphna aims verbal daggers at her enemies. Daphna is unlikable because her motivations are based on a deeply misplaced sense of righteousness. There are lots of people like her in the world, some even in our own families.
Hardin, another newcomer to the Gamm stage, exhibits a real flair for comic timing as the exasperated Liam gets grilled repeatedly about his love for Melody as well as the method he used to secure the "chai."
Harmon's dialogue is witty and often profane, especially when Liam launches into an extended takedown of Daphna and her sex life. Many of the funniest moments in "Bad Jews" are courtesy of Hardin's facial expressions and physicality.
That doesn't dminish the nuanced acting by the rest of the ensemble, though. Eschenheimer ("A Midsummer Night's Dream") doesn't play Melody as a dimwit, but rather as a naïve woman who is ill-prepared to handle someone like Daphna. Melody is the good-natured outsider who enters a den of vipers. Rosenshine, meanwhile, has an exquisitely powerful moment near the end of the show, when Jonah shows Daphna just how much love he had for their grandfather.
"Bad Jews", which opened March 2, has met with protests over the title. I would advise those who are offended to see the production and judge it for themselves. This is a story with a relatable human core. It doesn't condemn Judaism or any other religion. We are asked to look more deeply into ourselves and to figure out what's really important to us. Is a piece of gold more valuable than family? How far would you be willing to go to hold on to another's legacy?
And, based on how you live your life, what kind of legacy will you leave?
Bad Jews runs through March 26 at The Gamm Theatre, 1245 Jefferson Blvd., Warwick. Tickets: $55-$65. Information about Friday night pay-what-you-wish rush tickets, as well as discounts for seniors, students, groups and more at gammtheatre.org/discounts. Tickets: 401-723-4266 or gammtheatre.org/badjews.