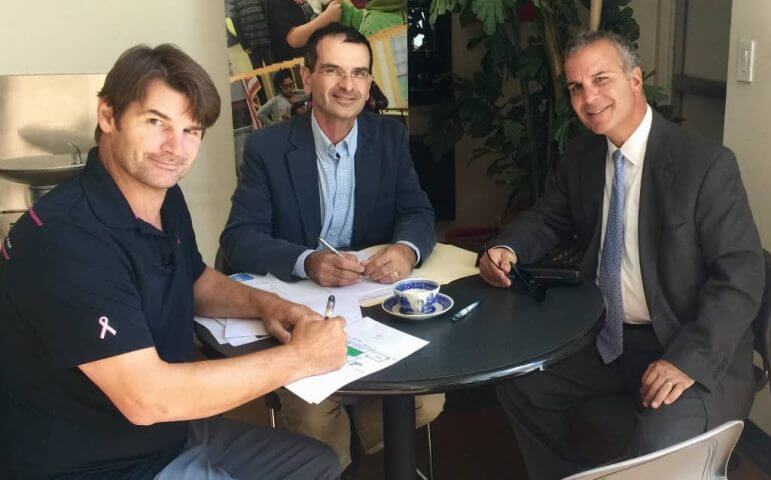 WARWICK, RI — The Board of Directors of Pawtucket-based Gamm Theatre have announced they'll be relocating to 1245 Jefferson Boulevard in 2018.
The property had been leased and occupied by Ocean State Theatre Company until the theater's abrupt closure last May. The organization had been in the space since 2012.
"Since 2011 The Gamm has been looking for a permanent space to accommodate its growing audiences and educational programming" said Gamm Managing Director Oliver Dow in Friday's press release. "Our primary goal was to find a space that could improve the conditions for our artists while maintaining the theatrical experience to which our audience has become accustomed. This is a once in a lifetime opportunity for The Gamm to re-light an existing dark theater while making a substantial capital investment in our artistic mission."
The Gamm plans to renovate the space to create "a theater within a theater" retaining its hallmark intimacy and signature programming that audiences have grown to love and expect.
The Gamm will continue to perform at its current location at the Pawtucket Armory for the remainder of Season 33, which will conclude in May.
"Over nearly 15 seasons and more than 80 productions we have been proud to call Pawtucket home", said Gamm's Artistic Director Tony Estrella. "We have worked hard to help raise the city's profile as an arts and cultural destination. In turn, we remain incredibly grateful for the generous support of Mayor Donald Grebien and his staff, who continued the fine work of the late Mayor James Doyle. They have been instrumental in increasing The Gamm's reach throughout Rhode Island and Southern New England."
Warwick Mayor Scott Avedisian celebrated The Gamm's move to Warwick.
"We are excited to welcome this award-winning theater as the arts anchor of our 'city on the move,'" Avedisian said. "I am truly looking forward to forging a great relationship with The Gamm and seeing Jefferson Boulevard become a cultural destination for the city and the state."
Pawtucket Mayor Donald Grebien noted that "The Gamm has grown and developed here with the support of grants and members of our community. While it's disheartening to see them leave during such an exciting time in our city, we look forward to continuing our relationship with them and their education program."
Members of the theatre community remain divided in their opinions about the move.
"I loved working there with the Ocean State people and if anyone has to move in I'm glad it's collaborators I love and trust," said actor and director Fred Sullivan.
"The Gamm has always been the "intimate theatre" which I absolutely love," said a veteran actor who requested anonymity. "By them moving to Warwick it loses that intimacy regardless of how much renovation they do. They're going to destroy a beautiful space by attempting to make it intimate."
Last May, Andrew Cohen, Chairman of the Board of Directors for Ocean State Theater, noted the organization had been unable to come to terms with the owner of the building, while re-negotiating new lease terms and debt structure. "Additionally, a third party, on behalf of OSTC, had been negotiating to purchase the building for a few months now, however those negotiations were not successful."
According to a formal complaint and eviction notice filed on May 19, Mutual Properties 1245 Jefferson LLC, the building's owner, said the theater company owed $860,908.58 in back rent and additional charges as of May 17.
The complaint said OSTC was responsible for paying $21,114 per month in rent and additional charges.
The complaint also said Mutual Properties sought possession of the building, as well as back rent and additional rent totaling $860,908.58.
Tax filings from 2014 show the theater was more than $2.2 million in debt at the time.
Several liens were placed on the theater's assets. The landlord is seeking secured claims of more than $1.2 million plus interest, late fees and legal costs, according to court documents related to the receivership. Pawtucket Credit Union, too, asserted that it was owed $240,000 for a loan used to purchase equipment.
After the closure, several Rhode Island theaters stepped up to honor tickets to canceled Ocean State performances, including The Stadium Theatre in Woonsocket, Trinity Rep. in Providence and Theatre by the Sea in South Kingstown.