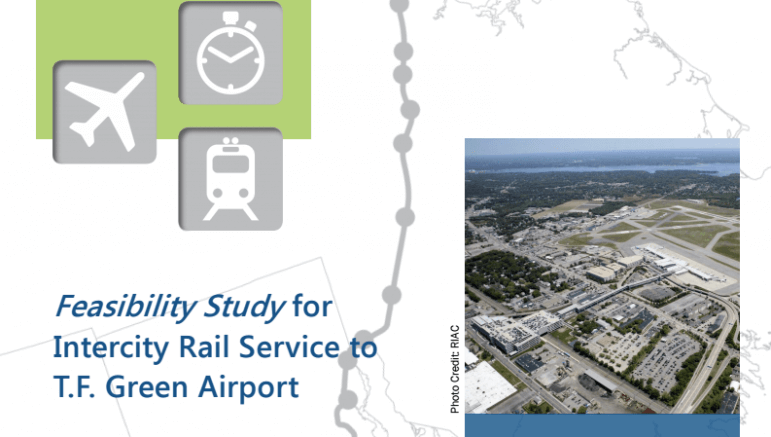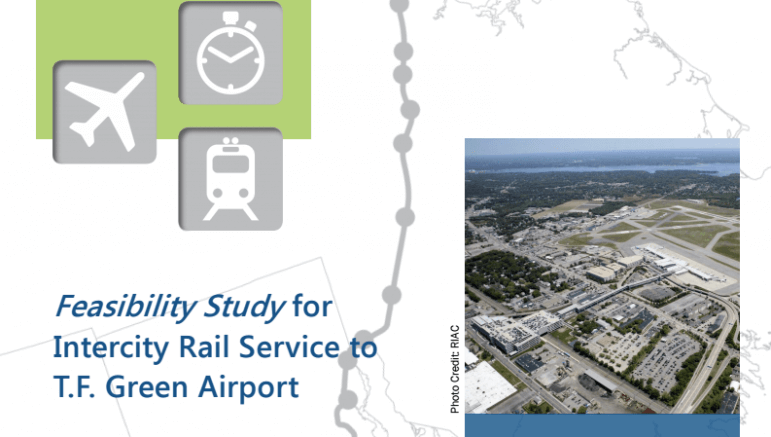 WARWICK, RI — U.S. Senator Jack Reed included language in the FY 2016 Transportation Appropriations bill requiring the Federal Railroad Administration (FRA), Amtrak and the Rhode Island Department of Transportation (RIDOT) to explore more convenient train service for T.F. Green, and the April 2017 report outlines four possible options.
"Bringing a permanent Amtrak stop to the airport could help the state attract investment, create jobs, and enhance transportation options for Rhode Islanders and visitors to the state.  But it has to be done in a smart, cost-effective manner that builds on the significant investments we have already made.  This report lays out the benefits and costs not only of an Amtrak stop but of other alternatives for adding rail service at T.F. Green," said Reed, the Ranking Member of the Appropriations Subcommittee on Transportation, Housing and Urban Development (THUD).  "I appreciate FRA working with RIDOT and Amtrak to conduct this initial study.  I will continue working at the federal level to support the state's efforts to make smart, informed transportation investments that will grow our economy and make Rhode Island more competitive."
The report evaluated each option:
 Scenario 1, extension of Shore Line East service to Rhode Island ($125M – $140M. Estimated capital costs across Scenario 1 variations are $125M – $140M for new infrastructure plus $75M for new trains. The annual operating subsidy requirement (which considers the additional cost to operate and maintain the service minus new fare revenue) is $9M – $16M. This option would expand the airport market into southwestern Rhode Island and southeastern Connecticut, but it has limited benefits in connecting T.F. Green Airport to Boston. This scenario would leverage existing (or planned) rolling stock from Shore Line East.
Scenario 2, beginning Rhode Island Commuter Rail Service. Estimated capital costs across Scenario 2 variations are $70M – $220M for new infrastructure plus $40M – $65M for new trains. The annual operating subsidy requirement is $8M – $9M. This could be positioned as a new service with less implementation constraints compared to a new intercity service. The commuter market to Providence would be positively impacted, but the airport would not necessarily experience big gains in catchment. This scenario would not improve intercity passenger rail connections as identified in Senate Report 114-75.
Scenario 3, beginning Boston – Rhode Island Intercity Rail Service. Estimated capital costs across Scenario 3 variations are $20M – $195M for new infrastructure plus $145M – $275M for new trains. The annual operating subsidy requirement is $8M – $18M. This option would maximize ridership and economic development, but the implementation issues of a complicated governance structure, NEC capacity constraints, ridership and revenue impacts on Amtrak's existing rail services, and overall costs present multiple hurdles.
Scenario 4, adding an Amtrak Northeast Regional stop at T.F. Green Airport. Estimated capital costs are $90M for new infrastructure and no cost for trains, assuming the Northeast Regional schedule could be modified to use today's trains. A Northeast Regional stop at T.F. Green Airport could generate additional annual ridership and revenue of 71,200 and $4.8M respectively, but create longer trip times for Amtrak passengers traveling along the Northeast Corridor, thereby more than offsetting the benefits. Thus, adding a T.F. Green Airport stop to all Northeast Regional trains would require a net operating subsidy for Amtrak of an estimated $3M in the first year to be paid by RIDOT. (The $2.6M includes additional operating and maintenance costs plus the net loss in Northeast Regional fare revenue.)
The report states that substantial project development, cost estimation and engineering design before any of the options could be implemented.
Bringing a regular Amtrak stop to the airport would require upgrades at T.F. Green Station in order to allow Amtrak's regional trains to stop there and to accommodate freight, commuter, and high-speed trains that also operate along that route.  Some of the non-Amtrak scenarios in the report do not require the same infrastructure investments but would require new investments in equipment and rolling stock, as well as higher operating costs.
"Following further discussions between Amtrak and RIDOT regarding which scenarios covered under this study warrant further analysis, the parties will develop a work plan to define the appropriate next steps. Project stakeholders will include the FRA, Massachusetts Department of Transportation (MassDOT), Massachusetts Bay Transportation Authority (MBTA) and the Connecticut Department of Transportation (ConnDOT). Rhode Island Airport Corporation (RIAC) and Providence & Worcester Railroad Company (P&W) will be consulted," the report summary notes.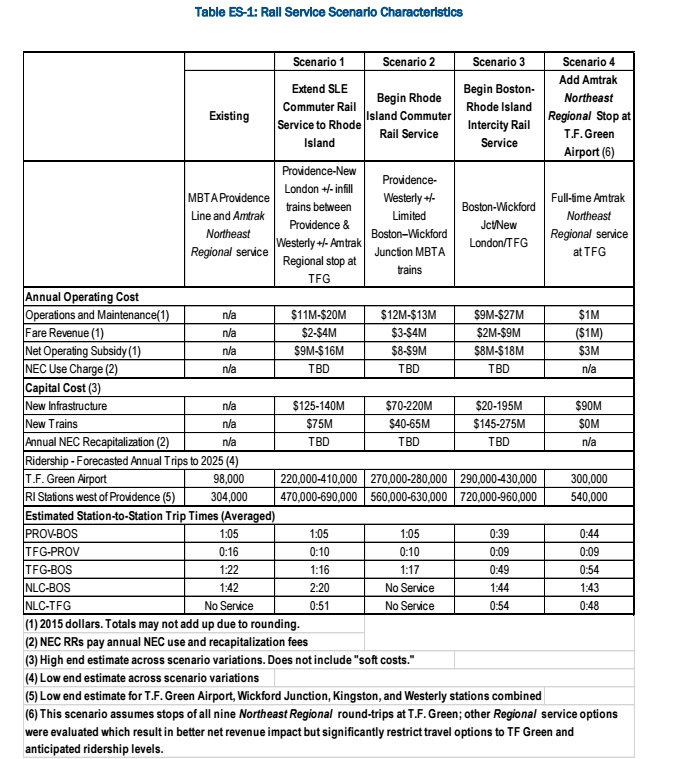 Further analysis may cover some or all of the following topics:
1. Outreach involving key stakeholders,
2. Detailed rail operational analysis,
3. Market analysis,
4. Detailed capital and operating cost estimates,
5. Identification of funding sources for capital and operating costs,
6. Environmental screening and conceptual design,
7. Preliminary and final design,
8. Project phasing and capital programming,
9. Institutional arrangements, and
10. Implementation planning for early, medium, and long term actions.
"As the airport works to bring in new domestic and international service, a better rail connection on the Northeast Corridor could be an added enticement for airlines and travelers," said Reed, who noted T.F. Green Airport is nearing completion on a $250 million upgrade that includes lengthening the airport's main runway to 8,700 feet to better accommodate bigger planes and long-distance flights, including West Coast and European service, and enhance safety.
Besides existing service to the Azores and Cabo Verde, the airport has added two new domestic carriers this year, and in June, it welcomed the first travelers from Europe on Norwegian Air International.  Plans have already been announced for service to the Caribbean next winter.