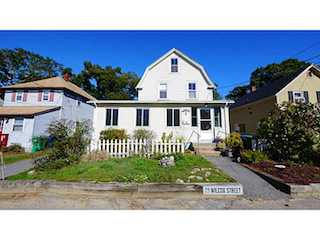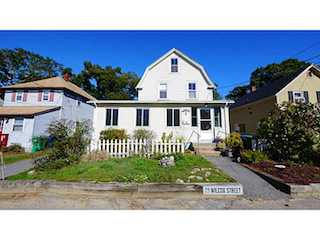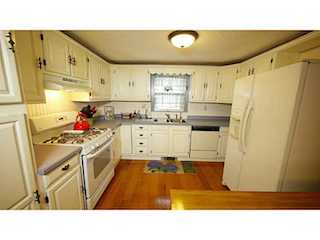 First off, we wish all of our readers had a Merry Christmas this year, that Santa did not get stuck in your chimney or that no reindeer related damage was done to your roofs! If you ever need a referral for a qualified contractor then our team has great vendor resources, please reach out to us at 401-519-5388 to get connected with a great contractor if you are fixing up your home either to get it ready for sale or for you own enjoyment.
WARWICK, R.I. — Our Warwick Post Home of the week is another great value near the coastline in our great town at 21 Wilcox St., listed by our friend and colleague Jane Larsen with Keller Williams Central, is a three bed, one-bath, 1,215 sq. ft. A-frame colonial with a great wrap around porch and views of Brushneck Cove, listed for $199,900.
This property hits the sweet spot for buyers who want big views with a modest budget. Built in 1915, the home is a mix of old and new, the kitchen and bath have been updated and the home is very quaint.  Please contact us or request a showing at
www.FindmyDreamHome.net
for more information about getting into our colleagues amazingly adorable water view home!
Around this time of year we get asked a lot "Is there really anything going on with the housing market?"  While we do see a small slowdown, the answer is emphatically and absolutely, YES.  Last week on one of our teams listings we had five offers and a bidding war and we were receiving showing requests and offers on other listings right up until Christmas Eve.
When its time to move, its time to move and with taxes, heating bills, mortgage payments and other expenses accruing, if you have a motivation to sell, there is no good reason to wait until Spring.  Please check out
www.RIDreamHome.SmartHomePrice.com
if you're looking for a quick confidential valuation of your property.
Hope everyone is looking forward to a great and productive 2017 and remember a goal or resolution is nothing more than a pipe dream unless you have a written plan of action and can be held accountable!  Best to all of you and don't miss all the great winter Real Estate Deals out there.