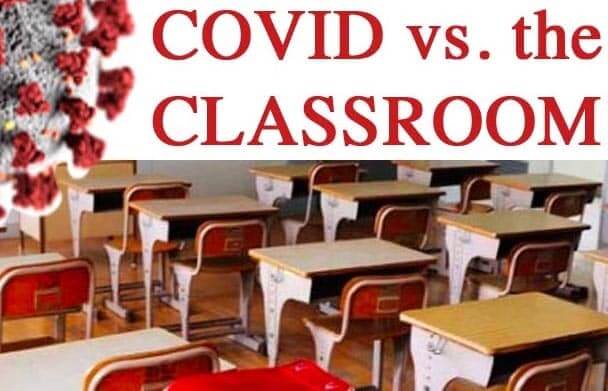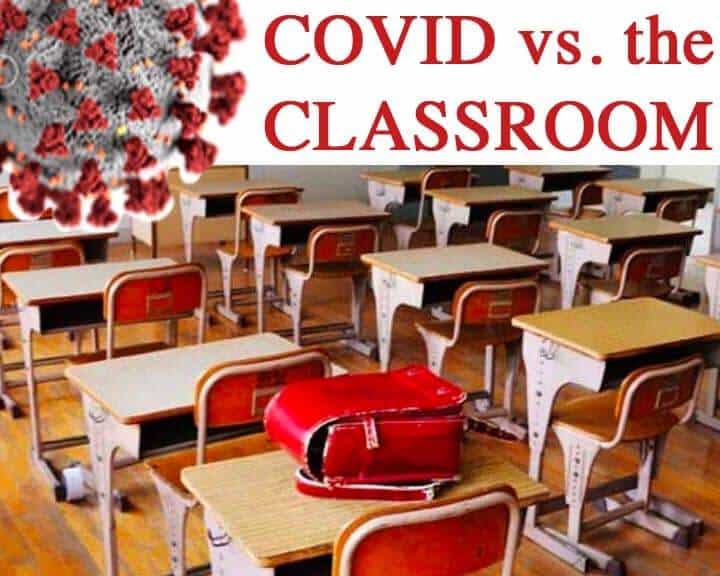 WARWICK, RI — There are no zero-risk physical fall class plans with COVID-19, which threatens death, long-term symptoms, and debilitating effects among all age groups.
That means, as experts explain and teachers, officials, parents and students are finding out, some disease and death will likely result from opening schools to in-person learning this fall.
That's a problem for educators' core mission.
"You have to be alive to be educated," said Darlene Netcoh, president of the Warwick Teacher's Union.
The situation presents an easy moral choice for Netcoh, also a member of a multi-town consortium of teacher's union presidents and superintendents collaborating on possible plans to return to in-person learning in September.
"If it isn't safe physically then we shouldn't be returning to school physically," Netcoh said.
It won't be 100 percent safe, kids aren't immune
"There's no conceivable situation, given the extent of the pandemic now, where 100 percent safety can be guaranteed," said Dr. Don Thea, professor of Global Health and director of the Center for Global Health and Development at Boston University.
Much of the risk is situational, Thea said, depending on both the amount of community spread and the precautions taken to limit the risk.
While early reports from China indicated children infected with the coronavirus that causes COVID-19 would be OK, new data shows that's not the case.
"They are in fact affected and there's some severe complications that have arisen, including death," Thea said.
Among infected adults, even those experiencing just mild or moderate symptoms, Thea said, there are new long-lasting effects from the virus including persistent fatigue and blood clots.
"We're seeing this a lot and the question is, 'How frequently will this happen in children?' " Thea said.
One possible effect of COVID-19 in children is Multisystem Inflammatory Syndrome in Children (MIS-C), a very serious condition, Thea said. MIS-C causes prolonged fever, inflammation in the body, and affects one or more organ systems, according to St. Louis Children's Hospital.
"There's risk for the children, and there may be more risk than we know," Thea said.
Children aren't the only ones at risk
Children returning to school in the fall will carry any infections they pick up back home, Thea said, spreading it to their parents and other family members. Part of the reason flu season begins in earnest in the fall and winter months, Thea points out, is due to children entering schools where they're in close contact with each other and the bringing viruses home.
During the COVID-19 pandemic, Thea said, sending kids back to school is the opposite of what you'd do to contain the coronavirus causing the disease.
"It may well become a community accelerant," he said.
Thea's son is 26 and no longer in college, so he's not presented with the decision about whether to send a child into his local school system. But, he said, he would consider sending a 10-year-old of his if there were also effective mitigation efforts in place, including masks, social distancing and hand washing, combined with an infection rate below 1 percent.
That last point may be tough to assess, thanks to a recent announcement from Trump administration that hospital COVID-19 data, the kind of report that has historically been sent to the CDC and publicly accessible, will now be sent to the White House, according to a New York Times report.
The RI Department of Health did not immediately respond to a question about whether Rhode Island would still be able assess its own data.
Teachers express grave concerns
Pilgrim High School history teacher Mike Costello, 59 who has a daughter attending Toll Gate High School, wouldn't send her to school as things stand now, he said.
At Costello's age, and with a few underlying medical conditions, he's not just concerned for his daughter's safety and that of his students, he's got extra cause to be concerned about his own health. He's also got a historical appreciation for the effect the pandemic is having on society and the economy. But economic damage aside, he said it's clear that sending students physically into schools right now puts some teachers and students at risk of being sickened and killed by the virus.
"One death that can be prevented, should be," Costello said, adding the fellow teachers he's regularly in touch with during summer break feel the same. "My fellow educators feel that safety has to be paramount," Costello said.
The worry isn't confined to Costello's associates.
"Everybody is concerned about returning to school, and rightfully so," said Netcoh. Experts learn something new every day about how the novel coronavirus affects people.
Netcoh said the COVID-19 fall planning consortium, including officials from Cranston, West Warwick, Coventry, Johnston, Lincoln, Woonsocket, North Providence and Pawtucket, are struggling, not only to map a safe course for children, and teachers, in the fall, but also with how to pay for it.
Extra bussing to prevent crowding, extra cleaning supplies to maintain an aggressive cleaning routine, and additional substitute teachers will need to be paid for, Netcoh said, and there's no money for it.
Netcoh said the School Committee and the Warwick Schools Administration are taking their concerns seriously. The Rhode Island Department of Education and Gov. Gina M. Raimondo, have sent conflicting messages to the schools, their main directive boiling down to, "Be creative."
When the Rhode Island Department of Education asked districts to prepare a series of back to school plans, one they were tasked with producing was a plan to do full school in-person learning.
"We all said, 'That's not happening,' " Netcoh said.
Instead, they are working on sending 25 percent to 50 percent of students to school at a time, alternating days in class and distance learning.
"If you're going to have kids in the buildings, then that's the way that you have to do it," Netcoh said.
But Netcoh and Costello each noted there are physical aspects of Warwick schools that make the environment less safe during the pandemic or that prevent recommended safety precautions from being implemented.
Costello said his classroom's windows are all at the top of the classroom's walls, which diminishes their value as ventilation aids. The one large window he has in his classroom is a fire exit, and he's not allowed to open that, he said.
Netcoh agreed ventilation is a problem in schools in general. She added that some schooling presented added inherent risk. Music classes would have to be limited to strings, because woodwind instruments like the flute, and saxophone, as well as horns, would move other people's breath around.
Costello isn't convinced any of the plans are a good idea, or that the risk of infection they present is worth being able to teach students in person.
"I believe in science. I believe in medicine. I believe in experts. I do not believe in politicians who are not experts telling me what to do," Costello said.
 Remote learning: Already figured out
Netcoh pointed out that, while teachers are eager to return to in-person learning and believe it's the best way to teach, they and state officials have yet to clear the first hurdle to making that happen.
"We can't even get the kids to school because we don't have the buses to do it," Netcoh said.
On the other hand, "Warwick did a pretty good job of distance learning, all told," Netcoh added, "The teachers rose to an enormous challenge."
"I had a pretty good experience with remote learning," said Costello, "Most of my students were on-task. I feel my students got a very good education with distance learning."
Costello said he understands that remote learning is a challenge for special education students, who won't receive the resources they would inside a school.
Thea, a university professor who teaches young adults, said he appreciates the difficulty of keeping the attention of elementary aged children for several hours a day with distance learning. Costello and Netcoh both noted that logistically, elementary students are easier to manage in stable groups because inside schools they're organized by class throughout the day.
But those pros and cons, along with the cost and difficulty of limiting infection risk with in-person classes, turn a blind eye to the inescapable truth of the pandemic's affect on schooling.
"I feel for everyone, but we can't educate kids in this current situation,"  Netcoh said.
Costello said he knows the economic impact the pandemic has and will exact, but that doesn't change the more dire effects of a pandemic on communities.
"I don't take this lightly. I teach the plague. I teach the effect that Spanish Influenza had in 1918. But I still believe that safety has to be the number-one concern. Safety first," Costello said.
The Warwick School Committee meets via Zoom teleconference tonight at at 6 p.m. The plan for reopening schools is on the agenda. The meeting can be viewed on the committee's YouTube channel. Links to view the meeting and the full agenda are available here: Warwick School Committee July 16 agenda