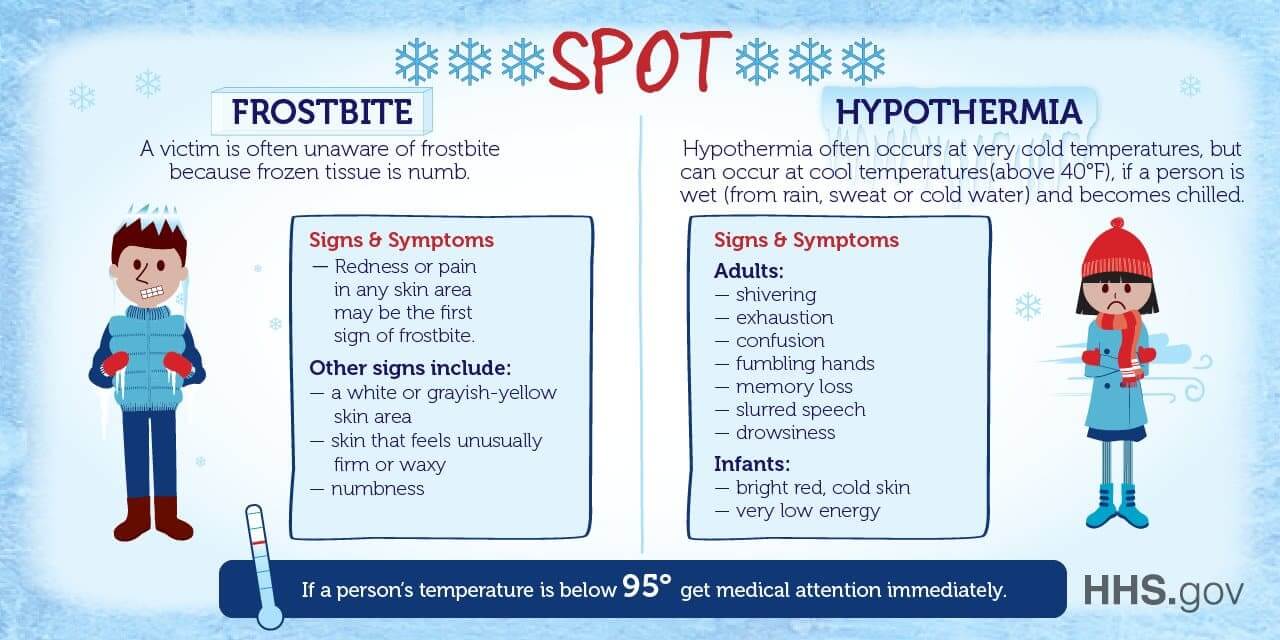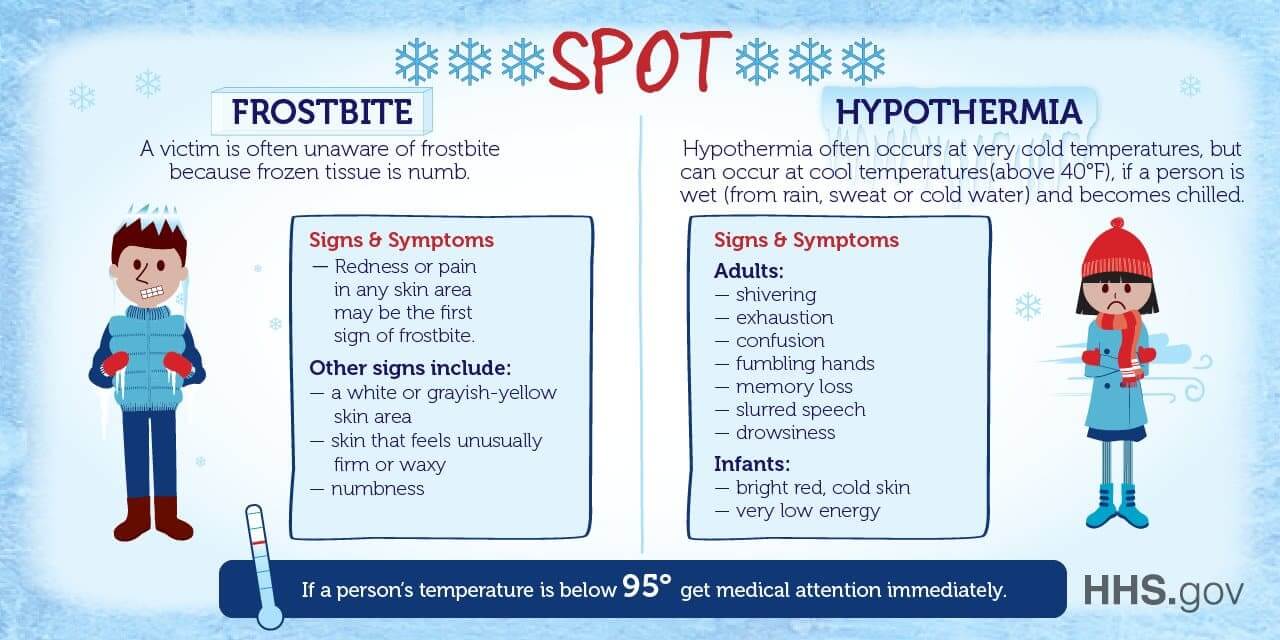 NORTON, MA — The National Weather Service warns extreme cold and blustery wind will produce wind chill temperatures of 30 degrees below zero and gusts up to 55 mph, Friday and Saturday, conditions expected to hit Rhode Island's homeless especially hard.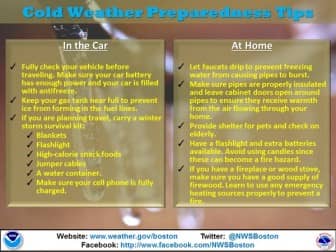 In its Wind Chill Warning, taking effect at 10 a.m. Friday and ending at 10 a.m. Saturday, the NWS advised dangerous extreme cold wind chills are expected, dropping between 20 and 35 degrees below zero. Northwest winds gusts between 35 and 55 mph, with the strongest occurring in high terrain, are expected in portions of northern Connecticut, southeastern and western Massachusetts and northern and southern Rhode Island, the agency reports.
The NWS, state and local officials warn people to stay indoors if they're able, as such dangerously cold wind chills could cause frostbite on exposed skin in as little as 10 minutes.
Preparations for dealing with extreme cold indoors is also advised, as the high winds may cause power outages, especially in the high terrain.
Warming Centers Prepare for Extreme Cold
If you find yourself in need of a warm place to wait out the exteme cold, there are a number of warming centers open in communities across RI funded by the RI Emergency Management Agency.
Warwick has two warming centers open daytime hours during the extreme cold:
The Warwick Public Library at 600 Sandy Lane will be open as a warming center on
Friday and Saturday from 9 a.m.-5 p.m.
Sunday from 1-5 p.m.
The Pilgrim Senior Center will be open as a warming center on
Friday from 8:30 a.m. – 4:30 p.m.
No Guaranteed Overnight Respite for Rhode Island Homeless
Margaux Morisseau, deputy director of The Rhode Island Coalition to End Homelessness, noted the Warwick warming centers and other state warming centers are not open overnight, leaving the state's current 306 homeless scrambling to find shelter throughout such emergencies. Cold weather like that settling in across the state claims the lives of some homeless people people every year, she said. "That's the reality of it," Morisseau said.
Homeless shelters already at capacity in the state are working to protect people from the cold during the next 24 hours, she said. Some homeless will have to spend emergency money to stay at hotels. Some will be taken in at the state's five homeless shelters, but there's no guarantee that everyone who needs to get out of the cold overnight will be able to do that, she said.
"There is a disconnect between funding for warming centers and what the community need is," Morisseau said.
That could be changed if the way federal funds for warming shelters was reformed, Morisseau said, so the Coalition is working on legislation that would allow the funding to be spent to keep warming centers open overnight during extreme cold. Keeping warming centers open overnight would also benefit people left without heat in the middle of the night by wind or snowstorm.
The five shelters working to accommodate homeless people overnight during the cold emergency (Call the CES Hotline at 401-277-4316) are:
Cranston Street Armory, 310 Cranston St., Providence, RI:  (24 hours)
Crossroads RI, 160 Broad St., Providence, RI: (24 hours, very limited availability)
Providence Rescue Mission (Men Only) 239 Public St., Providence, RI:  (Thursday – Sunday, Feb. 2 through Feb. 4 – 24 hours)
50 Washington Square Upstairs, 50 Washington Sq., Newport, RI: (Thursday – Sunday, Feb. 2 through Feb. 4 – 7 p.m. – 12 p.m.)
Woonsocket Warming Center, St. James Episcopal Church, 24 Hamlet Ave., Woonsocket, RI (Thursday – Sunday, Feb. 2 through Feb. 4 – 5 p.m. – 7 p.m.)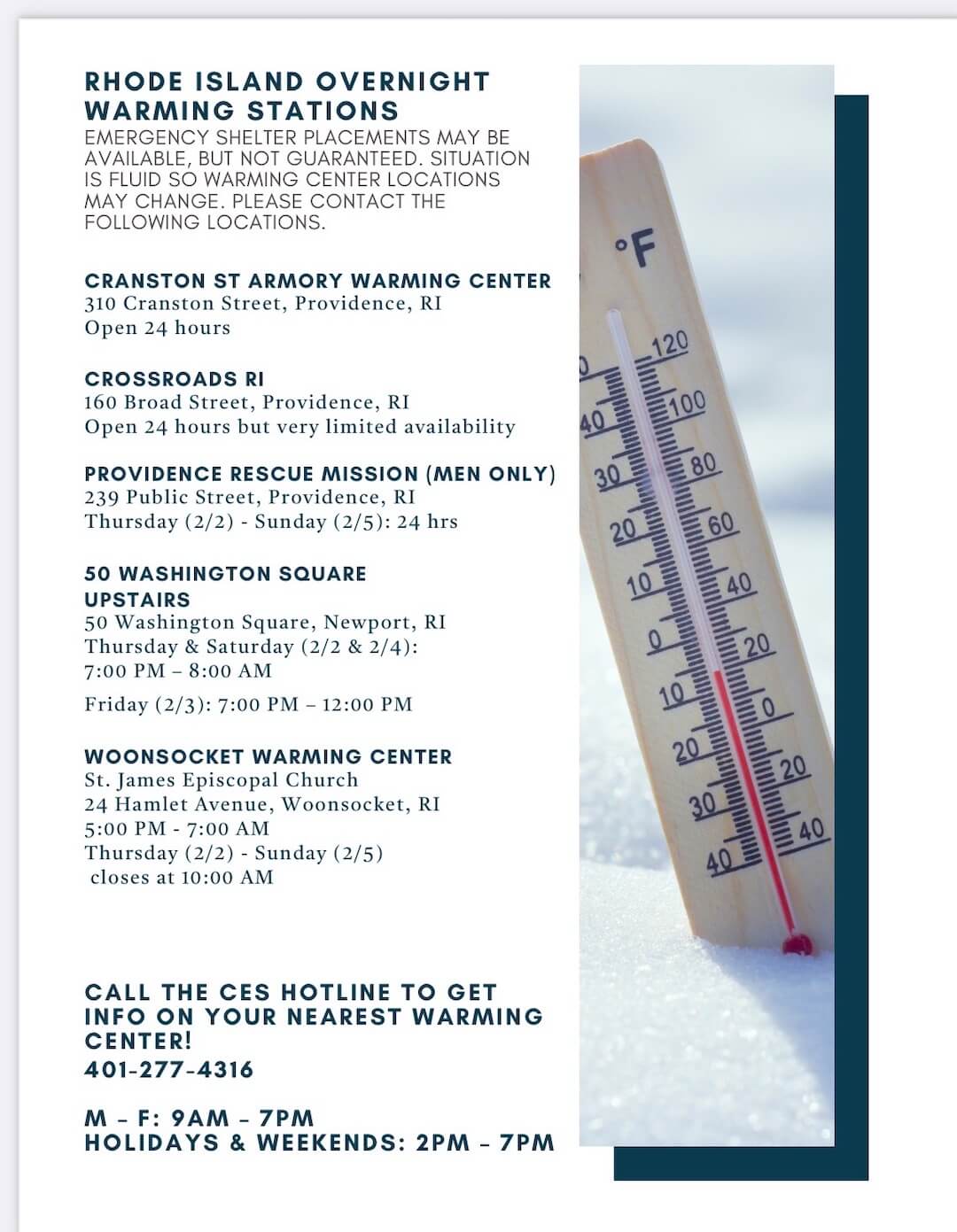 Red Cross Extreme Cold Tips
The Red Cross has posted a number of personal and homeowner tips for dealing with extreme cold weather:
Avoid unnecessary exposure to the cold. Be aware of both the temperature and the wind chill when planning outdoor activities. When you prepare to go outside in severe cold weather, please remember the following:
Most of your body heat is lost through your head so wear a hat, preferably one that covers your ears.
Dressing in layers helps you retain heat. You can remove layers as needed if you become too warm.
Mittens provide more warmth to your hands than gloves.
Wear water proof, insulated boots to help avoid hypothermia or frostbite by keeping your feet warm and dry and to maintain your footing in ice and snow.
Get out of wet clothes immediately and warm the core body temperature with a blanket or warm fluids like hot cider or soup. Avoid drinking caffeine or alcohol if you expect you or someone you are trying to help has hypothermia or frostbite.
Recognize the symptoms of hypothermia that can be a serious medical condition: confusion, dizziness, exhaustion and severe shivering. Seek medical attention immediately if you have these symptoms.
Recognize frostbite warning signs: gray, white or yellow skin discoloration, numbness, waxy feeling skin. Seek medical attention immediately if you have these symptoms.
National Weather Service: Extreme Cold Tips
In light of the extreme cold and wind chill, the weather service also lists the following tips:
* IF YOU HAVE NOT DONE SO ALREADY...BE SURE TO COVER EXPOSED PIPES
  TO REDUCE THE THREAT OF FROZEN PIPES OR PIPE BURSTS.  

* ENSURE YOUR FURNACES ARE IN WORKING ORDER. FOLLOW MANUFACTURES
  INSTRUCTIONS OR UTILIZE A QUALIFIED TECHNICIAN TO ENSURE PROPER
  AND SAFE OPERATION OF YOUR FURNACE.

* NEVER VENTURE OUTDOORS WITHOUT WEARING GLOVES...A HAT AND
  SEVERAL LAYERS OF CLOTHING. 

* RUN WATER AT A TRICKLE AND KEEP CABINET DOORS OPEN TO PREVENT
  PIPES FROM FREEZING.

* NEVER USE A STOVE OR OVEN TO HEAT YOUR HOME OR USE AN OPEN FLAME
  TO MELT FROZEN PIPES. MANY HOUSE FIRES RESULT FROM THESE
  PRACTICES.

* NEVER USE A GENERATOR NEAR OR INSIDE YOUR HOME. CARBON MONOXIDE
  POISONING IS DEADLY.  CHECK OR INSTALL CARBON MONOXIDE
  DETECTORS.

* CHECK TIRE PRESSURE AND YOUR CAR BATTERY. BE SURE YOUR CAR HAS
  A WINTER SAFETY KIT THAT INCLUDES A BLANKET...WARM CLOTHES AND
  GLOVES IN CASE YOUR CAR BREAKS DOWN OR BECOMES STRANDED.

* TAKE EXTRA STEPS TO KEEP YOUR PETS WARM AND KNOW THEIR LIMITS TO
  COLD.