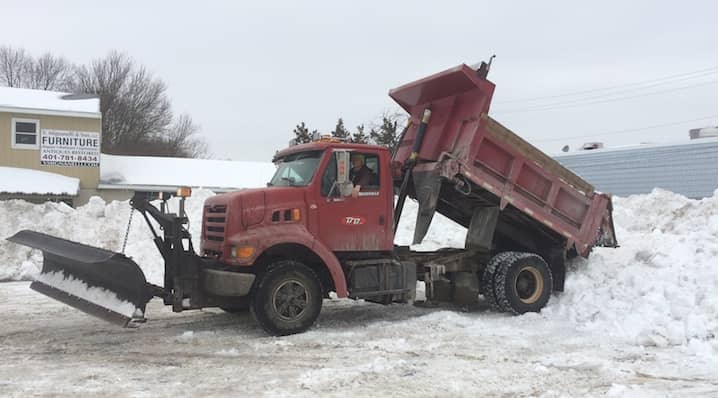 Warwick, RI –  As word of the National Weather Service's Sunday-through-Tuesday Winter Storm Warning for Bristol, Kent and Providence Counties spread this week, people may well have wondered where they'll be putting the anticipated 8 to 12 inches of new  snow.
As of 5 a.m. Saturday, Warwick seemed destined for 6-8 inches of snowfall. Between what's been referred to as the Blizzard of 2015 two weeks ago and the Groundhog Day Storm Monday, about three feet of snow has fallen on the area already.
Across the city, snow banks piled high at intersections were beginning to melt down thanks to at least one day of above-freezing temperatures mid-week, but by week's end the weather was back to sub-zero (with an accompanying weather warning and local warming centers).
For the city, stacking the snow isn't a big concern, according to Mayor Scott Avedisian and DPW Director David Picozzi.
Avedisian said the city piles cleared snow on its own lots against buildings in most cases, and can continue that with this latest snowstorm. The only city property where the snow piles up is at the compost station behind the Thayer/Warburton Ice Arenas on Sandy Lane. Snow cleared from the ice rinks, Avedisian said, is piled there.
As for the rest of the city's piled up snow, "We just let it melt," in between storms, Piccozi said. That approach has gotten them through some pretty tough winters during his tenure, he said, including during the Blizzard of 1996.
Area businesses often deal with a more constricted ratio of surface area to snowfall.
At Gregg's Restaurant on Post Road, Leo Beausoleil with BB Inc. was driving one of two dump trucks carting snow cleared from the restaurant's parking lot to an adjacent parcel owned by the company Thursday.
Owner Scott Beausoleil, who was using a Bobcat to clear snow from the lot into the trucks, said they've still got room to pile up the new snow coming. If snowstorms keep up at the rate of one per week, though, they might need to think up a new approach. He wasn't worried about the prospect.
"Where there's a will, there's a way, I guess," Scott said.
Next on the snow clearing hierarchy are homeowners and small businesses, some of whom faced a stiff fine from Warwick Police on Friday and Saturday for failing to clear the sidewalks along their properties.
Elders and disabled residents who need help clearing snow can ask for assistance from Serve RI at 401-331-2298. The organization is also is looking for volunteers to help neighbors in need shovel out after the storm. You can sign up to help folks shovel here. [Editor's note: this service has since been discontinued]
While sidewalks are covered by city ordinance, local fire departments regularly ask the public's help in keeping fire hydrants clear of ice and snow.