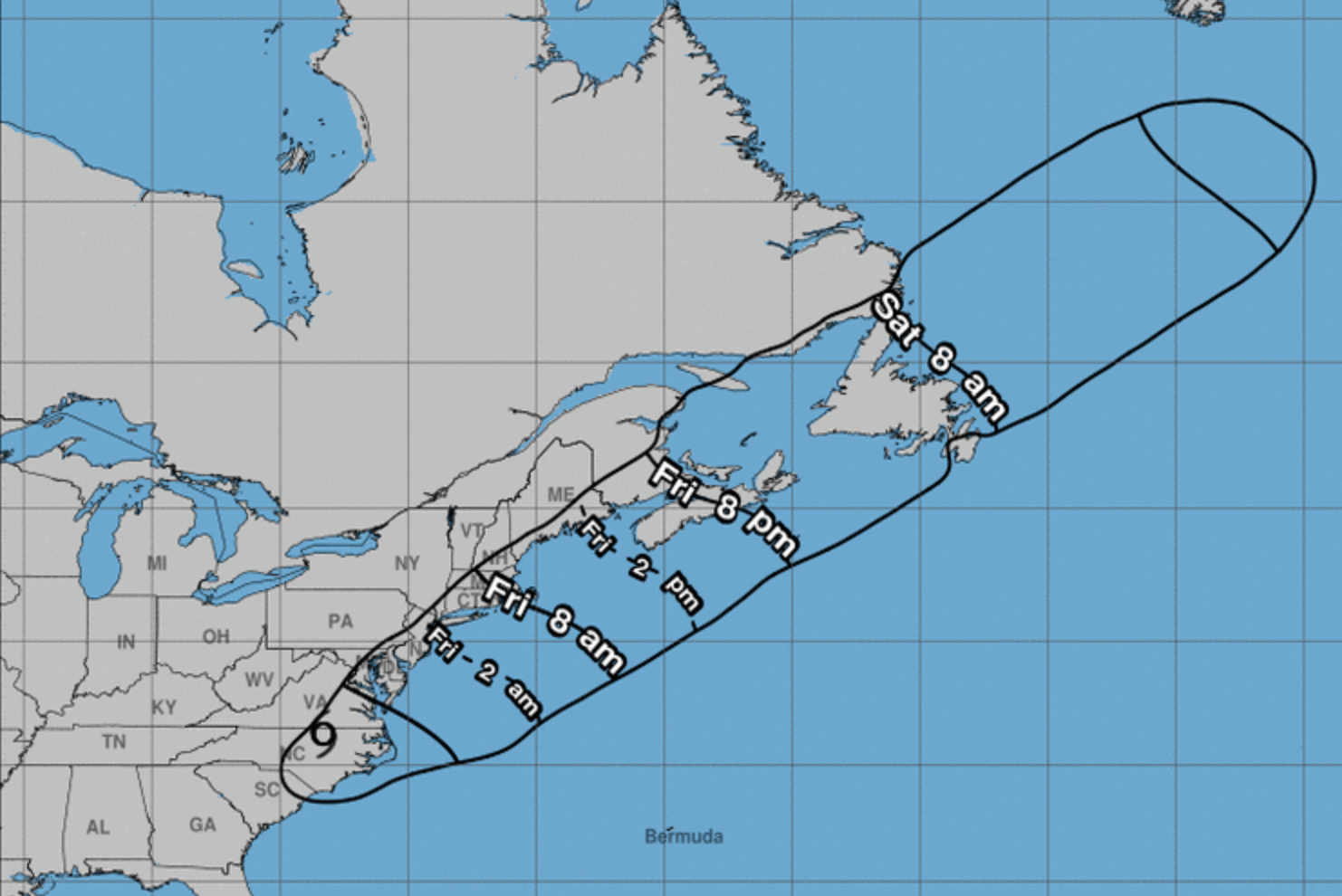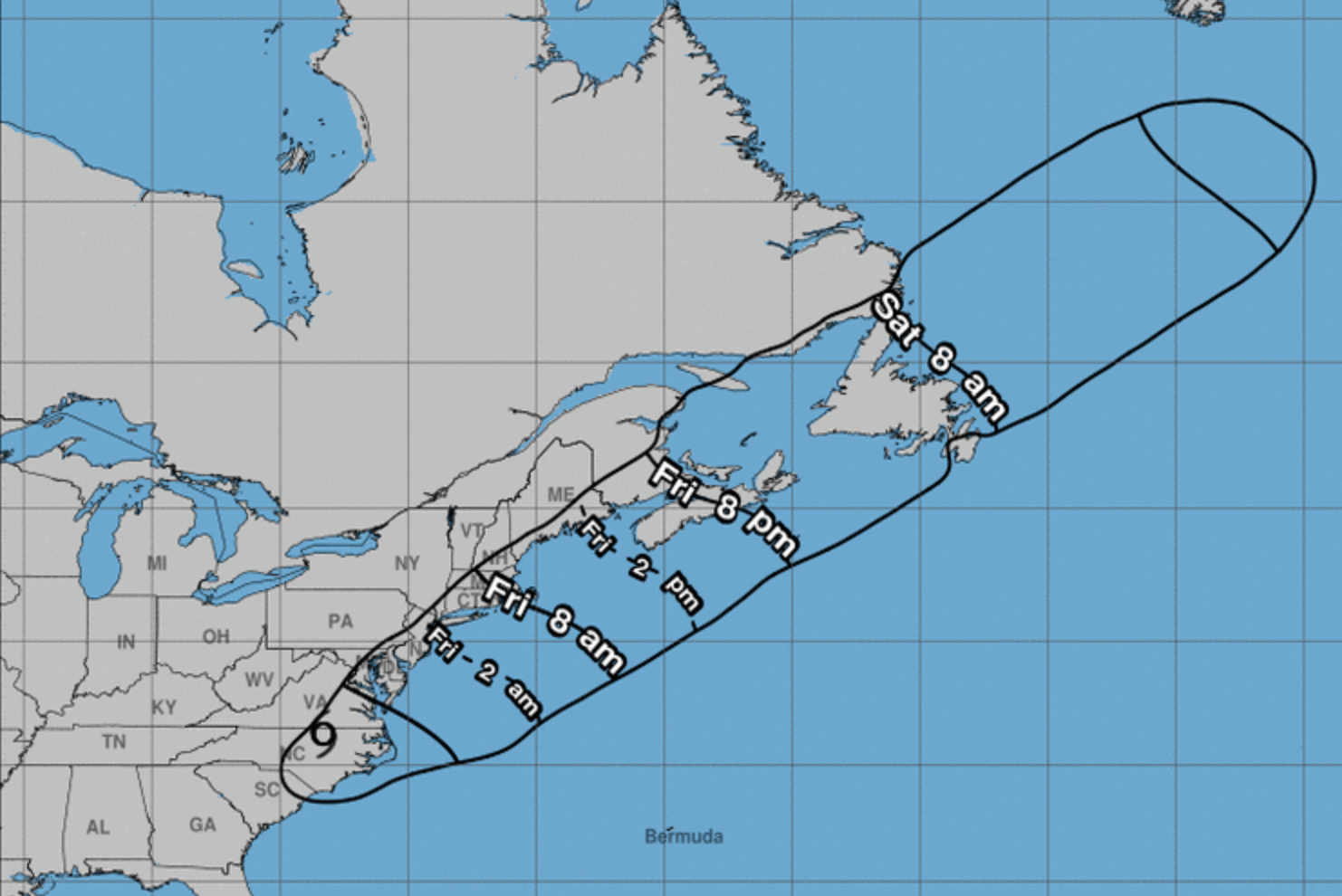 WARWICK, RI — Tropical Storm Elsa is expected to pass near Block Island Friday morning, its strongest winds coming early, with flooding rain, wind gusts ranging from 39 mph to 57 mph, and, maybe, tornadoes.
A tropical storm warning is in effect as flooding rain is expected to be greatest across interior southern New England and northeast Massachusetts before the storm heads out of the area Friday night, according to the National Weather Service.
People should prepare for road and bridge closures, local flooding and power outages.
FLOODING RAIN
Prepare for life-threatening rainfall flooding having possible extensive impacts within southern New England. Potential impacts include:
Major rainfall flooding may prompt many evacuations and rescues, especially in urban areas. – Rivers and tributaries may rapidly overflow their banks in multiple places.
Small streams may become dangerous rivers.
Streets and parking lots become rivers of moving water with underpasses submerged.
Driving conditions become dangerous.
Many road and bridge closures with some weakened or washed out.
DAMAGING WIND
Prepare for dangerous wind with significant impacts near the South Coast, Cape Cod, and the Islands. Potential impacts in this area include:
Some damage to roofing and siding materials, along with damage to porches, awnings, carports, and sheds.
Several large trees snapped or uprooted, but with greater numbers in places where trees are shallow rooted.
Some roads impassable from large debris, and more within urban or heavily wooded places.
A few bridges and access routes impassable.
Power and communications outages possible, but more prevalent in areas with above ground lines. Also, prepare for hazardous wind having possible limited impacts across the remainder of Rhode Island and eastern Massachusetts.
TORNADOES
Prepare for a tornado event having possible limited impacts across Southern New England. Potential impacts include:
The occurrence of isolated tornadoes can hinder the execution of emergency plans during tropical events.
A few places may experience tornado damage, along with power and communications disruptions.
Locations could realize roof damage*, large tree tops and branches snapped off, shallow-rooted trees knocked over, and small boats pulled from moorings.
Additional Tropical Storm threats
Significant threat to life and property is possible, according to the NWS:
Moderate rainfall flooding may prompt several evacuations and rescues.
Rivers and tributaries may quickly become swollen with swifter currents and overspill their banks in a few places, especially in usually vulnerable spots. Small streams, creeks, and ditches overflow.
Flood waters can enter some structures or weaken foundations. Several places may experience expanded areas of rapid inundation at underpasses, low-lying spots, and poor drainage areas.
Some streets and parking lots take on moving water as storm drains and retention ponds overflow.
Driving conditions become hazardous.
Some road and bridge closures.
Warwick Post Storm Center Info
Warwick Post will be keeping an eye on developments, announcements and warnings throughout the storm. You can follow Warwick Post for quick updates on Facebook and Twitter.
Emergency Alerts:
RIBA – Make sure you're signed up for text alerts from the Rhode Island Broadcasters Association. You'll get emergency notifications (including school closings and delays) direct to your phone or email.
CodeRED – The City of Warwick has a rapid emergency notification service called CodeRED®.  The new system will distribute emergency messages via telephone to targeted areas or the entire City of Warwick. Register here.
TF Green Airport – Click here to follow arrivals and departures at TF Green.
Emergency Calls:
In an emergency, dial 911
Police Department: 401-468-4200
Fire Department: (401) 468-4000
Highway Dept.:  401-738-2000 ext. 6518
Do NOT call 911 to report a power outage. Contact National Grid at 1-800-465-1212. Smartphone users can also text STORM to NGRID (64743) for outage alerts. To check the status of outages in your area, visit  National Grid Outage Central for Rhode Island.
Listen to NOAA radio: Check the National Oceanic and Atmospheric Administration radio frequency here.
Tropical Storm Elsa safety tips:
Staying Safe Indoors
Use flash lights in the dark, not candles.
Eliminate unnecessary travel, especially by car. Traffic lights will be out and roads will be congested.
If you are using a generator be sure you understand the risks of carbon monoxide poisoning and how to use generators safely.
Food Safety
Keep refrigerator and freezer doors closed as much as possible. An unopened refrigerator will keep foods cold for about 4 hours. A full freezer will keep the temperature for about 48 hours (24 hours if it is half full) if the door remains closed.
The RI Emergency Management Agency advises residents that refrigerators will keep food cold if you don't open the door. If you do, food can go bad in as little as 2 hours.
Set your freezer and refrigerator to their coldest settings in case the power goes out. The extra cool will keep your food fresh longer.
First use perishable food from the refrigerator. Perishables should have a temperature of 40 degrees Fahrenheit (4 degrees Celsius) or below to be safe to eat. Then use food from the freezer.
Use your non-perishable foods and staples after using food from the refrigerator and freezer.
If it looks like the power outage will continue beyond a day, prepare a cooler with ice for your freezer items.
Keep food in a dry, cool spot and keep it covered at all times.
Power problems can sometimes interrupt public water supply systems or disable well pumps, so it's an especially good idea to keep a supply of bottled drinking water handy, as well as some canned food.
Electrical Equipment
Turn off and unplug all unnecessary electrical equipment, including sensitive electronics.
Turn off or disconnect any appliances (like stoves), equipment or electronics you were using when the power went out. When power comes back on, surges or spikes can damage equipment.
Leave one light turned on so you'll know when the power comes back on.
If you use a generator to supply power during an outage, be sure to operate it outdoors. Before operating generators, disconnect from National Grid's system by shutting off the main breaker located in the electric service panel. Failure to do this could jeopardize the safety of line crews and the public.
People who depend on electric-powered life support equipment, such as a respirator, should let National Grid know. To register as a life support customer, call the company's Customer Service Center at 1-800-322-3223.
Stay Connected
It is a good idea to ensure all mobile devices in your home are fully charged prior to the storm.
Receive statewide text message alerts and updates when you text the word STORM to NGRID (64743).
Use your mobile device to track outage information, report outages, view outage maps and storm-related safety tips through National Grid's mobile site accessible at: ngrid.com/mobile.
Gas Service Safety Tips:
Natural gas customers should closely inspect areas around and over gas meters, service hook-ups and vents for damage to equipment that could prevent CO from properly venting.
If  you suspect a natural gas leak:

Get Out – All occupants should leave the house immediately. Do not use the telephone or light switches for any reason.
Call Us – After leaving the house and reaching a safe environment, call the National Grid 24-hour gas emergency numbers at 1-800-640-1595
Stay Out – Do not return to your home until National Grid tells you it is safe.