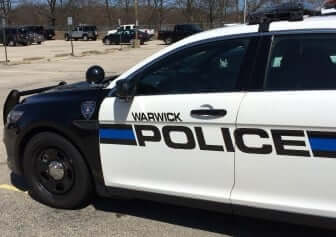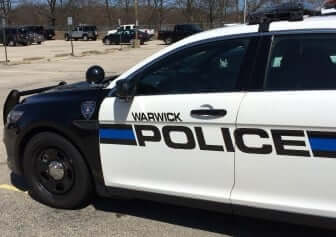 WARWICK, RI — Officers Conor Bemis and Nathan Skawinski arrested the driver of a white Subaru Crosstrek that had struck a telephone pole on West Shore Road July 8 at 6:44 p.m., for DUI.
The officers spotted the crash at the intersection of West Shore Road and Stetson Street while patrolling, and Skawinski parked his cruiser behind the crashed car, the officer wrote in his report.
The Crosstrek had heavy front-end damage, and appeared to have caused minor damage to the pole, according to the report. The driver was already out of the car and stumbling, holding his arms up in what Skawinski described as disbelief.
Skawinski approached the driver and asked if he needed medical attention, and the man said he did not. The officer saw that the car's steering wheel airbag had delployed and called dispatch to request a rescue to the scene.
When asked how the crash had happened, the driver said he'd reached for his phone while driving and drove into the pole. As they spoke, Skawinski noted the man's eyes were bloodshot and watery, and that his breath smelled of alcohol. The driver also spoke with slurred words and struggled to speak clearly, according to the officer's report.
Skawinski identified the man as Jason Quintal, 49, of 43 Ashton St., Providence, RI. The Warwick Fire Rescue arrived, and Quintal repeated that he didn't want medical attention. Skawinski then noted a empty can of Twisted Tea in the front of the car and asked Quintal if it was his. Quintal said it was not. Skawinski asked if he'd had anything to drink that day, and Quintal said he had drank one beer.
When asked to perform sobriety tests, Quintal asked for a lawyer, and when pressed, elaborated that he was refusing to take sobriety tests.
Skawinski arrested Quintal on suspicion of Driving Under the Influence, alcohol, and transported him to Warwick Police Headquarters, 99 Veterans Memorial Drive, where he refused to take a breath test of his blood alcohol level.
Skawinski charged Quintal with one count of DUI, blood alcohol content unknown, first offense, and also cited him for leaving the lane of travel and for refusing the breath test. He was later released to the custody of a sober adult.
Quintal is scheduled to be arraigned on the DUI charge Aug. 1 in Third District Court.