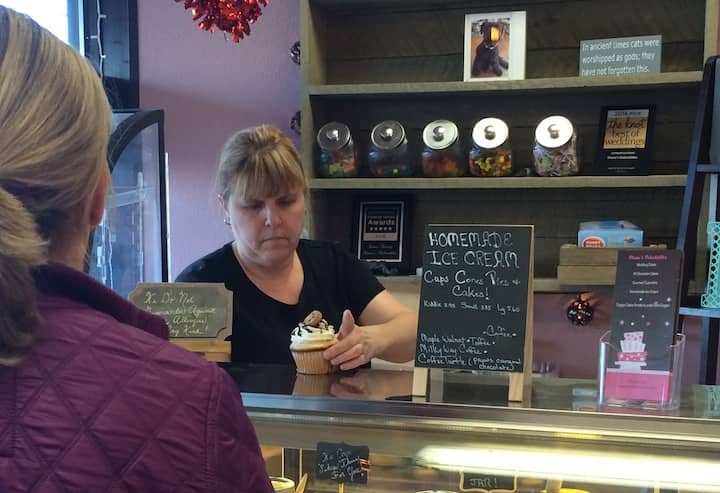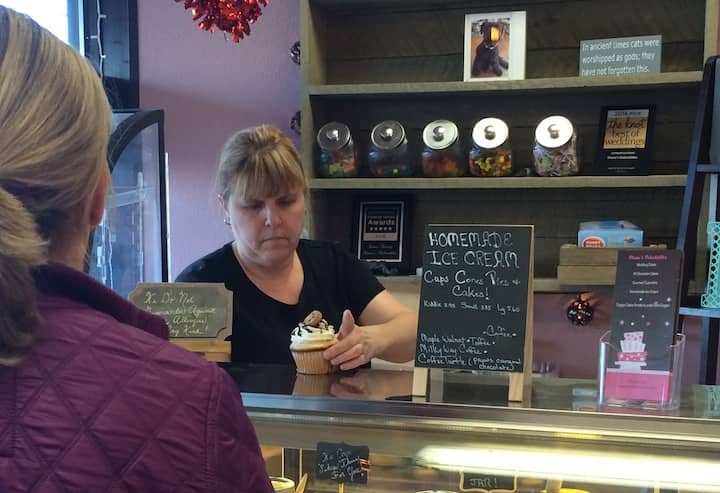 Diane Dorsey, owner of Diane's Delectables at 1565 Post Road, has mixed a life-long passion for baking into a fledgling business since opening Aug. 1, relying on her ethic for excellence and long standing trend of her baked creations being in high demand.
There's a steady late afternoon stream of customers at the shop, formerly home to Rita's Italian Ice. Inside the cozy shop, a collage of cakes delivered to happy customers holds pride of place at the far right. The rest of the walls are adorned with artfully etched signs bearing clever sayings.
"Once you lick the frosting off a cupcake, it becomes a muffin. And muffins are healthy," one sign helpfully points out. The aphorism is nearly superfluous given the smell of icing and freshly baked cakes permeating the modest space, which sports a small table and chairs for customer seeking to indulge a weary sweet tooth.
The shop sells wedding cakes, birthday cakes, all occasion cakes, and cupcakes, including mason jar cupcakes, which can be shipped thanks to their 7 to 10-day shelf life. Dorsey also serves ice cream at the spot, and is considering adding Italian ice to help east the transition for former Rita's customers, though she's not sure about that yet.
Baking and cake decorating are skills that came naturally to Dorsey, who grew up baking for friends and family. She took a cake decorating class at Michael's Arts & Craft Supply on Bald Hill Road, and took private lessons to build her skill beyond her personal experience.
"I've always done arts and crafts my whole life, so it came pretty easily to me. I'm lucky," Dorsey said.
Her husband, Jaime, who works at Arrest a Pest in Apponaug, has a big family, Dorsey said, so there's always been a large base of samplers for her to try out her baking skills, and they know a good thing when they see it. "They don't turn down cake, especially mine," Dorsey said.
Dorsey and Jaime have been living in Warwick for the last eight years after the couple moved here from Pawtucket.
On Dorsey's side of the family, she's long been surrounded by business owners. Her parents owned Casey & Bessette Associates, a heating supply company in Smithfield, before retiring. One sister owns a massage therapy business in Seattle, WA, and another sister is a successful artist in North Carolina.
When she decided to put her passion to work as a business, her family provided advice and some financial support. But it was still a stressful and daunting undertaking, she said.
"It's a lot of leg work and very confusing and overwhelming if you don't know the score," Dorsey said, but all the tasks that it takes to launch a small business go smoothly if you take it one step at a time.
Dorsey had a heart attack just before the store opened in August, she said, but the she recovered and was able to keep the business on track. "It's still going. I'm hanging in there," she said.
Behind everything at Diane's Delectables, Dorsey said, is her dedication to the delectable part of her business.
When it comes to all the treats at her shop, "I want the best," Dorsey said.
Diane's Delectables, at 1565 Post Road, is open Tuesday through Saturday, 10 a.m. to 6 p.m. (401) 632-1756.