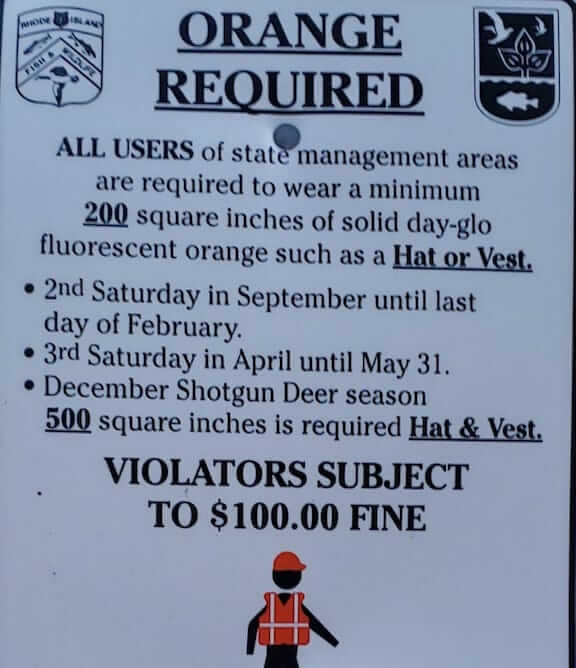 PROVIDENCE — RI DEM requires orange wear while out and about in the state's management areas starting today, last till May 31, important for avoiding hunting mishaps and $100 fines.
Depending on the size of your head, and according to hunter-ed.com, a hat only contains about 100–150 square inches of material, so a hat and vest will likely get you to the required amount of solid day-glow fluorescent orange in the coming weeks. Fluorescent hunter orange must be worn above the waist and be visible in all directions.
While dogs aren't likely to be fined for failing to wear orange, it's a good idea for them to have a kerchief or vest to help them stand apart from potential game while they're with you.
Aside from hunters, all other users of State Management Areas and designated undeveloped State Parks, including but not limited to: hikers, bikers, and horseback riders are required to wear 200 square inches of solid daylight fluorescent orange, according to this year's DEM hunting regulation guide downloadable PDF.
With COVID-19, more people are using state parks, wildlife management areas, and other outdoor spaces. Some may not be aware of the law to wear orange to prevent hunting accidents.
In addition to wearing blaze orange, wildlife management area visitors must follow social distancing practices, maintaining a distance of at least six feet from others, and wear a face covering if you are within six feet of another person who is outside your household. If you arrive at an area and find that crowds are forming or the parking lot is full, please leave and choose a different location or return at another time or day. If parking lots are full, please do not park along roadsides or other undesignated areas.
While enjoying outdoor spaces, residents must continue to follow the CDC and RI Department of Health guidelines for preventing the spread COVID-19: 
If you're not feeling well, stay home! Signs and symptoms of coronavirus include fever, cough, and shortness of breath.
Practice social distancing by keeping at least six feet of distance between yourself and others, even when outdoors.
For the safety of all visitors, please have a face covering with you and wear it in public areas and if you are within six feet of another person who is outside your household. The only exceptions to these rules are anyone whose health would be in jeopardy because of wearing a face covering or any child under 2 years old.
Avoid close contact with others outside your household, such as shaking hands, hugging, or high-fives.
Bring and use an alcohol-based hand sanitizer with at least 60% alcohol.
Avoid unnecessary contact with surfaces that are often touched, such as doorknobs and handrails.