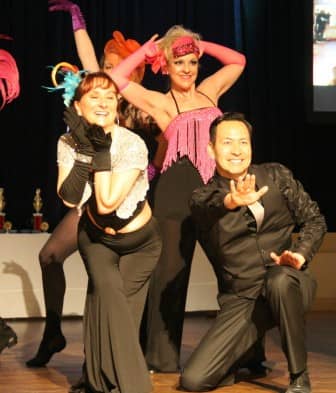 Warwick, RI – Amateur dancers training with The Dancing Feeling studio instructors will vie for top billing at the Dancing with the Stars of Mentoring fundraiser April 30, aiding youth mentoring programs statewide.
Sales of each $75 ticket to the event at Rhodes on the Pawtuxet in Cranston will support school-based youth mentoring programs in Warwick, Woonsocket, Cranston, Aquidneck Island and a network of 60 youth mentoring programs statewide through the Rhode Island Mentoring Partnership.
This is the ninth year The Dancing Feeling instructors have trained Dancing with the Stars of Mentoring contestants, helping the fundraiser bring in more than $700,000 in crucial funding for the non-profit.
The studio has provided more than 1,000 hours of free instruction from its professional dancers to ensure dancers highlighting RIMP's event put their best foot forward.
This year, the competitors receiving that instruction are:
Dan Ellis, Kenney Manufacturing
Karen Roche, GTECH
Kathy Demarest, AMGEN
Bob DeGregorio, Slocum Realty
Christina Markrush, Mentor
Aaron Guckian, The Washington Trust Company
Vince Burks, Amica Insurance
Lindy Matarese, Textron
Markrush, a former mentored student in Warwick, returned to the program as an adult to become a mentor herself,  paired with a girl at the same elementary school where she was mentored as a child.
The dancer who puts on the best technical performance will receive the Judge's Choice Award, while the dancer who raises the most money will take home the coveted People's Choice Award.
RIMP's 9th annual Dancing with the Stars of Mentoring will be held on Thursday, April 30th at Rhodes on the Pawtuxet in Cranston. Tickets are $75 and are available by visiting the RI Mentoring Partnership website, www.mentorri.org or by calling RIMP at 401-732-7700.
The deadline to make your reservations is Wednesday, April 22nd (tickets will not be sold at the door). In addition to the dance competition the evening features dinner, a silent auction, open dancing, and a fabulous opening number with the event's co-host NBC 10's Mario Hilario and the Total Convergence Dancers.