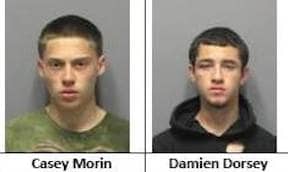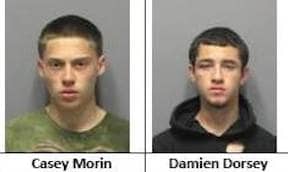 Cranston, RI — On Wednesday, Cranston Police arrested two Warwick men suspected of breaking into several cars in that city, thanks to an alert neighbor who spotted them skulking around parked cars near the corner of Curtis and Cranston Streets at about 4 a.m.
Cranston Police Chief Col. Michael Winquist said the report, combined with the recent drastic increase in the number of vehicle break-ins and thefts throughout the city and neighboring communities, spurred the CPD to send several officers to the area to investigate.
Near the intersection, officers observed two adult males, wearing all black clothing, crouched behind two parked cars on Curtis Street. Once the suspects became aware of the officers' presence, they fled on foot and were apprehended a short distance away.
The men were later identified as Damian Dorsey, 20, of 14 King St., Warwick, and Casey Morin, 18, of 56 Calderwood Dr., Warwick.
One of the men had a back pack containing GPS units, change and cellular phones reportedly stolen from vehicles in the area. A short time later, officers arrested a 15-year-old boy on the bicycle path in the area of Dean Street carrying a back pack containing jewelry, electronics and more than $100 in change alleged to have also been stolen from motor vehicles in the immediate area.
GPS units, phone chargers, change purses, articles of clothing, sunglasses, and cash were recovered and immediately identified by area residents as being stolen from their motor vehicles.
Dorsey was charged with Larceny from a Motor Vehicle, Conspiracy, Disorderly Conduct, Resisting Arrest and Simple Assault/Battery. Morin was charged with Larceny from a motor vehicle, Conspiracy, Disorderly Conduct, Resisting Arrest and Simple Assault/Battery.
A 15 year-old juvenile male from Warwick was released to a parent and will be petitioned to the Family Court.
"Thanks to an observant citizen and a rapid response by our officers, we were able to apprehend three individuals alleged to have broken into multiple motor vehicles. These crimes are often difficult to prevent, as the large majority of vehicles broken into are left unlocked, property is left in plain view and thefts often go unreported to the police department. This year we have experienced a 106 percent increase in thefts from vehicles and a 92 percent increase in motor vehicle thefts in comparison to 2015. We ask our residents to safe guard their valuables by removing them from their vehicles and to always report thefts and suspicious activity to the police department as soon as it is observed."