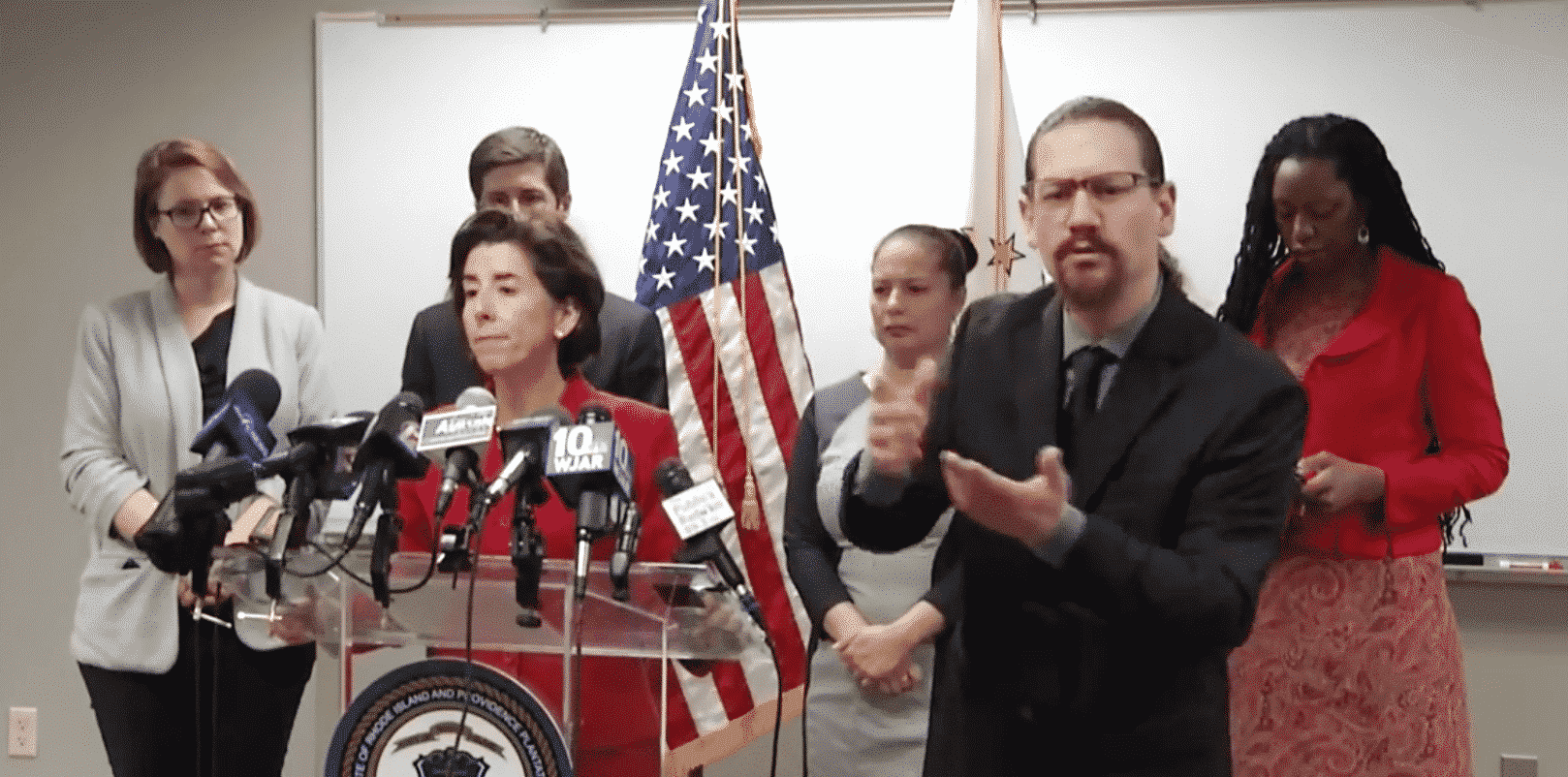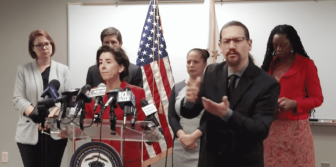 Editor's note: This article and and most of our COVID-19 related news is free to the public to ensure people have access to life-saving information. If we've helped you, and you're able to help us, we would appreciate your subscription for either $1.50/month or $15 per year.
CORRECTION: An earlier version of this story reported President Donald Trump's statement that a nation-wide screening website for COVID-19 testing would be established by Google. President Trump's statement on the COVID-19 testing website has since been contradicted by Google, according to a WIRED report.
In fact, the website, which is still in development, will be run by Verily Life Sciences, part of Google's parent company, Alphabet.
Also, Verily intended the site to only screen high-risk patients, and it is not ready to begin nationwide screening, or even for the whole state of California beyond SanFrancisco.
"We are developing a tool to help triage individuals for Covid-19 testing. Verily is in the early stages of development, and planning to roll testing out in the Bay Area [San Francisco], with the hope of expanding more broadly over time," Verily said in a statement shortly following Trump's press conference.
PROVIDENCE, RI — As the nation reckons with President Trump's declared national emergency in response to the COVID-19 outbreak, Gov. Gina Raimondo urged every Rhode Islander to do their part to limit the virus's spread, already numbered at 9 RI cases.
"What happens now depends on every Rhode Islander doing what needs to be done to contain the spread of this virus," Raimondo said. "Every single Rhode Islander is on the front line of containing this. If we want to stay ahead of this, every single one of us has to do our part."
That means following instructions from the RI Department of Health, including:
Shutting down events
Staying home from work
Working from home
Calling your doctor before rushing to their office when you're sick
Avoid shaking hands or hugging.
Avoid close personal contact with people in public; stay six feet away when possible.
Older adults: avoid close contact with sick people, avoid going out; don't attend events with 10 or more older people.
Get your flu shot so you are less likely to visit the hospital from a flu infection. This saves the hospital care for COVID-19 cases.
"If every one of us follows these guidelines, the results will be much better for the people of Rhode Island," Raimondo said.
Raimondo also instructed public schools to take April vacation early, starting next week.
During that break, school administrators will continue working on distance/remote learning plans ordered by the RI Department of Education earlier this week, which can be used if additional delay of physical-presence classes is warranted, Raimondo said.
Raimondo also instructed day care centers to remain open next week to tend to children of essential personnel, particularly health care workers, who are unable to stay home from work.
"Anyone who can stay home next week, who can work from home next week, please do that," Raimondo said, and keep your kids home with you."
New COVID-19 cases
The nine new cases include four males and five female patients, said Director of Health Nicole Alexander-Scott. Three of the nine are pediatric patients. All except one are recovering at their homes. The last patient is recovering, in isolation, in their nursing home, she said.
Alexander-Scott said the number of confirmed infections is expected to rise as the state continues to expand testing of potential COVID-19 cases.
She explained the state's precautions and instructions to the public aim to "flatten the curve" – to reduce the immediate number of new infections in the state and avoid overwhelming the state's health care system.
RI nursing home visits forbidden
To keep elders in nursing homes safe, given their vulnerability to the virus, "There will be absolutely not visitation to any nursing home in the state of Rhode Island," Raimondo said. She said officials are hearing from people insisting on visiting their elder family members, but, "You are forbidden from entering these nursing homes, period, until further notice," Raimondo said.
Returning travelers quarantined
Also, all Rhode Islanders who have traveled out of the U.S. anywhere in the past 14 days is ordered to self-quarantine, "The minute you arrive back in Rhode Island," Raimondo said.
Don't travel far, don't mingle
"Stay local. Stay here," Raimondo advised.
Also, she said, don't give in to the urge to use time away from school or work to get together and leave your home unnecessarily.
"Everyone's going to be restless. Everyone's going to want to go out. It doesn't make sense if we put school out, and then, everybody's out in the community with one another. The whole point of doing this, is we're bending over backwards so everybody can stay home, she said.
"All Rhode Islanders are being urged to avoid non-essential crowds," Alexander-Scott said. "Given how we know the virus behaves, the ability to avoid crowds, if it's not essential for you, is extremely helpful in preventing the spread of this virus."
While routine essential trips like going to the grocery store are OK, avoiding non-essential crowds will be key to limiting spread of the virus.
Large events with 250 people: Shut. Them. Down.
"I want to make this very clear, because in the past few days we've seen different correspondence coming out from different organizations, with gentle suggestions that large gatherings may be reconsidered, perhaps should be changed. Shut. Them. Down. Large gatherings. Shut them down. Church gatherings, school gatherings, sports gatherings, big parties. This next week or two are going to be critical as we try to stay ahead of this virus," Raimondo said.
She said she was asked last week what someone should do if, on St. Patrick's Day, they visit a bar and it's packed.
"Then don't go in," Raimondo said.
COVID-19 hotlines
COVID-19 hotline: 401-422-8022
After-hours dial: 211
Raimondo also noted a state resource, BH link, a 24/7 call-in hotline any adult or child can call for mental health services during the crisis, at 401-414-5465.
Also, tele-medicine services, including mental health, will be covered by every insurance company, she said.
National State of Emergency, new testing program PLANNED
The national state of emergency opens regulations to allow greater access to tele-health services and allows the nation to use $50 billion in emergency funding for aid state efforts to slow the spread of the virus, President Donald Trump announced today during a White House press conference. It also removes regulations impeding the processing of COVID-19 testing, and the approval of new tests developed by diagnostic companies.
In partnership with WalMart, Target, Quest Diagnostics, Lab Corp. CVS, Walgreens, and Roche, the President announced a drive-through COVID-19 testing protocol that will be set up at local WalMart store parking lots, capable of testing hundreds of thousands of Americans.
The process, which is not yet in place, is planned to begin with a website that will screen people for symptoms and direct them to a nearby drive-through WalMart location to be tested. The tests will be processed through automated machines able to deliver results within 24-36 hours.
The first step in this process, the website, is not yet in place. A dramatically less ambitious screening website intended for high-risk patient screening is under development by Verily Life Sciences, part of Google's parent company, Alphabet.
"We are developing a tool to help triage individuals for Covid-19 testing. Verily is in the early stages of development, and planning to roll testing out in the Bay Area [San Francisco], with the hope of expanding more broadly over time," Verily said in a statement shortly following Trump's press conference.
Dr. Deborah Birx, White House Coronavirus Response Coordinator, said the federal government expedited approvals for COVID-19 tests developed by Lab Corp. and Quest Diagnostics, clearing the tests for use with in 72 hours. Universities and large hospital systems have also developed their own tests, Birx said.
"What's going on today is going to help it end sooner than it would have," said Dr. Anthony Fauci, by removing as many federal constraints on testing, containment and mitigation of COVID-19 cases as possible.
Fauci said expanding testing to the degree necessary to help monitor the spread of COVID-19 in the country required enlisting the help of the private sector. While the CDC's existing process was well designed for the scale it was operating at, the new demands on the system required a new approach, he said.
Previously, said Vice President Mike Pence, doctors were not approving tests for people who were only showing mild symptoms.
"Now, anyone in consultation with their physician, regardless of their symptoms, can request a test," and their doctor can send samples for testing to state labs, Pence said. Pence said the drive-in site testing will also be available soon.
Trump also announced the following executive orders related to the COVID-19 outbreak:
Purchasing oil to add to the U.S strategic preserve.
Waived interest in all student loans held by the federal government until further notice.