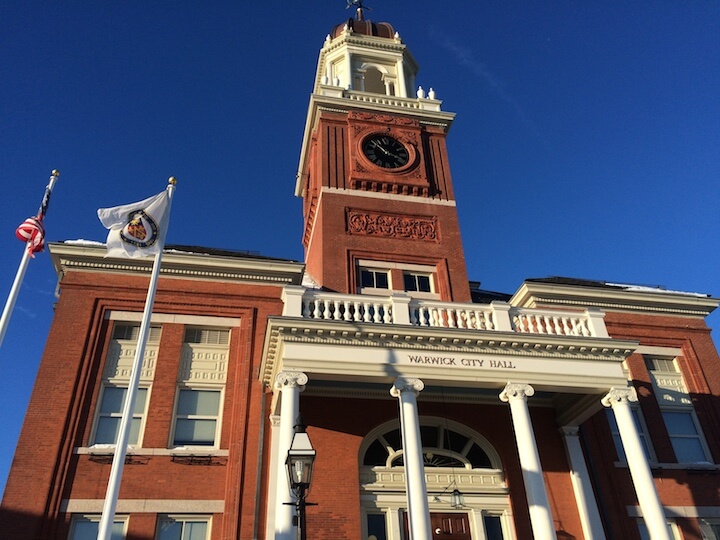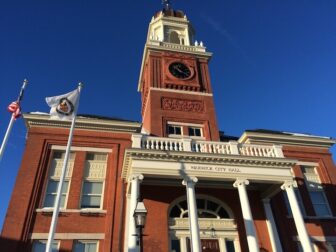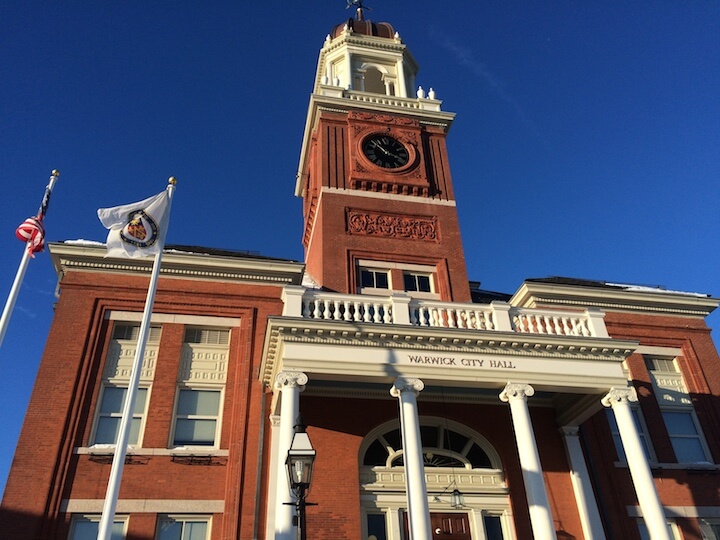 WARWICK, RI — Warwick solar zoning updates for power generation and $33 million borrowed from the sewer system for sewer extensions top the Warwick City Council's June 21 agenda at 7 p.m.
As usual, the Council's subcommittees will meet starting at 5 p.m. to discuss the measures and others prior to the regular meeting. The regular meeting will begin with a 15-minute period for public comment. A full list of the evening's events and resolutions up for consideration are posted at the end of this article.
Sewer Extension $33M
The first main agenda item up for a vote is appropriating $33 million for design, construction, equipping and extension of the City's sewer lines and sewage collection system, including  the Governor Francis III Wastewater Collection System, Northwest Gorton Pond Wastewater Collection System, O'Donnell Hill Area Wastewater Collection System, Bayside I Wastewater Collection System, the Bayside II Wastewater  Collection System, the Bayside III Wastewater Collection System, and the Oakland Beach Interceptor.
Approving the resolution authorizes borrowing the funds in the form of wastewater system revenue bonds, which will be paid through revenues of the City's sewer system including annual charges, sewer assessments and connect capable charges.
Solar ordinance amendment
According to Council agenda documents, the proposed zoning ordinance amendment will:
1. Provide specific definitions related to Solar Energy Systems (SESs) and Energy Storage
Facilities (ESFs).
2. Amend Table 1. Use Regulations to define where SESs and ESFs are allowed, prohibited,
or allowed by overlay in each zoning district.
3. Revise the general procedure and submittal requirements for all overlay districts.
4. Establish overlay district regulations for SESs and ESFs.
5. Outline review procedures for various types of SESs and ESFs.
6. Clearly outline performance standards for principal use SES and ESF facilities.
7. Incentivize development of SESs and ESFs on industrial-zoned land, contaminated sites,
and for solar canopies (i.e. carports).
8. Establish clear performance standards for accessory SESs and ESFs.
"Currently, the City of Warwick Zoning Ordinance does not include general definitions, specific
use designations, performance standards, or approval processes relating to the siting of Solar
Energy Systems or Energy Storage Facilities either as a principal or accessory use. To date,
proposals for principal use solar have been managed within the framework of the existing zoning
ordinance, which defines all principal use solar systems as an Electric Power Plant under use Code
608. "Energy storage facility" is currently undefined and, therefore, requires the Building Official
to determine the appropriate use code for classification.
06-21-2021 Regular Public Hearing Docket
PCO-6-20 Solar Ordinance
PCO-9-20 Smoking on School Grounds
PCO-12-21 Ord. Re. WSA Oakland Beach Interceptor
PCO-13-21 Ord. Re. Alarm Review Panel
PCO-30-19 Ord. Re. Nonutililzed Commercial Property FINAL
PCR-29-20 Res. Re. High School Fields Bonds
PCR-90-21 Res. Re. Pride Month PCR-93-21 6-21-21
PCR-97-20 Res. Re. Cooper Bldg. Ratification
Solar Ordinance_ZC Council Memo_6_2021 (003)