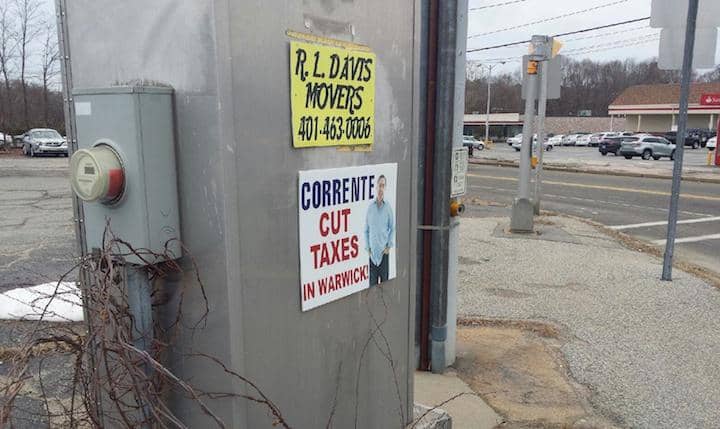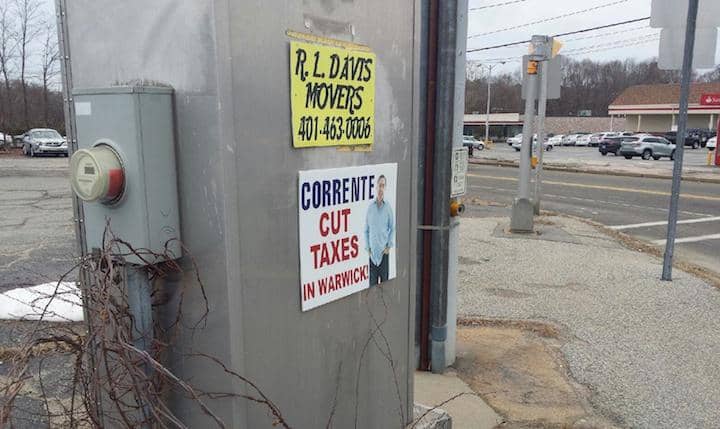 WARWICK, RI — Rob Cote, a regular critic of city finances, the Warwick Fire Department and Mayor Scott Avedisian's administration, has turned his critical eye on self-styled 2018 Mayoral candidate Richard Corrente's campaign signs, many of them posted on traffic control boxes in the city.
Posting political campaign signs on public property is against both state law and city bylaw.
"I have removed dozens of them and still have many in my trunk.  Every week he does this and I go out and remove them," said Cote, who pointed out the signs were illegal.
"He's been stealing them," Corrente said when asked about Cote removing the signs. When asked to comment on the legality of posting the signs, or whether he was aware posting them is illegal, Corrente declined to comment, saying, "No."
"No, I won't speak to that," Corrente said when asked to elaborate.
Cote said he checked with state and city officials about the signs, and learned it's not illegal to remove the signs from city property.
According to state law governing political signs, in section: 17-23-17.1 Political signs. – (a) No political signs of any kind may be posted or erected on public property or business or commercial property.
Warwick City bylaws on political signs reads, "Such signs shall be erected not more than 60 days prior to such election or referendum, or in any event, no premises shall have a sign erected for more than 120 days in any calendar year."
There are 158 days until the Nov. 6 2018 elections.
"Somebody needs to say to him that, 'You need to stop doing this,' " Cote said.