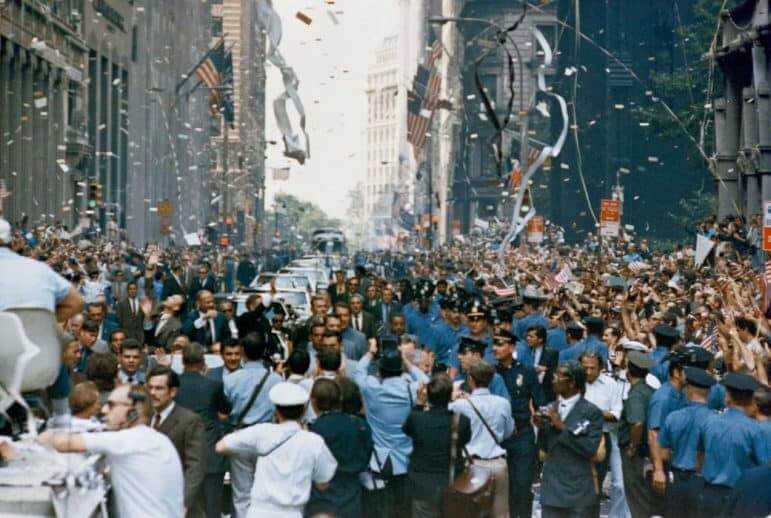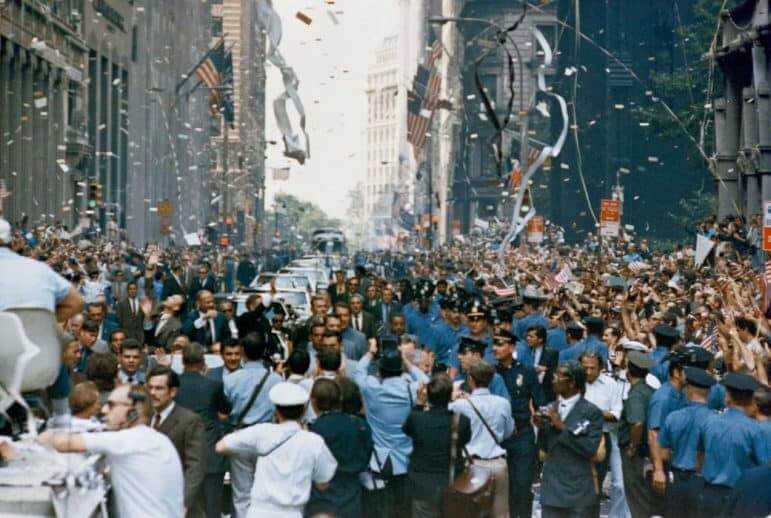 WARWICK, RI — Fifty years after the Apollo 11 mission landed Astronauts Neil Armstrong and Buzz Aldrin on the Moon, Conimicut Village will host a celebratory parade honoring the event and successive NASA achievements in manned and unmanned spaceflight Saturday, July 20.
The Conimicut Village 50th Anniversary Moon Landing Parade steps off at 11 a.m. at Clegg Field on Winter Avenue, then northeast along Ardway Avenue to  o West Shore Road, ending at American Legion Post 43, 662 West Shore Road at 2 p.m., led by Ret. US Army Col., and Space Shuttle Atlantis astronaut Woody Spring, the parade's grand marshal.
The event will include marching bands, militia units, space-related floats, color guards, antique vehicles from the Apollo 11 era, state and local representatives.
The non-profit Conimicut Village Association, founded in 1985, which is organizing the parade, has coordinated with the Gaspee Parade Committee. Many of the marching units, bands, police, fire and military organizations, color guards, militias, political leaders, corporate floats, and other parade floats from that event have been invited to participate.
WaterFire, which is assisting the Conimicut Village Association's parade committee with advertising, is displaying the parade's model of the Apollo 11 command module at the WaterFie Arts Center on Valley Street in Providence until it is used in the July 20 parade.
Brown's NASA Space Grant is co-sponsoring WaterFire the night of the parade and has funded travel expenses for Spring. Spring will also participate in events at Brown's Space Grant program this weekend.
The Conimicut 50th Anniversary Moon Landing Parade was made possible with a $9,000 grant from the Rhode Island Foundation and a $5,000 legislative grant from Senator Mike McCaffrey. These two grants will ensure the parade is a success.
Shuttle service and after-parade activities
Shuttle bus service to the parade starts at 9:30 a.m. from the Elks to Saint Benedict's Church and Clegg Field, and from 10 a.m. from St. Marks Church to the American Legion where the post-parade celebration will be held.
Once West Shore Road is reopened to traffic through the Village at 12:30 pm, shuttle bus service will be from the American Legion to both St. Mark's and the Elks until 3 p.m.
After the parade, the committee will host several activities at Shields Post 43 nearby the Moon Landing Parade endpoint.
The Legion plans to set up tables and chairs in its parking lot to accommodate about 150 parade attendees who will enjoy refreshments, music, and a speech by Spring.
In the Legion's larger hall, a craft fair will be open to all parade goers; and in the Legion's smaller hall, there will be constantly streamed videos of the first moon landing and of other significant NASA achievements.
Apollo 11 history and documentaries