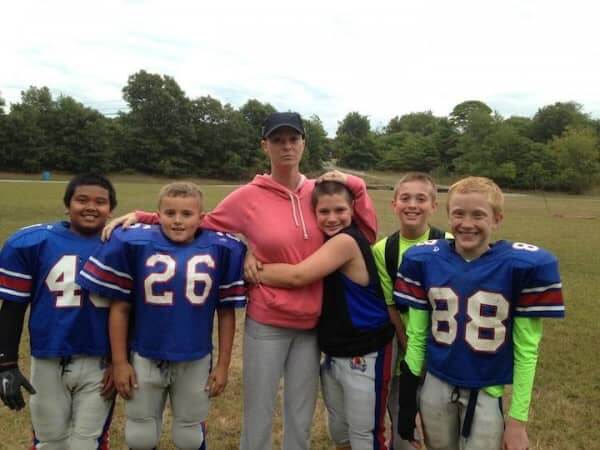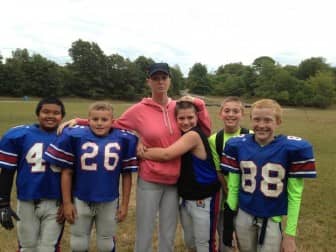 Warwick, RI – Misty Lourenco isn't letting the chemo she needs to beat cancer keep her from the things she loves, and her friends in the local sports community aren't letting her shoulder the financial burden of her care by herself.
Lourenco, a mom of four and manager at Washington Trust Bank, is also the "team mom" for Veterans Wrestling Club, Warwick PAL wrestling and Warwick PAL football, and the Chairperson of the Rhode Island Wrestling Association.
Misty said she discovered she had cancer July 8 after coming out of surgery for what she thought was nerve damage. Her foot had been making her limp a little for about a year, and she'd been diagnosed with a nerve condition. Instead of finding damaged nerves, the surgeon found cancer in her leg.
More tests revealed the cancer – osteosarcoma – had spread to her lungs, Misty said.
After this latest round of chemotherapy, the next step will be a body scan to see if the treatment was effective on the lung cancer. If so, then her leg, which is too cancer-ridden to be saved, will be amputated, and doctors will continue the chemotherapy to clear up her lungs.
If the chemotherapy isn't working, they'll have to explore other types of chemotherapy, among other options, she said.
On Sunday, shortly after finishing her third round of chemotherapy, Lourenco spent seven hours of her afternoon watching, "…every single one of the games," she said.
"I need to be busy to keep my mind off of everything else," Lourenco said.
But it was her long service as a volunteer leader in local sports – about 10 years – which won the good will of  parents, youth and fellow volunteers, said Matt McGrew, one of the organizers of a fundraiser  walk Saturday, Sept. 27 to raise money to help Lorenco's family pay medical expenses not covered by the family's insurance.
The walk starts at 10 a.m. in Warwick City Park. You can register on-site at 9 a.m. Organizers invite the public to bring a chair and stay for food, music, games, and raffles after the walk.
McGrew said they've also set up a gofundme.com fundraiser page for Misty's medical expenses. "It's doing quite well," he said.
McGrew said they hope to raise $3,000 with the gofundme.com page, and about $5,000 with the walk. The gofundme.com page has raised 2,089 so far.
Lourenco said she's very grateful for the help she's received from the community. Acts of kindness that have helped her family cope include daily meals prepared for the family and, recently, a dress-down day at Warwick schools to support her.
Though she's a self-described positive person, Lourenco said that if she doesn't beat the cancer, her family, including husband, Gil and children: Destiny, 19, Davin, 17, Jonathan, 13 and Jesse, 11, will get whatever they need.
"My family's going to be just fine," with the community behind them, she said.
As for the fundraisers, "We'll see where we go," said McGrew.
The effort on behalf of her and her family so far is already humbling, as Lourenco sees it.
" I don't ever cry because I'm sad. I cry because of the love I feel from this community," Lourenco said.
To donate, make checks payable to: Misty Lourenco Fund, and mail to: Misty Lourenco Fund, 181 Carlton Ave. Warwick, RI 02889. For more information, contact Kim Swanson at [email protected] or Matt McGrew at [email protected].