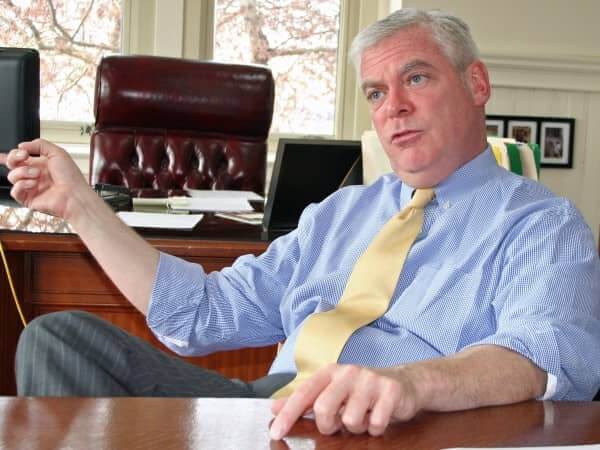 The first step toward possible restoration of the Conimicut Shoals Lighthouse could be taken on Monday night, as the Warwick City Council is scheduled to consider a proposal by Mayor Scott Avedisian to set up a lease agreement with New England Lighthouse Tourism and Restoration Company.
Nick Korstad, whose company already owns the Borden Flats Lighthouse in Fall River, is seeking to lease the Conimicut lighthouse from the city and cover operating and restoration costs through tour ticket sales.
During a recent interview at City Hall, Avedisian said he's already heard some enthusiastic response from the community.
"We were amazed on the lighthouse, the number of people who contacted us when the story first hit [in April], saying 'I would love to stay in the lighthouse,'" Avedisian explained, adding that Korstad's long-term goal is to create a network of lighthouses along the coastline. "If you can create a system where people can move among the four places [Warwick, Providence, Bristol, and Newport] on a water taxi, and at the same time you're building a partnership among a lighthouse in Fall River, a lighthouse in Conimucut, and he's trying to get Rose Island, as well, you could do a package where you're moving people among three sites in the course of a week."
For Avedisian, who worked for the late senator and former governor John Chafee, the lighthouse plan is part of a wide-ranging vision that Chafee had of using Narragansett Bay as a showcase for Rhode Island's coastline.
"It all goes to show that we're taking advantage of our greatest asset, which is our water," said Avedisian. "In the 1960s when [John Chafee] was governor, he envisioned the creation of a Bay Island park system which would link Rocky Point, Patience and Prudence Island, and Colt State Park, and 50 years later when his son was the governor, it became a reality — He's got to be looking down at us saying 'It took you an awful long time, but 50 years later, I'll still take it.'"
Since 2004, when the city took possession of the lighthouse from the federal Department of the Interior, the U.S. Coast Guard has been running the facility.
Also on the Warwick City Council agenda, which is available here through the Rhode Island Secretary of State website, is an executive session meeting on a legal matter involving Lowe's Home Improvement; a proposal on tax abatements; and an ordinance to set up a sewer oversight committee.
Tuesday night's meeting is scheduled to start at 7 p.m. with the closed session, in the second-floor Council Chambers inside Warwick City Hall.