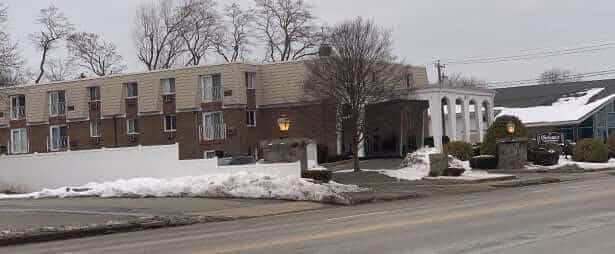 WARWICK, RI  — More than 70 people, most elderly, were displaced by a fire at Chateaux Apartments Saturday morning, and Mayor Frank Picozzi's taking donations to help on Gristmill Road.
"As a result of yesterday's fire more than 70 of our Warwick residents (the majority senior citizens) have been put out of their homes and won't be able to return for a great deal of time. Many of their possessions suffered smoke damage," Picozzi wrote on his Facebook page.
So Picozzi put a bucket on a table on his front lawn at 75 Gristmill Road, cut a hole in the lid, and invited the public to pitch in. As of Sunday night, about $6,000 had been donated.
"Tomorrow (Monday) I'm meeting with the Red Cross, West Bay Community Action and the owner of the apartment complex to see where we go from here. It's possible that the owner's insurance will cover lodgings for the victims but we'll still need to help feed them. Tuesday the inspectors will be at the site to assess the damage to the building and we should have an estimate of how long it will take to fix the damage," Picozzi added.
The residents were temporarily sheltered at Pilgrim Senior Center with the aid of Warwick city employees, Warwick Police and Warwick Firefighters, then moved to hotels with the help of the American Red Cross.
"Thank you to everyone that has donated. This city rocks!!!," Picozzi wrote.
'Thank you to everyone that has donated. This city rocks!!!,'
Warwick Fire Department Battalion Chief Tom Brady said firefighters received the 3 a.m. fire alarm and as they traveled to the complex the alarms quickly alerted them to first, second and third zones – the three levels of the building – affected by smoke from the fire. When firefighters arrived, they could see flames from the fire along with the smoke in the first floor.
Everyone was safely evacuated from the building, Brady said, and the WFD had the fire under control within about 30 minutes. A second alarm was called during the fire, he said, to call in more help.
"We just needed a lot of guys to get the work done," Brady said.
No firefighters were injured while fighting the fire, Brady said. Two residents were treated for smoke inhalation, and another slipped on ice during the evacuation.
Brady said the fire started in the basement level, in a stairwell near a storage area. It moved up a level and had begun to burn into the lobby when they arrived.
"It had just gotten to that area when we stopped it,"Brady said.