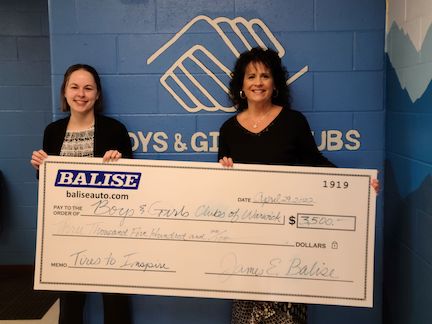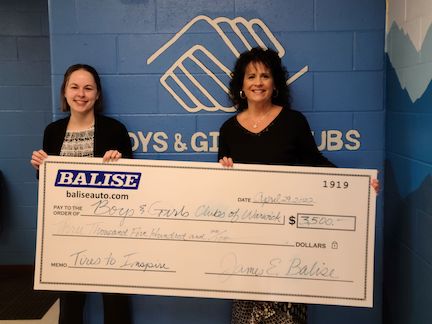 In a demonstration of their ongoing commitment to local kids and families, on April 29, Balise Motor Sales presented the Boys & Girls Clubs of Warwick with a check for $3,500.
"Balise is proud to support BGCW and everything they do for the kids and families in our community," said Alex Balise, Director of Marketing. "They have been providing opportunities for local kids to have fun and learn important life skills for more than five decades, and we are happy to assist in those efforts."
Funding for this gift was raised during Balise's recent "Tires to Inspire" initiative in which the company set aside a contribution to BGCW for every set of four tires consumers purchased and had mounted at one of their participating Rhode Island dealerships.
"We are incredibly grateful to Balise for their continuing and meaningful support," said the Boys & Girls Clubs of Warwick CEO Lara D'Antuono. "This support helps us improve the lives of children, as well as the parents who depend on us so they can work without worrying about the safety of their sons and daughters."
"This gift and our wonderful partnership with Balise is particularly significant right now," continued D'Antuono. "We are seeing youngsters' struggles with anxiety and academics alarmingly on the rise, further underscoring the importance of BGCW's after school and summer vacation activities that donations such as this help fund."
Balise and the Boys and Girls Clubs of Warwick are thrilled with consumer turnout for Balise's 'Tires to Inspire' initiative, and wish to thank everyone who joined in to help benefit of Warwick-area youth.