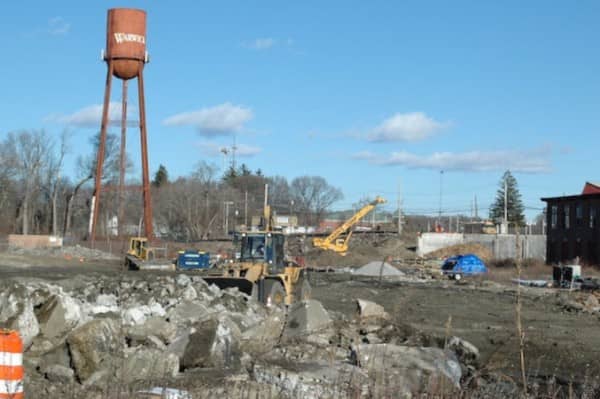 Warwick, RI – At about six months into DOT's three-year, $29.9 million Apponaug Circulator Project, Apponaug is showing signs of significant change and hints of a future Warwick.
One of the most anticipated changes scheduled in 2015,  on the minds of many local residents, is the demolition of the iconic Warwick Water tower on the old mill site, through which a section of Rte. 117 will be re-routed, when a section of the Apponaug River is relocated.
Rose Amoros, DOT's director of communications & customer service, said a few things need to happen before the tower's demolished, including the removal of utilities and asbestos abatement.
"Weather permitting, we expect this initial work to be done by the end of February," Amoros said. That means the earliest the tower will come down will be late February/early March, she said.
The entire project, which will convert the one-way Post Road stretch through Apponaug into a two-way at Post Road at Williams Corner, and put roundabouts at Apponaug Four Corners, the Centerville Road and Tollgate Road intersection, the Greenwich Avenue and Veteran's Memorial Drive intersection, and the Veterans Memorial Drive and Post Road Extension intersection, is expected to be complete in 2017.
The project has already claimed the old Bank of America building at the Veterans Memorial Drive and Post Road Extension intersection.
For look at photos from the project's first weeks, check our coverage of the work from August.