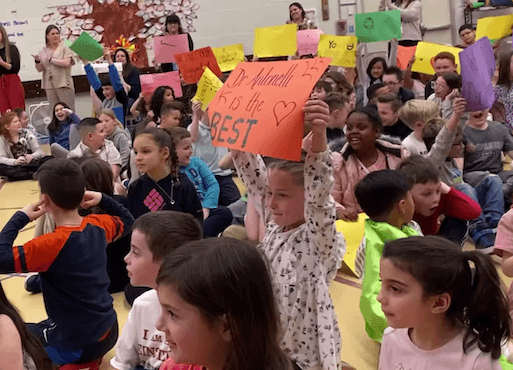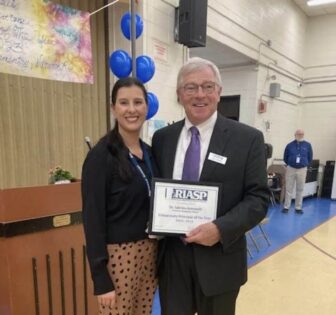 WARWICK, RI — Norwood Elementary Principal Sabrina Antonelli was named the RI Elementary Principal of the Year Wednesday, April 9 and students there are clearly happy about it.
The Rhode Island Association of School Principals, which names the outstanding elementary principal  of the year,  announced the news on their Twitter feed Wednesday, April 5. The RIASP's Executive Director, Robert Littlefield, presented the honor to Antonelli at the school Wednesday.
Norwood Elementary students crowded the school gym to hear and cheer the news and hold signs praising their principal.
Mayor Frank Picozzi is also a fan.
"Congratulations to Dr. Antonelli, Principal at Norwood Elementary, who was named [Rhode Island Elementary Principal of The Year], 2023!" Picozzi noted on his Facebook Page Wednesday night, along with video from the Norwood Elementary School gym, where students cheered the news.
"I've gotten to know an I admire her greatly. She is beloved by the Norwood School community," Picozzi added.
"Congratulations to RIASP's Elementary Principal of the Year for 2023 – Dr. Sabrina Antonelli of Warwick's Norwood Elementary School. A leader who never stops in trying to make her school a better place to learn," the RIASP noted on their Twitter feed Wednesday night.
The Rhode Island Association of School Principals serves its members and leads the educational community by supporting, developing, and recognizing exceptional leadership. Dedicated to supporting school principals as the leaders of today's schools, teachers, and students, the organization is the state's leading professional association for school principals. RIASP serves its 500+ membership by educating, lobbying, and collaborating on behalf of the broad range of issues facing Rhode Island principals.
Established in 1932, the RIASP promotes positive student outcomes, student-centered policies, and the recognition of the role principals play every day in our schools in leading the continuous pursuit of educational excellence.