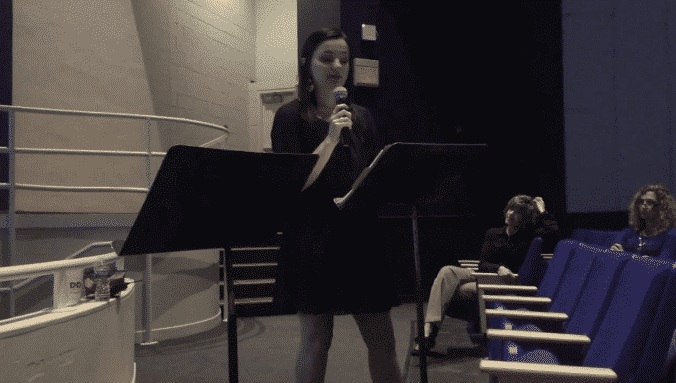 WARWICK, RI — When Warwick Veterans Jr. High administrators were looking for someone to talk to seventh and eighth-grade girls about positive body image in November, they called on Pilgrim High grad and motivational speaker Nicole Potvin, recovering anorexia patient and newly minted psychologist.
Potvin lost a close friend during her final years in high school, and her parents were divorcing. She started exercising to be more healthy, and went on a diet, but the seemingly healthy decisions turned into a dangerous habit.
"When I saw the scale go down and down, I felt a sense of control," Potvin said. Eventually, her diet had turned into an eating disorder, she said during the Nov. 16 assembly.
She realized, she said, that if she didn't start eating, she might die. "Because people don't realize that anorexia has the highest mortality rate of all the mental illnesses," Potvin said.
She transferred to a new school for a change of pace from her stress, and sought treatment. Eventually, she began speaking out about her experience.
"Today I can say that I am in recovery," Potvin said.
At URI, where she studied psychology, Potvin organized the first annual National Eating Disorder Association (NEDA) Walk in April 2016. Working with Rep. Joseph M. McNamara (D-Dist. 19, Warwick, Cranston), she organized a switch of the lights at the State House to switch to blue and green for Eating Disorder Awareness Week 2017 from Feb.y 24 – March 3. She also posted a GoFundMe.com campaign to pay the $500 cost for the lights. Surplus will benefit NEDA, she said.
Potvin recently graduated from URI with a BS in Psychology, and is now working as a milieu therapist, assessing patients and conducting safety checks, then reporting her insight to the clinical staff.
Her mom, Natalie, is an elementary speech pathologist at Warwick Public Schools. Warwick Vets Social Worker Kerri Naughton said administrators were concerned some girls at the school didn't appear to be eating. They decided to organize an assembly aimed at positive body image, and knew of Potvin's experience and expertise, so they invited her to speak as part of their program.
"She did a great job," Naughton said. "There were a lot of cheers and some of the kids came down to talk with us."
"Many of them came up to me after and shared the things they were going through," Potvin said, "It was just such a gratifying and rewarding experience knowing that just one life could've been saved, just from that one assembly that they organized."