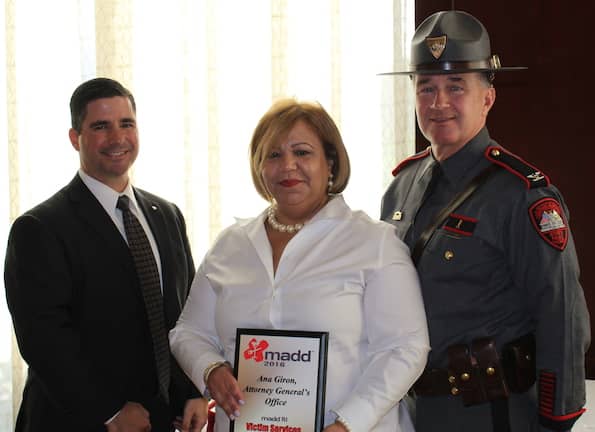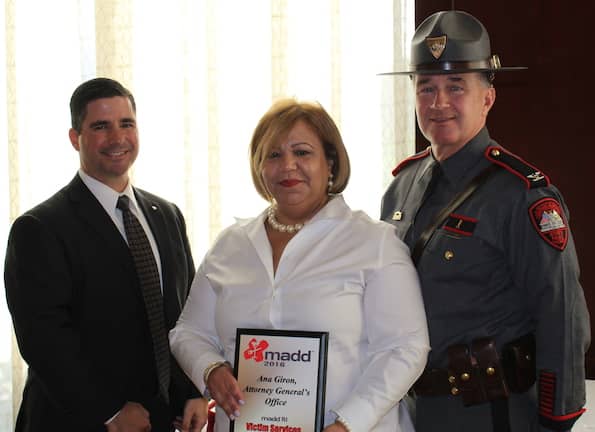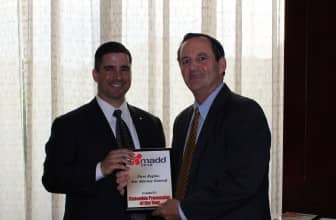 WARWICK, RI — The Rhode Island chapter of Mothers Against Drunk Driving recently honored two employees of the Rhode Island Office of Attorney General for their efforts in stopping substance impaired driving, supporting victims, and preventing underage drinking.
Assistant Attorney General Stephen Regine was named Prosecutor of the Year.  Regine served as the Traffic Safety Resource Prosecutor, where he oversaw the prosecution of all alcohol-related driving crashes, law enforcement training and community outreach for motor vehicle safety issues, including underage drinking and texting while driving.  Regine is a resident of Portsmouth.
Ana Giron, chief of the Victims Services Unit, was named Victim Advocate of the Year.  Giron oversees the Office's array of services to felony crime victims and their families and informs victims of their rights as guaranteed under the Rhode Island Constitution and the Victim's Bill of Rights. In addition, she works closely with victims and their families to provide guidance and support through the criminal justice process – answering questions, overcoming fears, explaining court procedures, notifying victims of the status of the offender's case, sharing concerns, addressing safety issues, assessing overall needs and accompanying victims to court proceedings. Giron is a resident of Warwick.
"I am pleased that MADD has recognized the great work by Steve and Ana in prosecuting individuals charged criminal motor vehicle offenses and the support our office provides to victims," said Attorney General Kilmartin.  "Steve and Ana represent the commitment by the entire Office to help change driving habits to make our roads the safest in the country."