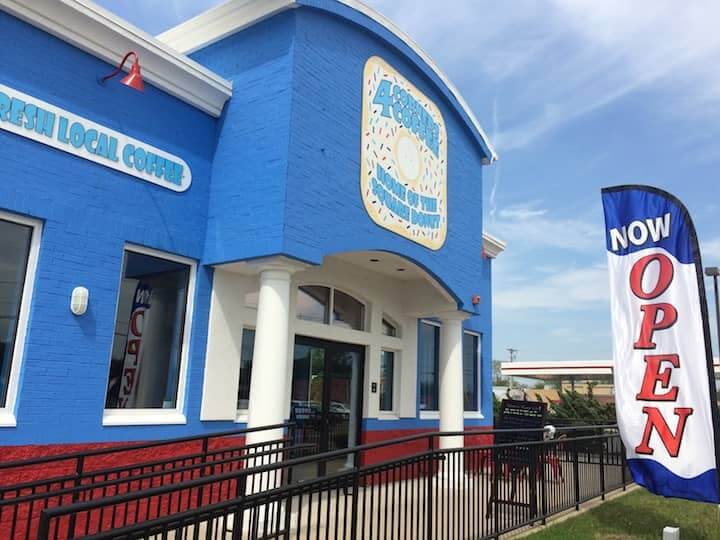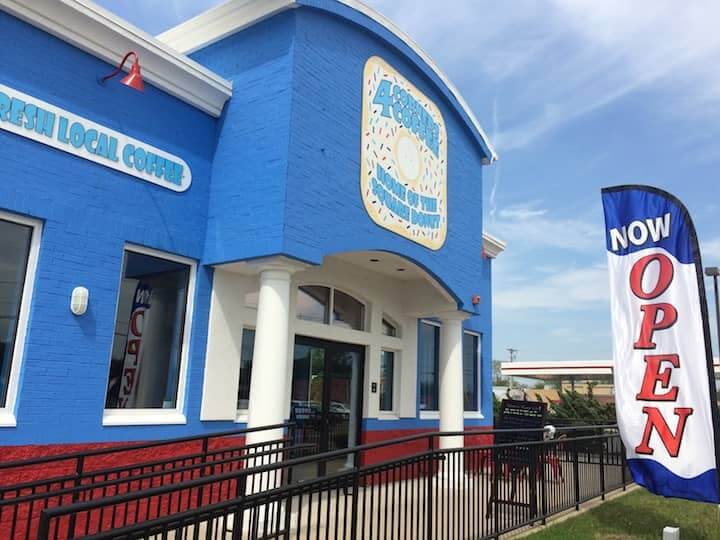 WARWICK, R.I. — The doughnuts are square, they've got pieces of bacon on them and, if you're showing up after lunch, they're probably sold out.
"We wanted people to be able to get a high quality meal without having to drive all the way to Providence," said Steve Brady, general manager at the store, during the first week of its soft opening.
The shop sells coffee, gourmet-level doughnuts, bagels, and breakfast sandwiches, with an eye toward quality and presented under a themed shop tailored to honor its location, a stone's throw from Hoxie Four Corners, with its angularly oriented name and a signature square doughnut.
With a coffee shop named 4corners coffee near Hoxie Four Corners, Brady said, the owners decided, "We'd make a four-cornered doughnut."
Recent customers will tell you the doughnuts' shape isn't the only remarkable thing about the treats. The pastries are prepared by head chef Andrea Leonardo, who, in addition to her formal culinary arts training, worked with her grandfather in his bakery in Rochester, NY while growing up.
"She puts a personal touch and care into everything she does," Brady said.
The doughnut flavors included cotton candy, nutella, double chocolate, espresso, and maple bacon, with maple flavored frosting and pieces of bacon on them.
On Thursday, Vito Vinciguerra was inside the shop for his first visit after a long wait watching the building being renovated into its current incarnation. He glanced at the trays of donuts on racks behind the glass near the counter, his eyes locking on the maple bacon donuts.
"Those should be illegal," Vinciguerra said with a wide smile.
When Leonardo was growing up, "Maple used to be my favorite flavor donughnut," she said, which is why she chose maple bacon as one of the soft opening's offerings.
The cotton candy doughnut is a homage to old Rocky Point's amusement park memories, another example of the business's effort to have fun with their work and their customers.
"We want them to feel like they're family to us," Brady said.
The shop also serves all-day breakfast, with breakfast sanwiches, eggs, a fried potatoes, toast and sausage plate, French toast, pancakes and omelets.
Then there's the coffee, including tap poured cold brew, nitro brew, and espresso with imported syrups.
The city has given the coffee shop a warm reception. Within the first 11 days, the business sold 11,000 doughnuts, Brady said.
"The city of Warwick has embraced all that we've been doing," Brady said.
The shop is owned by three Cranston-raised partners: Justin Ericson, Jeffrey Quinlan (who had the idea to bake square doughnuts) and Edward Brady (Steven's brother). The trio own a number of restaurants, including the Thirsty Beaver in Smithfield and Cranston, Pink Pig barbecue in Warren and Jamestown, McBlarney's in Warren, Say Cheese  mac and cheese sandwiches and Milk Money restaurant in Providence.
The 4corners Coffee shop is their first restaurant in Warwick, Brady said. They chose to start their latest venture in Warwick because of the city's wealth of history and its prominence as the second largest city in the state. When they saw the property was for sale, the partners saw a good spot in a location they could build their latest business concept around.
The business judgment seems sound in the middle of a successful soft opening.
"We've put up numbers coming in to the restaurant that are equal to a grand opening," Brady said.