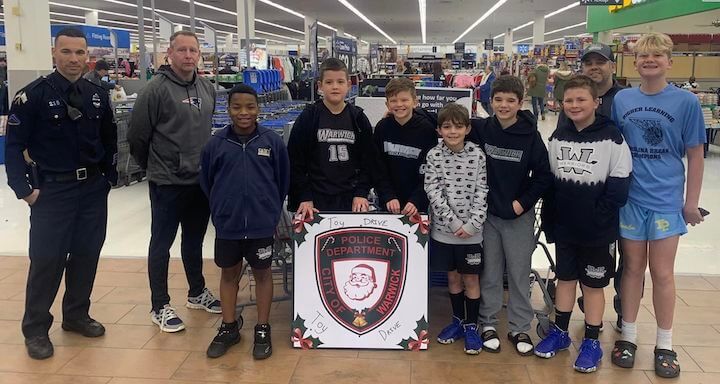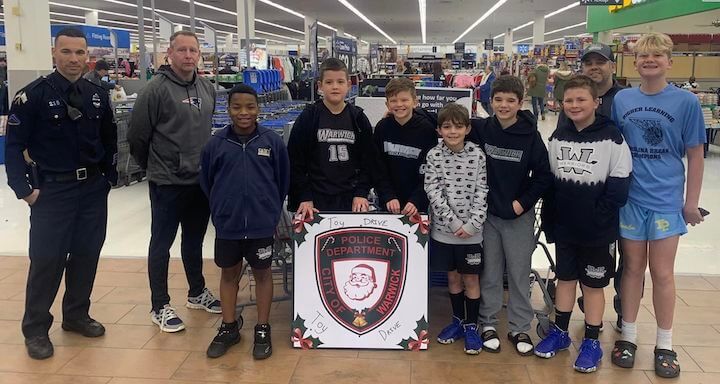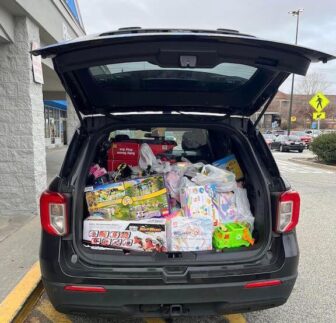 WARWICK, RI — The WPD Toy Drive is still going, in case you're still hoping for a chance to pitch in, with officers taking toy donations at their headquarters, 99 Veterans Memorial Drive, till Dec. 18 and two collections Dec. 17 and 18 at Walmarts on Post Road and Bald Hill Road.
On Sunday, the Warwick Police Department & the Warwick Police Athletic League spent some time at Walmart collecting for the drive, which provides holiday presents for area kids in need. Manning the Sunday drive were Sgt. Steve Moretti, Officers Michael Rosa & Patrick Holmes, members of the PAL Warwick Warriors Basketball 4th & 8th Grade Boys teams (w/ Brayden – JV Pats Football), and the Warwick Police Explorers.
Officers will be at Walmart Warwick – Post Rd and Walmart Warwick – Bald Hill Rd from 10 a.m. to 2 p.m. to collect toys for kids in need during the final weekend starting Dec. 17, said Officer James Wenneman.  Walmart staff and management have been good partners in giving through the years, he said.
"We have a very good working relationship with them," Wenneman said.
Though the toy drive usually focuses on collections at Walmart, "This year we switched it up a bit," Wenneman said, expanding their toy drive collections to Target and Burlington Coat Factory.
"It was pretty impressive. We got lots of stuff last year and this year," Wenneman said, "They just keep giving us lots of toys.
After the drive is over, the toys will be presented to families and kids at the Oakland Beach Boys and Girls Clubs of Warwick. But that won't be the end of the collections. Later, in January, Warwick Police will be doing a similar drive for warm hats and mittens for everyone in the area who needs some help keeping warm.