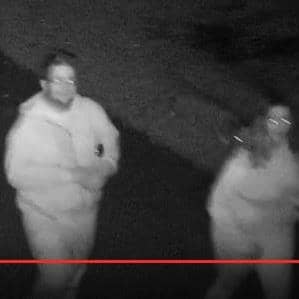 April 28 UPDATE: On Thursday, Warwick Police reported they had identified and arrested a suspect in the April 10 vandalism, posting a photo of the man and thanking Facebook followers for their help.
Police arrested Manuel Mckay, and charged him with vandalism of Warwick Veterans School on April 10.
WARWICK, RI — Warwwick Police are asking the public's help identifying a man and woman suspected of spray painting a penis, swastika on the front walkway of  Warwick Veterans Jr. High School April 10, as well as a penis on a reserved parking sign and "a statement too profane," to repeat on the wall of the small gym.
A security camera filming in infrared recorded two people, a man and a woman, and a small dog, on the school property the evening of the vandalism, according to a report Warwick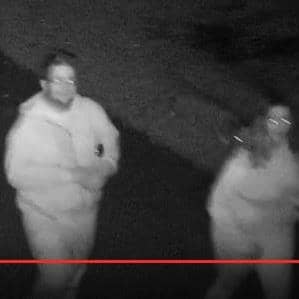 Police posted to their Facebook page. The WPD also posted links to video clips of the two walking through the area April 10.
In one of the videos, police say the man is concealing what appears to be a black can of spray paint.
The graffiti was cleaned up by a school custodian April 11.
Police ask anyone with information about the vandalism or the couple to contact Det. Chris Lo at 401-468-4273 or
[email protected].