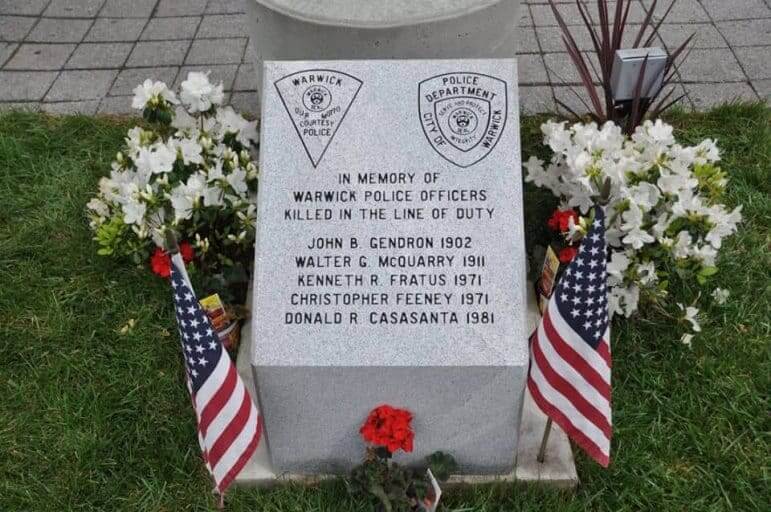 WARWICK, RI — Fog settled over Apponaug, the gas lights shut off July 27, 1911 at midnight, when a whistling man carrying a large bundle of stolen cloth shot Warwick patrolman Walter McQuarry and a friend, killing McQuarry.
McQuarry had stopped to help an "autoist" change a tire, enlisting the help of his friend, Charles Follett, who had worked on autos before. They got the tire changed, sent the man on his way, and started walking home. As the whistling, burdened man approached, McQuarry jokingly asked if he'd been out robbing clotheslines.
The man's response was to pull out a pistol and shoot Follett in the face. He shot McQuarrie twice, once in the face and once in the chest, as the patrolman moved to help his friend. McQuarrie died from his injuries, either of which news accounts reported would have been fatal. The assailant, later determined to have stolen a large amount of cloth from the Greenwich Bleachery, was never captured.
"Today, we remember Warwick Police Officer Walter McQuarry who was killed in the line of duty this day in 1911," Warwick Police wrote on their Facebook page Tuesday, noting he was, "shot and killed as he attempted to question a suspected thief on East Greenwich Road in Apponaug Village."
McQuarry is one of five WPD officers who have died in the line of duty, memorialized in front of Warwick Police Headquarters, 99 Veterans Memorial Drive, Warwick, RI. The modest monument was dedicated in 2016. The names and histories of McQuarry and the other officers honored there were researched by dogged WPD archivist and historian Warwick Police Inspector Chris Mathiesen, who retired in 2018 after 52 years.
No photo of McQuarry is available, as the department has yet to find a photograph of the patrolman, a piece of history Mathiesen was still looking for when he retired.
Additional reading on this topic on Warwickpost.com: