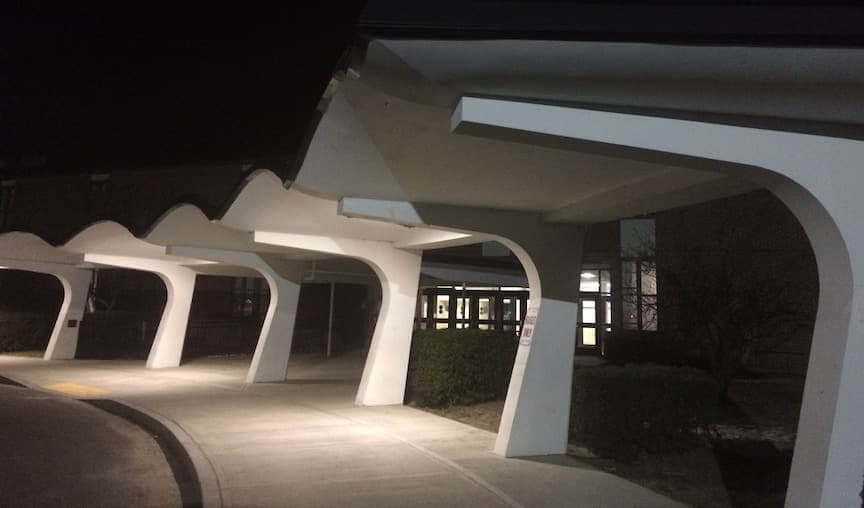 WARWICK, RI — The Warwick School Committee called two brief recesses Tuesday at Warwick Veterans Middle School as anti-maskers shouted about the district's mask policy, which mirrors Gov. Dan McKee's extended executive order on masks., before Warwick Police escorted them to the lobby.
The outbursts place the Warwick School Committee among many School Committees disrupted by an uproar over whether schools will use masks to protect staff, teachers and students, as well as their families and everyone they interact with, from the threat of COVID-19.
One parent who was planning to speak declined to wear a mask. As she approached the microphone during the public comment segment of the meeting, School Committee Chairwoman Judy Cobden politely interjected.
"Hold on a minute, please. You need to put a mask on if you're going to take the microphone," Cobden said.
"Put a mask on? There's several people in the hallway, adults, who work in this school, who don't have masks on," the woman replied.
"You have to put a mask on," Cobden insisted.
"There's no law," the woman said, "There's no law. There's no law."
"Well, other people use that microphone," said Cobden. 'That's the point. That's why we need you to have a mask on."
Committee member David Testa said, "This road's been traveled many, many times," and asked Andrew Henneous, the district's legal counsel, about their options. Henneous suggested calling a recess, then calling Warwick Police.
As the Committee recessed, the woman repeated misinformation that wearing masks make children sick, the opposite of what the CDC, virologists, and doctors have been telling the public since the beginning of the pandemic in January 2020. In fact, the claim is debunked in a FAQ posted by the American Academy of Pediatrics' healthychildren.org.
About 10 minutes later, the Committee reconvened, but anti-mask hecklers continued their disruption of the meeting.
"I wanna know where it says that we're forced to wear masks after school hours," an unidentified man asked as the Committee attempted to continue with announcements, the public comment period past.
"It's a rule in the school, sir. Motion to recess, again," Cobden said.
Committee member Karen Bachus explained he was interrupting the meeting, telling him that while it was open to the public, it was not his meeting. The Committee took the second recess and left their chairs as people continued to yell. About 10 minutes later, they began to return to their chairs.
"This is f**king unbelievable," Cobden said, "They got them in the hallway," referring to Warwick officers called to the meeting for the unruly people.
Warwick Police report two officers were dispatched to the meeting, but there were no arrests.
"Once they escorted them into the lobby, they stayed for a bit and then left. I don't know what the nature of those conversations were," Testa said via email when asked about the incident Wednesday.
Testa also noted the governor's executive order requiring masks in schools is legal, and claims that "there's no law" missed the point.
"Last night's meeting had some anti-mask folks in attendance who took it upon themselves to not wear a mask – in violation of the Gov's executive order and in violation of our policy – and insist that they be heard. They said "there's no law" which, I think, shows a failure to understand the power of an executive order in an emergency. Whether one agrees with it or not, the executive order does compel mask wearing in school – and our policy calls for mask wearing in our buildings at all times. As I like to say to folks, 'if you don't like the law that gives the Governor this ability, then change the law.' Basic civics, right?" Testa said.
Testa also pointed out that even though their mask policy predates the Governor's executive order, that order supersedes their own mask policy, meaning masks would be required in schools even if the School Committee opposed it.
"If the Governor lets the executive order expire in Dec, then we can either keep our policy in place or revise it," Testa said.
When asked if the School Committee was likely to have officers at meetings, "I don't know if we'll have an officer at future meetings," he wrote.
WarwickPost.com Correspondent Joseph Siegel contributed to this report.