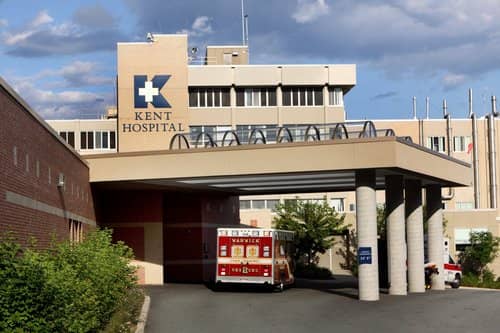 WARWICK, RI — Officer Aaron Steere was called to Kent County Hospital, 455 Toll Gate Road, Oct. 7 at 3:33 p.m. for a report of an assault on staff by a patient, charging a Newport man with three counts of assault and one of disorderly conduct for throwing urine at medical personnel.
Steere met with hospital security staff on the second floor, who escorted him to a nurse's station in the Progressive Care Unit, where he then spoke with a registered nurse, who recounted the assault. She said that the patient, identified as Jeremy Wardlow, 45, of 1 Boughton Road, Newport, RI, under treatment for the last two days for alcohol withdrawal, including sedation, had walked out of his room and thrown urine a the nurse's station from a container, according to Steere's report.
The nurse told Steere the urine had covered both desks, computers, chairs, paper work and their personal belongings. Three staff members, two secretaries and a registered nurse, where hit with the urine, the nurse said, according to the report. All three were examined in the emergency room at the hospital as a result, per the facility's exposure protocol.
One secretary was struck in the face and hair by the urine, and her clothing had been soaked. The nurse reported being struck by urine in the face, chest and right leg. The other secretary reported being covered by the waste.
The nurse said Wardlow had been delirious and paranoid at times and had attempted to stab security personnel with plastic utensils, the nurse told Steere.
Steere found Wardlow, heavily sedated, in the Intensive Care Unit, where he learned the man had become increasingly violent due to the effects of alcohol withdrawal. Steere could not have him sign a summons to Third District Court on Oct. 30 to answer charges of three counts of assault and one of disorderly conduct because of his sedated state, and determined giving him a pen at that time was also not wise, according to the report. Instead, he left the summons with the man.
Wardlow would likely be transferred to Butler Hospital after a few more days at Kent, Steere learned, according to the report.