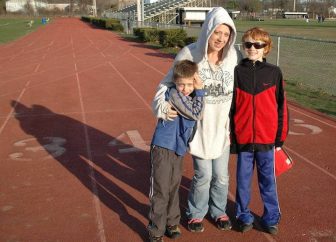 Warwick, RI – Ron Celio, Wyman School principal and Warwick Wolves running coach, spent Thursday afternoon jogging with his charges around Pilgrim High School's track.
Third and Eighth-graders paced their coach, with varying degrees of success, which was just fine with Celio.
"It's a sport that promotes fitness and self-improvement," Celio said. There's less focus on competing for first than in more competitive sports.
Parents and young athletes are enjoying the program in growing numbers.
When Celio started the cross country and track program in Fall 2013, there were 45 student athletes in the cross country program and 65 in the track program.
In the fall of 2014, there were 80 athletes signed up for track, and about 110 signed up for cross country, Celio said.
Celio credits the program's focus on personal improvement and self-esteem. When you're working on becoming a better runner, he said, you're focused on making yourself a better athlete.
"That's what the experience is based on," Celio said.
Jen Tuirok was at the track Thursday watching her daughter, Emily Newton, 9, a fourth-grader at Hoxie School, train with Celio.
Tuirok said she's impressed with Celio's focus on nutrition education and his willingness to practice what he preaches.
"He's a good mentor for them, and he always runs with them too. Hands on," Tuirok said.
Karen Roberts was happy with the experience her seventh-grade son Antonio, 13, has had since starting this season.
"It's good for him. He's got a lot of energy," she said.
"I think it's a great program," said Bob Robinson, whose son, Aiden, 9, who goes to Park School.
Tina Suttles, who was keeping an eye on her sons, Tommy and Jaime as they ran the paces Thursday, said she's impressed with the growth of the Warwick Wolves in the last year. Hopefully, she said, the team will start to turn heads at state competitions. For the moment, though, she's happy to see her boys push to make themselves better runners.
Celio said he started up the Warwick Wolves when he started working as principal at Wyman. A few parents approached him and asked if he'd like to start up a running program for the school.
Cerio agreed, "But for the whole city, because that's city pride," he said.
Cerio said he owes much of  the program's success to volunteer assistant coaches Tom Dolche, Kirsten McNamara, Toni Anderson and Pilgrim senior Melanie Brunnell, 18.
Even more important than city pride, or fitness, Celio said, training for track and cross country helps teach students about setting goals and achieving them.
"That's huge for kids. It keeps them away from trouble," he said.
The program is open to youth in grades three through eight, from anywhere within the city, but also from outside the municipality. Since this season is only a few weeks old, it's not too late to sign up, Celio said.
You can sign up for or contact the Warwick Wolves at WarwickWolves.net.