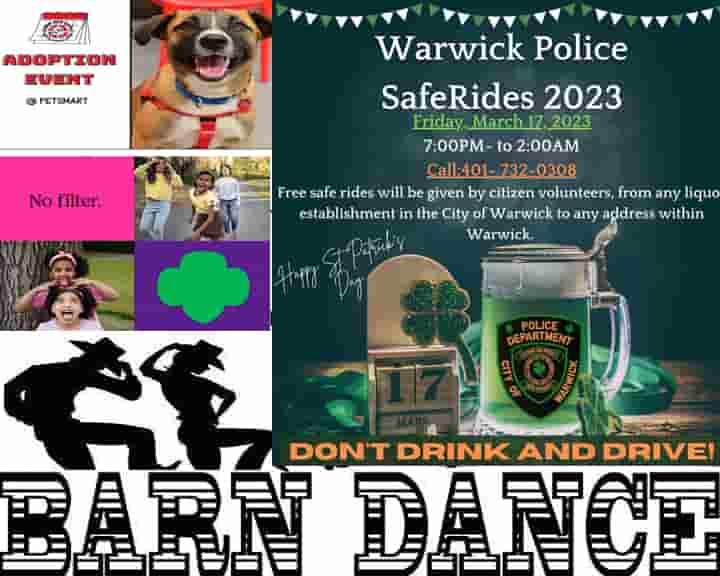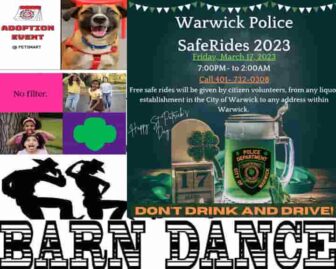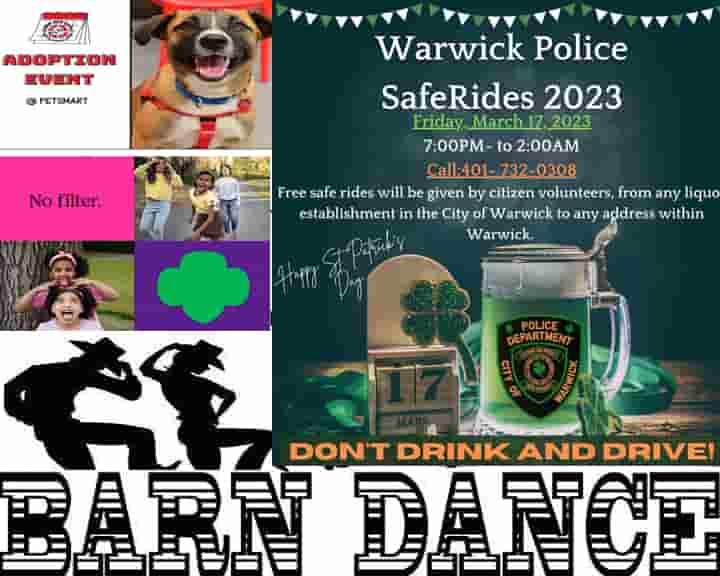 WARWICK, RI — This week's Warwick Weekend previews St. Patrick's Day and the WPD's annual Safe Rides program to prevent holiday-related DUI arrests, WCFA's barn dance and a piano performance at Warwick Mall.
Do you have a community, non-profit or fundraising event you'd like to see included in an upcoming Warwick Weekend? Email your event details and contact information to editor@warwickpost.com.
Warwick Weekend Friday:
WPD Safe Rides DUI Prevention
The Warwick Police Department's Safe Rides program is offering volunteer-staffed rides from any Warwick establishment to any Warwick residence if you're drinking this St. Patrick's Day – Friday.
"We will be offering Safe Rides Home from 7 p.m. to 2am on St Patrick's Day from any liquor establishment in the City of Warwick to any address within Warwick. Call 401-732-0308 MADD Rhode Island NHTSA  Call the safe rides phone number within city limits this St. Patrick's Day, and you can steer clear of a DUI arrest or a tragic crash."
Bring Your Own Improv
Bring Your Own Improv is back for family friendly live performances every Friday from 7-8:30 p.m. Tickets are available at the door only. General admission tickets are $15, $10 for WCFA members, seniors, students, military and first responders, hospital employees and minimum wage workers Tickets are available at the door only. COVID Safety Policies: All ages must show proof of being fully vaccinated to attend. (Card, Photocopy or Camera Photo). Warwick Center for the Arts, 3259 Post Road, Warwick.
Warwick Weekend Saturday:
Pianist Brianna Callahan performs at Warwick Mall
 Join us at Center Mall to see a wonderful piano performance by Brianna Callahan! Brianna has received many honors from the RI Music Education Association and was an All-State selection. She was also selected for the National Association for Music Education's All-National Honor Ensembles, Mixed Choir.
WCFA Community Barn Dance
We are so excited to offer this monthly event in the WCFA Gallery featuring live Folk Music, a caller and "Contra & Square" Dancing!
7:15 opening session/beginners dance lesson
7:30 – All levels, no experience necessary. Wear comfortable clothes and "non-street shoes" only
Caller: Don Heinold
Band: Woody and the Warblers
$10 WCFA Members
$12 General Admission
$8 Students
Tickets sold at the door
Petsmart Adoption Event 
11 a.m.
PetSmart, 1275 Bald Hill Rd, Warwick, RI
Come meet some of our AMAZING dogs IN ACTION! We will have some of our adoptable dogs dogs to see and meet! Be ready for some kisses, and LOTS of CUTENESS!
The adoption matchmaking process is a collaborative effort among the adopter and SOS volunteers. Many individuals may be involved in the process, including you and your entire household (including your current pets!), your adoption counselor, the foster home, and an SOS trainer. We have many years and thousands of matches of experience, and are committed to using our knowledge to create successful outcomes.
Want to get the process started? Don't wait until the event to submit your SOS application at sosarl.org/adopt.
Please note that pre-screened status does not guarantee adoption of any particular dog, nor availability of any particular dog. We aim to develop a trust-based relationship with each adoptive family that we chose to work with and we openly discuss match risk factors throughout the process as we have everyone's best interests at heart.
Warwick Weekend Monday:
Girl Scouts Open House: Make New Friends
Join Girl Scouts every Monday as we make new friends and keep the old! In a 3-part series, girls and gender-expansive youth in Kindergarten and up will come together to participate in mock troop meetings and learn all about what it means to be a Girl Scout through fun activities. While prospective Girl Scouts are having fun, adults will have the opportunity to learn about starting a troop or joining an existing one.
Meetings will take place at 6 p.m. March 20
Note: You do NOT need to be a current member of Girl Scouts to attend and you don't need to attend all sessions. Join at any time!