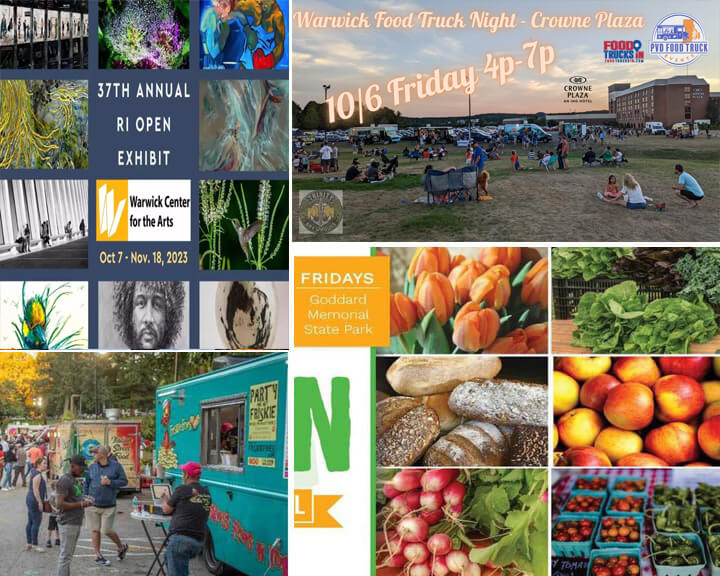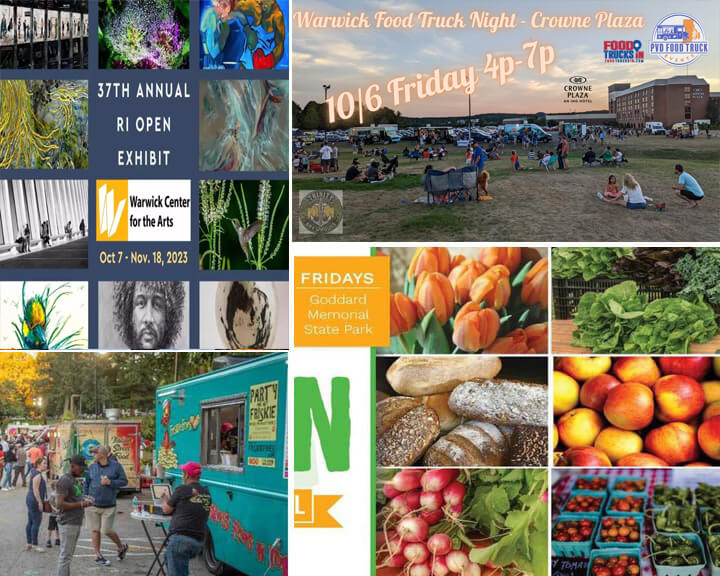 WARWICK, RI — This Warwick Weekend features a Friday feast of food trucks, with a 40 percent chance of rain and the October debut of the RI Open Exhibit at the Warwick Center for the Arts.
The weather forecast for this Warwick Weekend includes an unfortunate 40 percent chance of rain starting late Friday, increasing to a 60 percent chance Saturday, but sun and temps in the 60s Sunday.    .
Warwick Weekend Friday:
Crowne Plaza Food Truck Night PVD Food Truck Events hosts music and food trucks of several culinary persuasions at Crowne Plaza, 801 Greenwich Ave., Warwick at 4 p.m.  The venue offers plenty of free parking and tons of grassy space.
Here's the current list of food trucks joining them:
Goddard Park Farmer's Market Every Friday through Columbus Day Weekend, RI Grown, DEM's farmer's market program, hosts farmer's market at Goddard Park selling delicious and freshly-harvested local foods direct from the farm to your dinner table.
Stargazing at Frosty Drew While any of the clear-sky nights will serve for views of the Harvest Moon or the stars, each Friday the Frosty Drew Obseratory in Westerly, the best stargazing spot in the state, hosts a free stargazing night, with preregistration required.  "Hang out with our astronomers and telescopes as we showcase the Rings of Saturn, the cratered lunar surface, the Galilean Moons of Jupiter, the polar ice caps of Mars, the phases of Venus, massive stars, speckled star clusters, vast nebulae, distant galaxies, and the best views of the Milky Way in Rhode Island. We stay open until 10:00 pm, sometimes later depending on the night and sky conditions.
A suggested donation of $5 per person, at the event, is very appreciated.
 Roger Williams Food Truck Fridays The Carousel campus at Roger Wiliams Park Zoo has a lot of open space and rolling hills shaded by trees, the perfect spot to grab dinner from a food truck and listen to music and entertainment during the park's Food Truck Fridays event. If you miss this one, don't worry. They're going on every Friday till the fall.
Bring your own Improv This interactive improv show at the Warwick Center for the Arts welcomes voluntary audience participation! You can participate in one of three ways: applaud for a scene you like, yell out fantastic suggestions, or if you feel you're ready, jump up and get involved with us on stage.
Warwick Weekend Saturday:
WCFA: 37th RI Open Exhibit
The Warwick Center for the Arts (WCFA) presents original artwork created by artists who live or work in Rhode Island. Each year, we look forward to this opportunity to celebrate the creativity and artistic vision of our fellow Rhode Islanders. All media including, painting, drawing, mixed media, sculpture, photography, digitals arts and textile arts. The gallery is open from 11 a.m. – 3 p.m. every Wednesday through Saturday. There is no charge for admission.