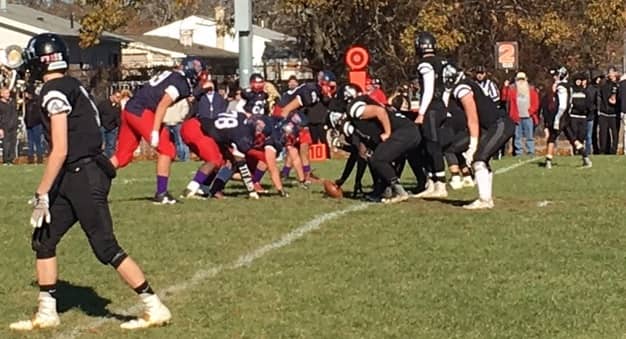 Editor's note: Correspondent Beth Hurd contributed to this report.
UPDATE 12:35: An ignominious conclusion to the game with Toll Gate scoring 45 to Pilgrim's 32, followed by a melee on the field between the teams.
Toll Gate recovered the ball and ran for a touchdown with seconds left, leading to both teams running at each other, players swearing, name calling, and fighting.
A Toll Gate coach addressed his players, "That's no way to end a game. you guys won the game, now everyone will only remember the melee after the game."
A Pilgrim coach addressed his players, in tears, "What happened after the game should never have happened…"
UPDATE 12:24: With less than a minute left, Pilgrim was within scoring distance of a now much-closer game at 39-32, with Toll Gate still in the lead.
At 12:23 p.m., Pilgrim recovers a an off-side kick.
UPDATE 12:09: With 3:55 minutes left in the game, Pilgrim scored, gaining ground on Toll Gate, leaving the game at 31-26 with Toll Gate still ahead.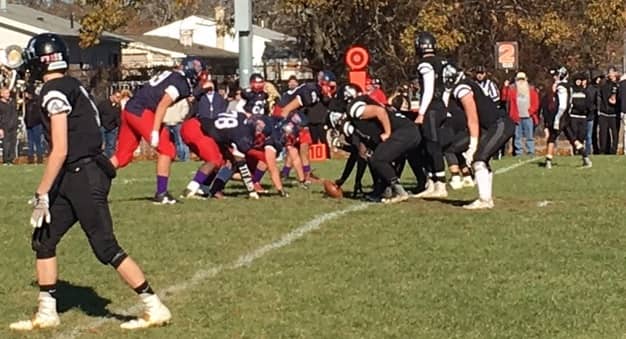 WARWICK — The Pilgrim Patriots and Toll Gate Titans met at Warwick Vets Middle School for the second year of a new Thanksgiving football tradition Thursday, with Toll Gate appearing set for a repeat performance of their inaugural victory.
At half-time, Toll Gate had scored 24 to Pilgrim's 6. By the end of the third quarter, Pilgrim had made up some ground, with the score set at 31-18, respectively.
Toll Gate,which entered the game with a 6-3 record, good for third in DIII-B, won the inaugural match-up last year, 27-22. The Titans lost  to the Lincoln Lions, 34-18, in the Division II quarterfinals on Nov. 10.
Pilgrim wrapped the regular season with a 3-7 record, seventh in DII-A. The Patriots won the last game of the prior Pilgrim-Vets rivalry in 2015, 46-12.
Check back for the final score later this morning.