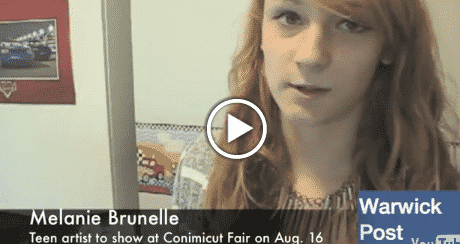 Warwick, RI — What began in her younger days as scribbles in a notebook has turned into a prolific — and potentially profitable — inventory of paintings for Melanie Brunelle.
The 17-year-old is among the nearly three dozen artists and vendors expected at the Conimicut Craft Fair and Picnic, scheduled for Aug. 16 at the waterfront park.
Currently a student at Pilgrim High School, Brunelle said during a recent interview that she's considering an arts education degree for her college plan, while building an audience and finding prospective buyers of her artwork.
She's already had some success, Brunelle explained — one of her earliest works, "Tree of Life," recently sold — and she added she's hoping to gain some more name recognition from the local event.
"It's something smaller, so it's something that I can get started on and grow with the experience," Brunelle said. "It's my first time, [so] what I want to do most is get known a little more."
[In the video, Brunelle talks about a few samples of her artwork, including "Tree of Life."]
Heading into the weekend craft fair, Brunelle said she's been doing a lot of preparation.
"First, you want to make sure you have enough — you don't want to just have a little bit and run out," she explained. "Even if not all of it's sold, you have more for next time — it's definitely taking a lot of time, and I'll be working on pieces right up until the day of the fair."
And while many of her larger pieces are surrealist landscapes punctuated by groups of human figures posed in the shape of a fish or a tree, there are also smaller works of the Superman logo, a lion's eye, and a baseball field that could reach a wider audience.
"The artwork comes from what I like and what I think others would like, as well," Brunelle said.
Asked what she thinks her arts says about herself, Brunelle explained: "I think it expresses my personality, because it could be something serious and then the next thing you look at can be fun and crazy — it definitely expresses something different. When I do my art, I like people to look at it and just think."
The Conimicut Craft Fair and Picnic is scheduled for noon to 5 p.m. on Aug. 16, 2014. For more information, email the Conimicut Village Association.